Protest in Oughterard over possible Direct Provision centre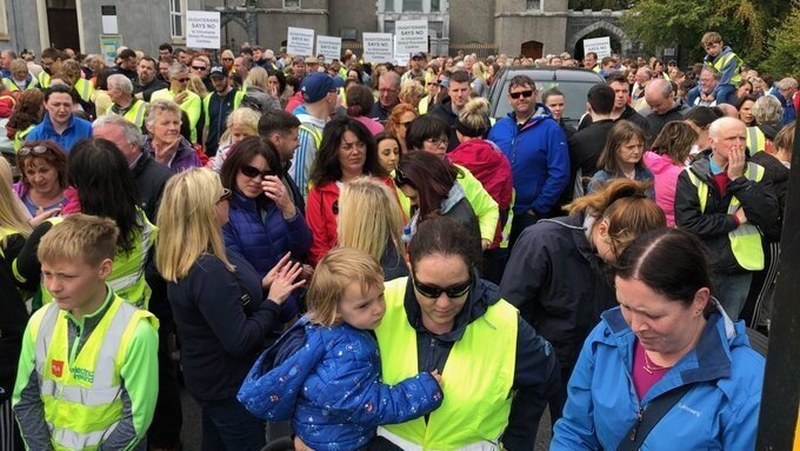 Over 1,000 people have taken to Main Street in Oughterard, Co Galway, to highlight their opposition to possible plans for a Direct Provision centre in the town.A silent procession was organised by a group opposed to the possible setting up of a centre for asylum seekers at the former Connemara Gateway Hotel.The Department of Justice has not confirmed whether or not it plans to locate a centre in the town.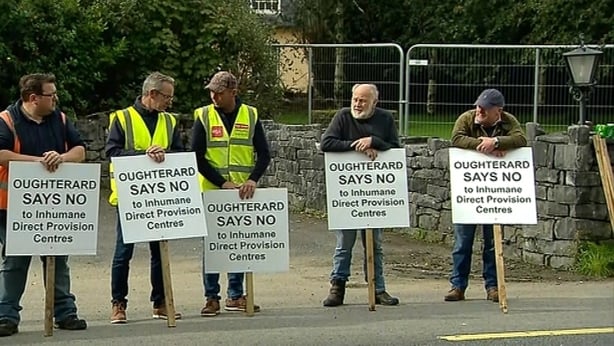 Residents are frustrated with the department over what they say is a lack of communication regarding plans for the former hotel.The department says no contracts have been signed for specific locations in the western region, and it will not confirm any specific locations for Direct Provision centres.Those taking part in today's procession say they have no issue with asylum seekers; their issue is with the system.

They say Oughterard does not have the facilities to accommodate a large influx of people
Fred says:  The biggest weapon that Irish Governments are using and this includes a minority of over bleeding hearts, is the word Racist and also the words anti-migrants and the rest.  This is a very well orchestrated plan by a certain minority who actually rule this country, with no mandate, or no constitutional authority.  The Irish people are not Racist; the Irish people are fair, decent and accommodating but when they look around their nation (and they do talk quietly among themselves) they talk about the size of our country; they talk about our schools being over-run; and they also talk about how the migrants are being thrown into inadequate centres with no quality of proper living and treated with disdain. 
If the so-called headless minority including Liam Herrick, ICCL, cannot understand what Deputy Grealish is saying in Galway, they are not just stupid, they are fucking Arrogant.  If we are going to take people into Ireland, let us treat them properly but we have to have a number where our schools, hospitals and the resources to handle these numbers are provided for.  At the moment we have National Scandal after national scandal, a National Crisis of Homelessness in this country and 95% of these unfortunate people are Irish.  Now some idiot out there makes this is a Racist comment.  I say Shut Up and get a dose of Reality.  In some schools at the moment there are over 44 different nationalities.  In some housing estates in Balbriggan, hundreds of people do not even speak the English language and small ghettos are appearing across the country.  Any logical person would know that when you help people you have to have resources to give them the proper assistance so that they can carve out a better life for themselves. 
At the moment in this country, the influx of people entering Ireland undocumented is at boiling point and then let us not forget the Welfare Tourists who give Ireland Inc a bad name as distinct from the rest of the people who are trying to establish a new beginning in Ireland.  I have a little story to tell before I conclude today:   A non national woman from a non EU country asked a friend of mine for help.  When they got to talking the small print and facts, this is how the story goes:-  Her husband is out sick here in Ireland and he receives social welfare; she works five days a week and earns between £500 and £600 plus they have a medical card.  Now when you add the cash in hand jobs that this woman has and the total welfare that her husband and son receive, these people have a total weekly income of £1,050. They pay no tax on this income and housing payment.  Perhaps one of the bleeding hearts out there will explain the justice in this to me?  Can I  ask a question now?  If I went to a non EU country today, would I get rent allowance, medical card, unemployment benefit, sickness benefit?  Would I receive child allowance for my child who lives abroad as the Irish Government allows.  I will leave this to the bleeding hearts to respond.  
The people from Oughterard are angry at the secrecy within the Department of Justice and it is amazing you will never see a politician living next door to a halting site or a methadone clinic and to this one needs to add a Direct Provision Centre. Let us not forget the email that Josephine Madigan to all her voters.  "Yippy, she said there will be no methadone or junkies in our back yard".  I think Josephine is unaware and this explains the points I have made above. 
Fred  If you want to gather some knowledge about the crisis we have here are some links.  NIMBYISM at its worst because this article deals with the closure of Methadone clinics, again those who are vulnerable and who are in need of proper public health which our Government purports not to have funding for.

https://www.hotpress.com/opinion/medical-professionals-slam-minister-josepha-madigans-blocking-methadone-clinic-dublin-rathdown-constituency-22783332
What about Irish people and their plight with addiction:-
https://www.hotpress.com/sex-drugs/exclusive-major-crisis-looming-in-dublin-addiction-centres-20952270
Provisions for Direct Provision people:
https://www.citizensinformation.ie/en/moving_country/asylum_seekers_and_refugees/services_for_asylum_seekers_in_ireland/direct_provision.html
https://www.irishtimes.com/news/social-affairs/five-direct-provision-centres-oversubscribed-latest-figures-show-1.3792251