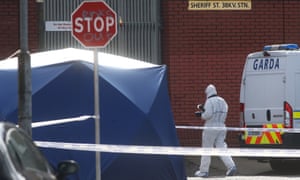 In the most violent gangland feud in Irish criminal history they are Dublin's dead men walking.
As one international crime gang headed up by a Dublin drug smuggler seeks to annihilate its rival in the Irish capital, at least 29 men have been told they are on death lists.
Fifteen people have already died, with many more injured and dozens of families have been driven from their homes by fear and intimidation during two years of gang warfare between master criminals Christy Kinahan and Gerry "The Monk" Hutch. There is seemingly no end in sight to their fight over the Dublin drug trade, which has intensified and become ever more personal.
The Guardian has learned that the joint policing committee in Dublin, which brings together elected representatives including city councillors and senior police officers, received information at the start of the year that detectives have informed 29 men they risk being assassinated.
Despite appeals from politicians, community leaders and church figures for an end to the bloodletting, the Kinahan cartel appears determined to wipe out the entire Hutch gang and anyone it perceives as loyal to it.
The shooting war has resulted in areas such as Sheriff Street in central Dublin, not far from the city's main O'Connell Street thoroughfare, being put under 24/7 police surveillance. Armed detectives are parked in cars outside the homes of Hutch associates. Similar patrols have been deployed on a round-the-clock basis in areas seen as Kinahan gang strongholds, such as Crumlin and Ballyfermot, south of the river Liffey.
Hutch's gang had intended to kill a large group of men they believed were linked to Kinahan by deploying two gunmen, disguised as police, carrying AK-47 assault rifles. Another gunman, carrying an automatic pistol around the front of the hotel, was dressed as a woman.
The hotel's CCTV equipment and live TV coverage of the weigh-in captured the entire armed assault. Images of people fleeing in blind panic from men wearing police hi-vis yellow bibs and and clutching Kalashnikovs were beamed across the world. David Byrne, a Kinahan "soldier", was shot dead.
But the "spectacular" spectacularly backfired on the Hutch gang. In the ensuing feud, the Kinahan gang, whose boss moves between properties in Spain, north Africa and Dubai, has been responsible for 13 out of the 15 killings. Among the dead were two innocent civilians who were killed because they were mistakenly associated with Hutch.
Derek Coakley-Hutch, a nephew of Hutch, was the latest to die, gunned down last month while sitting in a car near Dublin's Wheatfield prison. At the time, the 27-year-old and his associates were involved in a plot to throw a parcel of drugs over the prison wall.
Jimmy Guerin, a Dublin county councillor, has been campaigning against the pervasive influence of the crime gangs ever since his sister Veronica was shot dead on the orders of aconvicted drug-dealing gangster in 1996.
Guerin said that, ironically, crime has fallen in some of the hotspot areas as the feud has intensified and police have been deployed around the clock.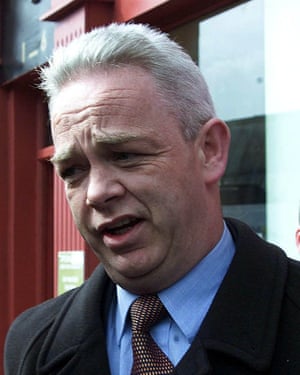 "This feud is about more than just drugs," Guerin said. "It is also about a clash of personalities and deep personal bitterness."
Responding to widespread public anger over the death of Veronica Guerin, the Irish state established the Criminal Assets Bureau in 1996. The CAB was given unprecedented powers to seize the assets and wealth of suspected top criminals and led to many of the country's most notorious gangsters fleeing Ireland, some of them angrily blaming the Gilligan gang for "crossing the line" by killing a journalist and bringing the full glare of the state's scrutiny on to their operations.
Irish authorities have seized drugs worth hundreds of weapons and millions of euros and cash in the fight against the gangs, but Guerin said he believed more could still be done.
"They need to bring back experienced detectives from retirement and take a more comprehensive approach to tackling this gangster culture in Dublin," he said.
Guerin praised the police for putting hotspot areas into lockdown, a measure he said had saved lives. "But they can only thwart so many attacks. Others will get through, especially because the Kinahan gang has the resources to pay young criminals to carry out its hits. It is spending tens of thousands of euros and offering to wipe out drug debts to addicts and petty criminals if they will attack anyone connected to the Hutch gang."
The constituency of another councillor, Mannix Flynn, includes some of the south Dublin inner-city areas regarded as more loyal to Kinahan's gang.Anyone even remotely associated, or thought to be associated, with the Hutch family has been driven out of their homes, he said.
Unlike during previous Dublin gang disputes, Flynn added, there is no "mafia-style commission" providing a mediation mechanism for gangs to sort out their differences.
"This feud, I am sad to say, is here to stay. There is no mediation process and no one either side will listen. This is way beyond negotiations now and is a fight to the death."
The battleground has even extended to Ireland's maximum-security prisons. Convicted criminals with associations to both gangs have to be housed on separate landings and prison officers made aware of their affiliations in order to avoid clashes.
Flynn said the climate of fear crept into every area of life in the communities where the "war" is taking place.
"In certain pubs and clubs, whether here in the south inner city or in the northside [of Dublin], there are people who get up and leave at the first sight of certain individuals they think are either under threat or are involved in the shooting war. The fear is everywhere in these communities and no one in them feels safe any more," Flynn said.
According to a senior veteran detective who spoke to the Guardian, the feuding will only end if one of the two master criminals is killed.
The detective confirmed reports in Dublin that, from his various bases across Europe, Africa and the Middle East, Kinahan has offered a bounty of several thousand euros to have his bitter rival kidnapped and killed in a slow painful death.
The bounty reflected the deep-rooted hatred Kinahan bears toward Hutch, he said, but there were more rational, economic reasons for Kinahan to wipe out his rival and his gang.
"For decades the gang aligned to Gerry Hutch had control of the smuggling routes based at Dublin port. The Kinahan cartel have always craved control of that network and by defeating the Hutch gang they would take over these routes. There is more to all this carnage than just a bloody vendetta, although that is important. The Kinahans have more than one reason to wage war until they win," he said.
Fred says:-  Researching the English media and newspapers I have found that they have a deeper into what's going on the ground in Dublin, Spain, Holland and Dubai.  They have a better investigative journalism methodology in the UK and even Ross Kemp has a deep interest in doing a TV documentary and maybe a number of them to highlight the amount of murders, so many of which are unsolved, in a small country such as the Republic of Ireland.  Mannix Flynn threw his hat into the ring and he would know a lot of these people from the early years of being brought up in Dublin and then going through the Industrial schools which many of the elder gangland figures went through also.  Mannix Flynn would know a lot about drugs because of his brother in law Felloni who received a sentence 20 years ago, one of the biggest sentences handed down by an Irish court.  To be fair to Mannix, he kept away from all of that and is now a hard working Councillor in Dublin.  In the meantime, the Kinahan and Hutch Feud has calmed a little but do not let that fool you because the volcano of hatred and old scores could erupt at any time.  In the middle of all this we have the young Thugs and Gangs emerging now in Tallaght, Crumlin, Coolock, Darndale, Sligo, and many other parts across the country.  These young Thugs see an opportunity since the Kinhans have almost gone into exile in Dubai at the moment and some of their main figures like Kavanagh and Thompson are behind bars. 
Many years ago before this Feud erupted they were all friends, cousins, in-laws, and all of a sudden over power, paranoia, greed – it all erupted at a very high price to Life.  Between the Kinahan-Hutch  Feud and the other turf wars across the city and beyond we have now at least, within the last 3 years, 28 murders and sadly there is no sign of it stopping anywhere in the future.  As senior Garda Officer Pat Leahy said one month ago "this feud between Kinahan and Hutch will go on for 20 years."  These are scary words but sadly they could be true.  In the meantime, we have arson attacks in North Dublin every week and a lot of these pipe bomb attacks are not being reported by the Irish media.  People are living in fear even going to their local pub, they don't know when a gunman could walk in and start shooting.  This is the sad reality of how society operates in certain parts of Dublin at present.  Heavy armed Garda units can only contain the Gang War for so long but the Government and Flanagan need to come up with some type of a collective Government agency approach with mediation or whatever it needs to stop the brutal killings.  Fred