Garda said he was not 'rounding up' people for complaints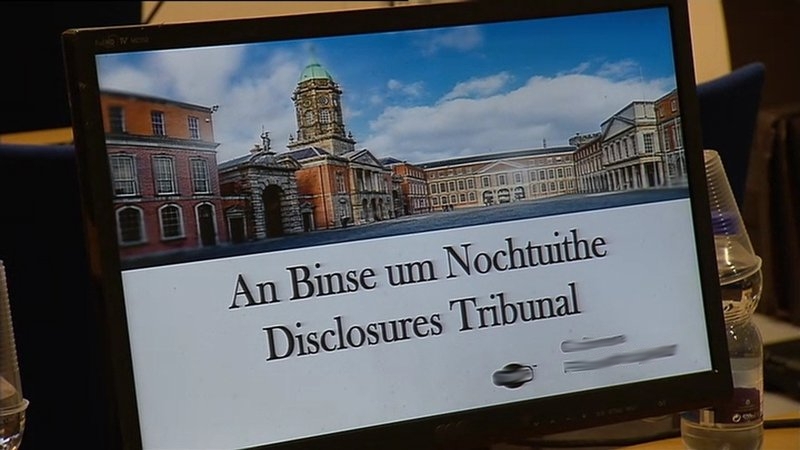 Garda whistleblower Nicholas Keogh has told the Disclosures Tribunal he was not "rounding up people" to make complaints that a member of the force, identified only as Garda A, was colluding with a drug dealer.

The tribunal is investigating 21 issues raised in Garda Keogh's protected disclosure made in May 2014 about garda involvement in the drugs trade in Athlone.

Garda Keogh claims he was targeted and discredited by senior members of the force after making a protected disclosure that Garda A was helping a drug dealer, Ms B, in Athlone.

He claims that following his disclosure he was subjected to a series of harassments related to his car tax, sick leave, back pay, delays in his case and intended micro-supervision of his work in Athlone.

He said it was an "extremely difficult time" as he was still stationed in Athlone, sometimes working the same shift as Garda A.

One of the issues being investigated by the tribunal is a visit to Athlone Garda Station by a woman alleging Ms B had assaulted her daughter.

Garda Keogh said at the public counter the woman, of her own volition, said there was garda collusion in the drugs trade in Athlone and that Ms B was doing favours for gardaí.

Garda Keogh said in light of his own involvement in an internal investigation he felt it would have been a conflict if he took her statement.

Another garda spoke to her and reported that the woman, Olivia O'Neill, had been advised by Garda Keogh to include allegations concerning gardaí and Ms B.

Garda Keogh and Ms O'Neill deny this.

Today, Garda Keogh said he did tell her to "name names and name guards", but did not tell her to name Garda A.

He said he was asked in writing about what he had said to Ms O'Neill and that he felt that he was being portrayed as someone who tried to persuade her to name Garda A.

He said: "They tried to discredit me, regarding the main investigation, as if I was dragging people in to make complaints against Garda A."

Earlier, the tribunal heard that Garda A was accused of having an improper relationship with Ms B in Athlone, which he dismissed as "scurrilous, slanderous and unfounded".

Garda A in a statement said Garda Keogh made the allegations in order to settle a personal grievance.

Garda Keogh resumed giving evidence this morning about an entry he made on the Pulse system stating that Ms B was a serious heroin dealer who avoided prosecution because she was aided and abetted by Garda A, who was a member of the drugs unit.

Sections of a statement made by Garda A were read in which he said it was obvious the Pulse entry referred to him and he became the "brunt of many a joke".

The second issue being investigated by the tribunal is a search Garda Keogh carried out on the pulse system on Garda A.

Garda Keogh said this was the first step any garda takes when conducting an investigation, but he would not explain his reasons for doing it when he was asked by a senior officer.

The tribunal heard that Garda A raised concerns about the check, saying he found it "sinister" and was worried about who the information might be passed on to.

He asked for the matter to be fully investigated.

Judge Sean Ryan asked Garda Keogh how was it bullying that he received a letter from a superior officer asking why he carried out the search.

He asked if Superintendent Noreen McBrien was not entitled to ask him.

Garda Keogh replied that he did not reply to Supt McBrien because she should have sent the letter to the investigating team that was set up after he made the protected disclosure.

The tribunal is trying to establish whether or not the written and verbal questioning by his superiors over the use of Pulse amounts to targeting or discrediting him.

This final phase of the tribunal is looking at complaints made by serving or retired members of An Garda Síochána who allege they were targeted or discredited, with the knowledge of senior garda members, after they had made protected disclosures alleging wrongdoing.
Fred says:-  It is hard to decipher the facts from fiction to the above but after Maurice McCabe and the recent scandal with Gangland being paid protection money by Dublin City Council and Developers, you would have to wonder if we are now living in a country where Corruption is on the edge of being legalised.  We will have to await the outcome of this charade or maybe it could be another Scandal.  As I have said before, since Eoin O'Duffy, at the time a very dark individual, with a massive perverted sexual appetite, Allegedly: but then said by many through the decades.  The Gardai were like a private army; they were just like the Church and FF; they were almost untouchable.  Times have changed, people have moved on but sadly the Keystone cops have a problem with evolution.  Don't forget between the Chimpanzee and humans, it is only 1%.  At times I find this intriguing especially when you are talking to some Gardai.  There are thousands of decent hard working cops out there, who want to serve the people as best they can but sadly and maybe my figures are incorrect but they are outnumbered because the rot has widened and the roots have penetrated deeper in relation to the corruption from within.  To be continued:  Fred