Investigation into death of man at Cloverhill Prison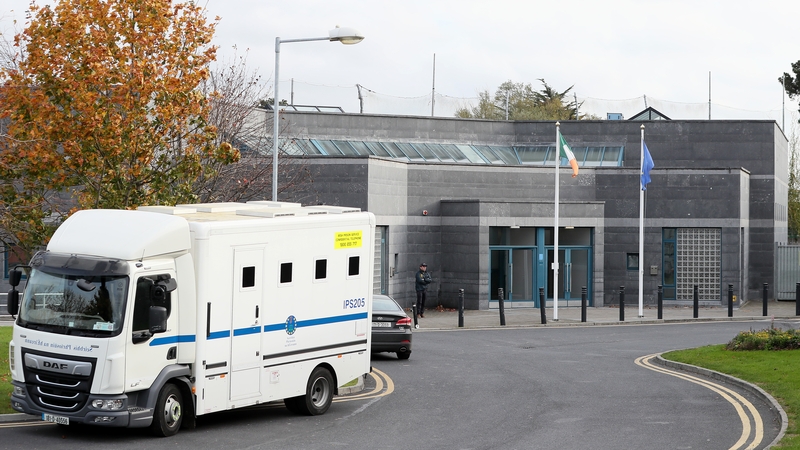 Gardaí have begun an investigation and say they are following a definite line of inquiry in connection with the death of a man at Cloverhill Prison in Dublin overnight.Emergency services were alerted shortly after midnight following an altercation between two prisoners.A man in his 30s was treated at the scene, but attempts to resuscitate him were not successful and he was pronounced dead a short time later.His body has been taken to the city morgue, where a post-mortem examination is due to take place this afternoon.A second man sustained minor injuries during the incident, which is also being investigated by the Inspector of Prisons and the Irish Prison Service.

In a statement, the IPS said that all practicable measures were taken by prison management and staff to ensure the safety of those in custody.

But it added that no prison system could be entirely free of violence, and it said that violence between prisoners did happen.
Further article from Irish Times
Locked up and forgotten in Mountjoy prison: 5 years earlier.

Appalling conditions and overcrowding throughout Mountjoy on the night of July 31, 2006, meant seven vulnerable prisoners were packed into one holding cell supposedly for their own protection.
The last one in was a young man who had been moved downstairs as he was fearful of his personal safety in the packed prison.  Another was a man who had, just days earlier, frightened a senior psychiatrist because he was so violent and deluded.
Crucially, he had not been given his anti-psychotic medication.A considerable amount of alcohol was consumed through the night. At 6.30am, six of the prisoners filed out of Holding Cell 2. They quietly informed prison officers that one man was still inside under a pile of duvets, with a sheet covering his face.  He was pronounced dead an hour later.
Eight years on, a Commission of Investigation report has found that the regime in Mountjoy at the time was "inept, dysfunctional, and showed reckless disregard for the safety needs of both prisoners and staff".  As a result, Gary Douch is dead.
Stephen Egan, who has deep psychiatric problems, is serving a life sentence for his manslaughter.
Failed by the State for second time
Gary Douch had celebrated his 21th birthday in Portlaoise Prison and the next day, July 24, 2006, he was transferred to Mountjoy.
He had already spent most of his adult life behind bars, having been convicted in July 2005 for assault causing harm, with his sentence backdated to his committal a year earlier.
The second youngest in a family of eight, he had been given a three-year sentence. The severity of the sentence reflected teenage years which had seen the boy from Coolock amass convictions for theft, drug use, and assault.
When he was moved to Mountjoy, he was placed on C Wing. At the time, there were more than 520 prisoners in a facility that was supposed to cater for less than 470. On C Wing, he was left sharing a cell with 17 other inmates but he felt afraid that he was going to be attacked.
He spoke to a prison officer and asked for protection. Eventually, he was transferred to a holding cell in the basement of the prison. But the investigator said the overcrowding in Mountjoy completely undermined the ability of the prison to respond in a safe way to his request for protection.
The conditions he was placed in "created an unquantifiable and unacceptable safety and security risk".
This cell was the space used to house vulnerable people on the night, including an inmate who had been stabbed in the prison yard earlier in the day.
At one stage that evening, 14 prisoners were in the cell. As it approached nighttime, seven men were taken out and the remainder were given bed clothes to sleep with.
Just after 4am the toilet light was turned on. The investigator said this was possibly done by Gary Douch.
He had somehow taken on a considerable amount of alcohol during the night.
At 6.30am, he was found badly beaten under a pile of bed clothes.
Fred concludes for now:-  If one is not safe in a Prison, we are in dangerous times. No matter what Lawlor may not have done or did do in his Criminal career, he was doing his sentence for the crime. Murder was not on the list, until now. After the slaughter of Gary Douch, by Egan, a Mentally ill inmate, we have had report after report, to the point that we are running out of paper, or maybe now it is time to say stop the Excuses and Cover ups?  The Final Report on the Gary Douch murder was 491 pages; we need to ask questions about research and practice. 
More links which may be relevant now:-
https://www.iprt.ie/site/assets/files/6288/iprt_deaths_in_prison_custody_-_information_for_families_june_2012.pdf
http://newslab.ie/ddjucd/irish-prisons-a-look-at-life-and-death-behind-bars/