Mayor of Clare to boycott Royal Irish Constabulary commemoration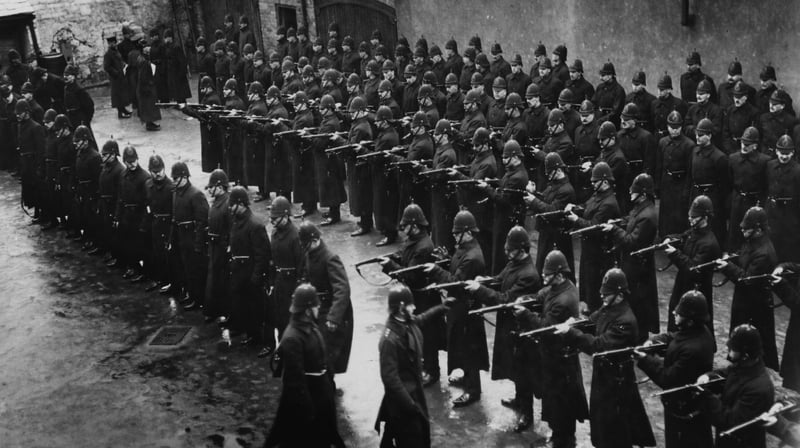 The Fianna Fáil Mayor of Clare is to boycott the forthcoming commemoration service for the Royal Irish Constabulary, describing the event as "historical revisionism gone too far".Cathal Crowe, who is also a Fianna Fáil general election candidate, was invited by Minister for Justice Charlie Flanagan to attend the 17 January service.However, he said today that it is "wrong to celebrate and eulogise" the RIC, "an organisation that was the strong-arm of the British state in Ireland".The commemoration is being held to remember members who served in the RIC and the Dublin Metropolitan Police prior to independence.It will take place in Dublin Castle. Both Mr Flanagan and Garda Commissioner Drew Harris are due to address the event.In a statement, Mr Crowe said he studied history for four years at the University of Limerick and blogs regularly about local history.He is also a member of the War of Independence Commemoration Committee in his parish of Meelick-Parteen."In the main, I think all of the Government's State commemorations have been apt and tasteful, but I see the commemoration of the RIC as a step too far," he said."I don't hold any ill feeling towards the individual men who served in the RIC Division of Clare – many of them were decent people who were guided by the their strong civic and law-abiding principles."I do, however, think it's wrong to celebrate and eulogise (I consider "commemorate" to be a verb with positive connotations) an organisation that was the strong-arm of the British state in Ireland."The RIC joined army and auxiliaries (Black & Tans) in search parties and raids that resulted in our country-people being killed/tortured or having their homes torched. In the 1800s the RIC were present with battering rams as poor Irish tenants were forcefully evicted from their ramshackle homes."He also said he has an issue with An Garda Síochána being central to the event."The guards have my full and utmost respect but I don't believe that, historically or ethically, they should seek to claim any form of descent from the RIC. The Irish Defence Forces see themselves as a totally distinct organisation from the British army."Describing the commemoration as "an overstretch," the Mayor of Clare added: "It's also historical revisionism gone too far".
I COMMEND CATHAL CROWE FOR REFUSING THE INVITATION OF MINISTER FOR JUSTICE, CHARLIE FLANAGAN, WHO IS ALSO A SERVANT TO THE BRITISH CROWN IN ORGANISING A COMMEMORATION OF THE ROYAL IRISH CONSTABULARY (RIC) AND THE BLACK AND TANS ON 17TH JANUARY 2020.  THIS IS A STEP TOO FAR CHARLIE.  THIS IS AN INSULT TO THE IRISH PEOPLE AND TO THEIR ANCESTORS WHO FOUGHT FOR THE IRA IN THE WAR OF INDEPENDENCE AND THERE ARE GRAVES ALL OVER THIS ISLAND TO PROVE IT.  COLLINS, ON THE NIGHT OF THE LONG KNIVES, TOOK OUT CHURCHILL'S FINEST – THERE WAS NO MERCY.  A COUPLE OF DAYS LATER, THE BLACK AND TANS WITH THE ROYAL IRISH CONSTABULARY (RIC), WENT INTO CROKE PARK AND SHOT MEN, WOMEN AND CHILDREN, IN COLD BLOOD IN RETALIATION.  THIS COMMEMORATION IS, AS I REPEAT, A MINI SURRENDER TO THE BRITS AND I WOULD LIKE TO KNOW THE UNDERCURRENT AND THE TRUE FACTS AS TO WHY IT IS BEING HELD ESPECIALLY ON THE EVE OF BREXIT?  CAN OR WOULD YOU EVER SEE THE BRITS DOING A COMMEMORATION FOR HITLER'S NAZI'S IN LONDON ON THE SAME DATE?  I DON'T THINK SO CHARLIE.  PEOPLE ALL OVER IRELAND ARE DISGUSTED IF THEY ARE READING TODAY'S PAPERS – YOU ONLY HAVE TO GO TO TWITTER TO GET A MEASURE OF THE ANGER AROUND THE COUNTRY.  SHOULD WE NOW FEEL ASHAMED OF OUR HISTORY?  SHOULD WE NOW FEEL ASHAMED OF GETTING THE BRITS OUT OF THE 26 COUNTIES?  DO NOT FORGET IT WAS MICHAEL COLLINS WHO SIGNED THE TREATY.  WHAT WILL COME NEXT?  WILL OUR SCHOOL TEACHERS BE BULLIED INTO TEACHING IRISH HISTORY IN REVERSE STATING THAT MEN LIKE TOM BARRY, STACK, ERNIE O'MALLEY, BOLAND, TERENCE MACSWINEY, WERE ALL TERRORISTS AND SHOULD HAVE NOT HAVE TAKEN UP ARMS AGAINST THE BLACK AND TANS AND THE RIC? MINISTER FLANAGAN – I KNOW THAT AS A PRIVATE PERSON YOU ARE A DECENT HUMAN BEING BUT LET'S GO A STAGE FURTHER – WILL YOU INSULT THE GAELIC LEAGUE ASSOCIATION? WHAT ABOUT SAM MAGUIRE AND LIAM McCARTHY, OUR FOOTBALL AND HURLING ALL IRELAND CUPS – WILL THEY ALSO BE CLASSIFIED AS SOMETHING TO BE ASHAMED OF IN THE NEW HISTORY THAT FINE GAEL ARE TRYING TO WRITE?  IT IS IRONIC THAT TODAY'S SUNDAY INDEPENDENT REPORTS YOU WILL STAND BEHIND COMMISSIONER DREW HARRIS ON THE 17TH OF JANUARY 2020.  TODAY SOCIAL MEDIA WENT VIRAL; IT IS ALLEGED THAT ONE COMMENT ASKED – WILL MI5 AND MI6 IN SUITS ATTEND THE COMMEMORATION ALSO? IF THIS IS TO BE THE CASE ONE MUST RECALL THAT THIS EQUATES TO THE MODERN VERSION OF CHURCHILL'S ELITE THAT COLLINS WIPED OUT IN ONE NIGHT.  LIKE A BOLT OUT OF HELL THIS APPEARED IN THE NEWS QUITE EVIDENTLY TO SHORT-CIRCUIT ANY OPPOSITION.  THE TIMING FOR THIS EVENT IS INAPPROPRIATE ESPECIALLY IN THE CONTEXT OF BREXIT WITH BORIS JOHNSON AT THE HELM AND WITH DOMINIC CUMMINGS AS HIS CHIEF STRATEGIST. THE CENTENARY SHOULD SHOW RESPECT TO THE PEOPLE WHO FOUGHT TO ACHIEVE OUR INDEPENDENT STATE.  PEOPLE AT GRASS ROOTS FOUGHT FOR OUR INDEPENDENCE.  I  WOULD SUGGEST YOU READ THIS LINK http://www.militaryarchives.ie/collections/online-collections/bureau-of-military-history-1913-1921/reels/bmh/BMH.WS1362.pdf AND ENGAGE IN FURTHER RESEARCH BECAUSE IT IS WRITTEN BY A PERSON INVOLVED AT THAT TIME.   RESPECT FOR THE MEN AND WOMEN WHO ACHIEVED INDEPENDENCE IS BEING MOCKED BY THIS ACKNOWLEDGEMENT OF THE RIC AND WORSE THAN ONE CAN EVER EVEN IMAGINE THE BLACK AND TANS.  CAN I ASK CHARLIE FLANAGAN ONE QUESTION – IT IS ALLEGED THAT HE IS GOING TO FLY THE UNION JACK ON THE ROOF OF DAIL EIREANN ON 17TH JANUARY?  IF THIS IS TRUE, CAN THE TRICOLOUR FLY OVER 10 DOWNING STREET?  FRED 
LINKS

https://militaryhistorynow.com/2015/11/09/the-black-and-tan-war-nine-fascinating-facts-about-the-bloody-fight-for-irish-independence/
https://www.irishcentral.com/opinion/patrickroberts/history-black-and-tans-ireland
https://www.dailymail.co.uk/news/fb-5350241/What-Come-Ye-Black-Tans-song-Pro-IRA-tune.html
Addendum:  News update:  It is alleged that Minister Flanagan and Independent Boxer Moran have asked Eamon O'Cuiv and the De Valera family for an apology on Eamon De Valera's gun running and attacks against the British during the War of Independence – 100 years ago.  It is alleged that Flanagan and the Boxer want the apology in writing and it is to be sent directly to Boris Johnson, PM and MI5 and MI6 before Brexit kicks in.  I mean to say how dare Irish men fire a shot at the Black and Tans during the War.  How dare Dan Breen and the Cork Flying Columns even have guns.  Now back to the Planet of Reality in the Republic of Ireland.  Will the Union Jack fly over all State buildings on the 17th of January 2020.  Also will there be a photo of the Queen's rear end displayed in the Dail Bar, including a photo of Prince Harry dressed up as a Nazi in full uniform, which was one of his pranks.  We must ask again which shower of Pro Brits in this country are trying to re write Irish history.  Some say this source is coming from Ballyvaughan in Co. Clare (Ghosts of times past).  It is also alleged that West Brit sources in Dublin 4 – Lord Wellington – are also behind this Charade of Shame and to add to this they have infiltrated Irish Civil Liberties and when I say they I mean MI6.  Will Flanagan arrive at Dublin Castle in a pink squad car alongside the Boxer in frilly pink knicks with Dame Enda Kenny dressed as ZaZa Gabor?  If ever the IRA dissident groups wanted a recruitment drive, it has arrived sponsored by these West Brit Clowns.
——– Forwarded Message ——–
Absolutely stunned that the Govt plan to commemorate the Black & Tans. WTAF is wrong with them?! Please sign. Fine Gael: Don't Commemorate The Black and Tans – Sign the Petition! http://chng.it/zTJyWdX6 via
6th January 2020:  Source:   Twitter
https://www.newsletter.co.uk/news/british-army-could-attend-dublin-event-to-remember-easter-rising-troops-1-7301559