Steve Coogan: 'I sang Black and Tans song as a bet'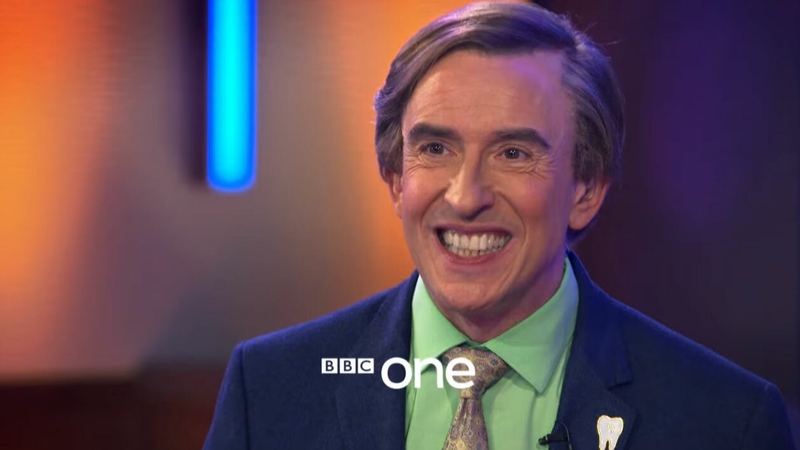 Actor and comedian Steve Coogan has said he sang Come Out, Ye Black and Tans on primetime BBC television last year as a "private bet" and as part of an "in-joke".Coogan, whose parents are both from Ireland, appeared as both Alan Partridge and west of Ireland farmer Martin Brennan on an episode of the spoof magazine show This Time with Alan Partridge last March.In a scene that became the standout moment from the whole series, Martin scandalised bungling TV host Alan when he performed an impromptu rendition ofCome Out, Ye Black and Tans, followed by a verse of The Men Behind the Wire.Speaking to RTÉ Entertainment ahead of the release of his new movie Greed, Coogan said, "As someone who is half-Irish, I was hoping that my fellow Irishmen would appreciate it and they did."It was kinda like a little in-joke, a private bet – I wonder could we get, just for the mischief, an Irish rebel song on primetime BBC One and we managed to do that. Hahahaha. In fact, we got two Irish rebel songs in!"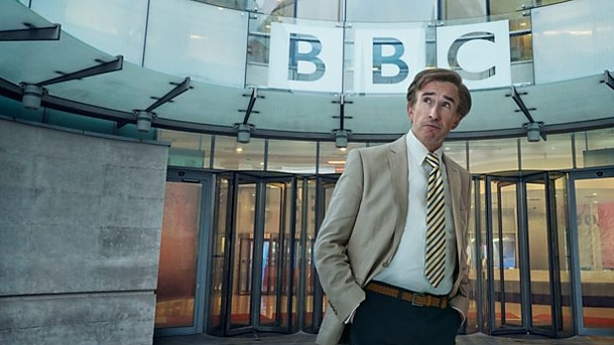 Asked if there was much resistance to the idea from the BBC, Coogan said, "No, no. It's an in-joke for us but it works comically because Alan Partridge plays a member of the establishment who is appalled by it and that's where the comedy comes from so artistically it's entirely justifiable but it also makes me have a private chuckle."
There was further good news for Alan on Friday when the BBC announced that he would be finally getting a second series as This Time with Alan Partridge will be back for another run.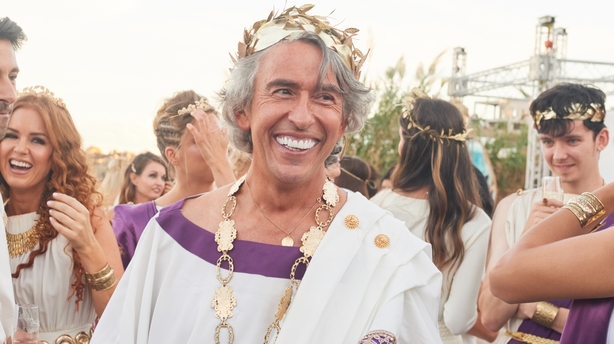 In Greed, Coogan plays Sir Richard McGreadie, a second-generation Irishman in the UK who has made a fortune in the fashion industry but now faces a professional and personal crisis as his 60th birthday looms.
The movie, which was directed by regular Coogan collaborator Michael Winterbottom, also stars Isla Fisher and Shirley Henderson and features numerous celebrity cameos from the likes of Keira Knightly, Chris Martin of Coldplay, Stephen Fry, James Blunt, and Colin Firth.
This Time with Alan Partridge is currently screening on RTÉ2 and is also available on the RTE PLAYER
Fred says:  FF should form a Government now with the Blue Shirts, either way the people of Ireland will not be Fooled again. RTE are totally Biased also against Sinn Fein.  Well it is possible to surmise that Jim O'Callaghan would share the same views as his sister Miriam the RTE Diva and I am not talking about an Opera singer, and most importantly a well known journalist who deeply has a problem with SF.  The big Question is Why?   Alternative … The Nolan Show and what they think about Sinn Fein Success "they did so well they did not predict it themselves" https://www.bbc.co.uk/sounds/play/m000f539

=================================
Weekend is upon us: let's see what can be said today, says Fred
Fianna Fáil leader Micheál Martin is facing calls to "consider his position" by grassroots party members in Co Cavan.
Shane P O'Reilly, Fianna Fáil cathaoirleach of Cavan County Council, said he has "never seen such anger" among party activists as he has since the outcome of the general election.
"Far be it from me to start calling on leaders to resign, or headquarters staff to be chopped… a word said in haste can often be regretted later," he told Northern Sound.
Mr O'Reilly said Mr Martin's future was a decision for himself.
The party as a whole "needs to do some soul searching", he added.
Mr O'Reilly said there is an "extreme disconnect" between the Oierachtas and people on the ground, adding that party members are "taken for granted".
"It is atrocious what has happened us," he said.
"It is time for us as a political party to have a damn good look after ourselves."
Fianna Fáil Cavan councillor John Paul Feely said he was "mystified that the party leader seems to be talking about the formation of a government."
"I think it's extraordinary at this stage that he hasn't seen the light that we have been very poorly led during this campaign and indeed well before it," he added.
"I think that Micheál Martin really needs to consider his position. I think if he had any decency he would have resigned already.
"I think there needs to be a clean sweep in terms of the national organisation."
Mr Feely also attacked what he called a "very bland front bench" in the party, saying he would have difficulty identifying the brief held by any more than than four or five of them.
===============  15th February 2020
Now if the above comes from Cavan, what has Fred Bassett got to add:-
Micheal Martin led his party Fianna Fail into this February 2020 Election.  Martin has (who within FF agrees with this?) rejected the Letter from Sinn Fein Leader, Mary Lou McDonald and her request to have a meeting and so did Leo but Leo also said "I don't want to be in coalition with Martin, we don't have the numbers for the Cosy Deal Supply". Leo has just told Martin "I used you like a puppet for the last three years".
Now nobody doubts the fact that Martin privately is a gentleman. This is nothing personal. But, he is 31 years in that Dail and so is Willie O'Dea and maybe two more. Micheal, I say to you now, the Good Friday Agreement – this I believe you have turned your back on and you have, again with respect, tried to bury the memory of Bertie Ahern in Fianna Fail. Bertie Ahern along with Tony Blair and those others who laid the seeds before them, brought the IRA to the Table and we for twenty years now we have had Peace, no bombs, no threats and Belfast is thriving with Tourism, the Titanic and Derry is thriving also. There are problems, like drugs, the same as down here Micheal, but Micheal you deny Democracy. You go to Belfast, like Leo, and you want the DUP, SDLP, to sit down with Sinn Fein and get Stormont up and running. Respect for all should apply and I respect you for that.
But now Micheal – why the contradiction of Lies? You won't sit down with Sinn Fein in the South, you don't Respect them. Yet, they have the biggest vote in this election and the people have spoken. Why did you bar Bertie for life from Fianna Fail when you praised him as a minister and a great leader (just like Lemass, in your own words)? Bertie led three successful Fianna Fail elections. Then the Global Crash came and the Blame Game started. You jumped ship and timed your plan to become Leader after FF was almost wiped out and Kenny and Fine Gael took over. Now we have a conundrum and if the Good Friday Agreement stands, in writing and globally, with the backing from former President Bill Clinton, well then you don't agree. Why? Because you Deny Sinn Fein the right of being voted in by the people. This is called Democracy.
If you go into Government with Fine Gael, you have signed your own political death warrant.
Where are John McGuinness and Eamon O'Cuiv? You have a Voice and the citizens of Ireland are listening. 
One final point from Fred who is thinking deeply about the outcome of this Election:  Micheal we can go one step further and say Leo (Tonto) does not respect you even though you facilitated the Cosy Deal arrangement for three and a half years.  Micheal you must ask yourself the question: can you imagine if Charles J. Haughey; Sean Lemass; Jack Lynch or for that matter Bertie Ahern received that insult in the Dail Chamber from Leo about the dirty old priest and behind the altar https://www.thejournal.ie/varadkar-apology-sinning-priest-martin-micheal-4718666-Jul2019/, how they would have reacted?  You accepted the apology but the comment was demeaning beyond acceptance and I am certain any of the four mentioned above would have wiped the floor with him and again he snubs you by saying "as a last resort, he may speak to you for a grand coalition" which means you will be on your knees and you expect your TD's also, to be on their knees.  This is not the voice of the people in this Election outcome.   Fred exhausted from thinking.  Fred.