Monday:  a thought for all of us:  Even Sinn Fein's biggest enemy gained Trust with Martin McGuinness and they had a deep respect of each other and this brought Peace and Tranqulity to the North of Eire.  A tweet:-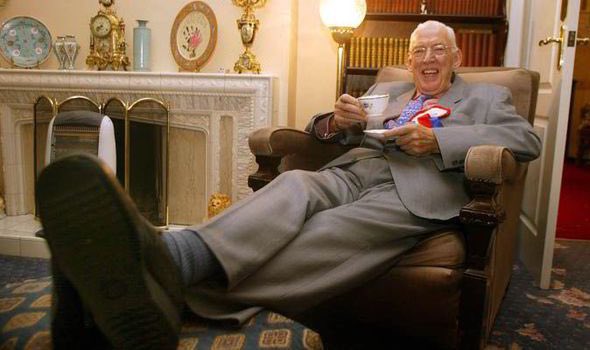 #Sinn

Féin .. Each time I asked Ian Paisley why he went into government with

@sinnfeinireland   H

e answered "Because the people elected them. That is democracy & they are not going away." Why are

@LeoVaradkar 

&

@MichealMartinTD 

struggling to accept what Ian Paisley realised then?
Reminders to those find it easy to forget:
Glenanne gang: Former police chief to lead probe into alleged state collusion in the North
The Glenanne group was a deadly part of the Ulster Volunteer Force (UVF) in Mid Ulster.
Jon Boutcher
Image: Liam McBurney/PA Images
FORMER BEDFORDSHIRE CHIEF constable Jon Boutcher will lead an independent police probe into alleged state collusion with a loyalist gang in Northern Ireland.
The Glenanne group was a deadly part of the Ulster Volunteer Force (UVF) in Mid Ulster that included rogue soldiers and police officers.
It was blamed for around 130 sectarian murders during the 1970s and 1980s and operated mostly in counties Tyrone and Armagh.
Boutcher said: "The review of the Glenanne Gang series will have the interests of the victims, and their loved ones, at its very heart."
Northern Ireland's Lord Chief Justice Sir Declan Morgan recently said police had not honoured the "legitimate expectation" of bereaved relatives of murder victim Patrick Barnard that an overarching investigation into the Glenanne group would be held.
Former Police Service of Northern Ireland (PSNI) chief constable Sir George Hamilton had appealed against a 2017 judgment that found against the police's decision not to complete work being conducted by the independent Historic Enquiries Team (HET) prior to its disbandment.
Boutcher said: "I have started to meet with the families and their representatives and have promised each of them that I will do everything I can to establish the truth about who was responsible for these terrible crimes.

For the families, that especially means finding out about what, if any, assistance was given to the Glenanne Gang by others in any manner whatsoever, and that will include whether people turned a blind eye to what was happening.
The Glenanne members are suspected of involvement in about 90 attacks during the Troubles, including the 1974 Dublin and Monaghan bombings, killing 33, and the 1975 Miami Showband shooting attack on one of Ireland's best known showbands.
It was also involved in a bombing at the Hillcrest Bar in Dungannon, County Tyrone.
Court action against the PSNI was launched by Edward Barnard, whose 13-year-old brother Patrick was killed in the pub blast.
Patrick was among four people to die following the no-warning explosion on St Patrick's Day, 1976.
Boutcher has led an unrelated independent investigation into the murderous activities of the Army's republican double agent, code named Stakeknife.
Boutcher has appealed for anyone with information on his new probe to contact him through his Operation Kenova website.

He said: "Any inquiry or investigation is only as good as the information it receives. The Barnard Review will seek to recover records and information from wherever such information might be held, not only from PSNI records."

PSNI Assistant Chief Constable George Clarke said: "Our thoughts first and foremost are with all of the families affected by these incidents.

"They, like too many other families, have suffered as a result of the Troubles and, understandably, they continue to seek answers in respect of the deaths of their loved ones."
1974 Dublin and links to Glennane gang: Collusion inquiry begins into loyalist murder gang
The gang was part of a UVF unit that included rogue soldiers and police officers
A file image showing the aftermath of the bombing on Nassau St, Dublin in 1974. Photograph: The Irish Times
Worth reading Law Society Northern Ireland link below:
Friday 28 July 2017
Court Finds Chief Constable Breached Article 2 By Failing To Produce Het Report Into Activities Of Glenanne Gang
Summary of Judgment
Mr Justice Treacy, sitting today in the High Court in Belfast, found that the families of the victims of the Hillcrest pub bombing had a legitimate expectation that the Historical Enquiries Team ("HET") would publish an overarching thematic report regarding this case and its linkage to other murders and offences carried out by the Glenanne Gang. He also found that the Chief Constable's decision to transfer the work of the HET into a branch of the PSNI was fundamentally inconsistent with Article 2 and frustrated any possibility that there would be an effective investigation in the Glenanne cases.
Fred must engage:  Reading the Sunday Independent comic today, I always enjoy a good laugh so over a nice cup of Barry's Blueshirt tea, I read the John the Babtist of Irish Politics – Eoghan Harris's column.  Now privately Eoghan, (apart from being as bitter as bad vinegar) is a decent Wateford human being but this man has been in more political parties than Adams has been in safe houses.   Eoghan's old comrades left the Stickies and became politicians and some even made it to the position of Judges, wearing wigs.  Let's name a few:  Lady Wicklow McManus and her ex-husband, Dr McManus; Rabbitte; Gilmore;  Professor Anthony Coughlan (a decent man) and that gobshite from North Dublin who will remain nameless but who made a fortune suing newspapers. 
Now Eoghan today's Sunday Independent article has a photo of Mary Lou left standing at the altar so I will try and decipher the message he is trying to make from his deep Republican roots.  You are right Eoghan, Martin will not turn up for the Wedding and Leo cannot, for other reasons!  Why?  They are scared.  The Establishment is finally rattled and that includes you Eoghan and the old Civil War parties are on the run because the young people don't give a Fiddlers anymore for the Establishment because it has wrecked this country with corruption, cronyism and in your own words "Fradulent Deals".
When Eoghan was adviser to John Bruton, he organised the skit with Twink on stage doing the hoovering.  Many people at that gathering were pleading silently that Bruton would fuck off the stage and leave Twink on as they much preferred her frilly knickers and good old fun.  As we all know Eoghan has left the Blueshirts and he is making out in today's column that Martin is the greatest Leader since Martin Luther King and he had a dream also. 
Eoghan is the John the Babtist because somewhere along the way from the little room in Belvedere Place where all the old stickies would meet to talk about Republicanism and plots, they all bickered and bitched and in the end they could not make a decision whether to have a ham sandwich or not and they scattered.
My summary is that Eoghan found a Conscience; he found a way to get a grip on his view in relation to Republicanism, Nationalism and Unionism.  But, then something most bizarre happened.  He left behind his Republicanism and Nationalism and in today's column he made one of his usual bizarre comments that the North of Eire was always part of the UK.  Eoghan.  Ding. Ding. Ding.  You are wrong.  It is time to review the history of Red Hugh O'Donnell, along with O'Neill, the Flight of the Earls, Liz the lesbian Queen planted Ulster with Scottish bigots. 
People must ask today why I compare Eoghan to John the Babtist?  This is quite a difficult question to answer:  John kept annoying Herod; he kept throwing stones at the passing carriages and establishment but John the Babtist had a goal and he stuck with it.  I believe Eoghan has a troubled conscience and even in the winter years of his life I sincerely hope and believe he can regain the old Eoghan Harris he used to be.  Maybe he could end up a legal adviser to Sinn Fein once again.  As the old story goes the cuckoo always finds a nest somewhere. 
Eoghan is now so repetitive weekly that I am actually gone to listening on youtube to Daniel O'Donnell and that really makes me sad.   But Eoghan keeps on screaming IRA ATTROCITIES; IRA MURDERS; SINN FEIN CORRUPTION AND ALL THE OTHER BULLSHITE BUT HE WILL NEVER MENTION THE ATTROCITIES AGAINST THE INNOCENT IRISH CATHOLICS OF THE NORTH OF EIRE BY THE B-SPECIALS, (RUC BY DAY AND LOYALIST MURDER GANGS BY NIGHT).  YOU NEVER HEAR EOGHAN MENTION JOHN STALKER AND THE SHOOT TO KILL POLICY AND EXPOSING THE TRUTH AND FOR THAT JOHN STALKER PAID A VERY HEAVY PRICE.  EOGHAN WILL NEVER MENTION THE MURDER OF PAT FINUCANE IN FRONT OF HIS OWN FAMILY ORDERED BY SHADY FORCES FROM THE TOP OF THE BRITISH GOVERNMENT WHICH INCLUDES BOTH MI5 AND MI6 AND THE FACT THAT DREW HARRIS WAS WEARING THE UNIFORM OF THE RUC AT THAT TIME. 
Today also Eoghan attacks Professor Regan of UCD for just stating that Sinn Fein won the Election 2020 and have the right to be in Government.  You see he also attacked RTE today but deep down I know Eoghan will some day look in the mirror and his past will entwine with his future and he will come out and take the book down (hidden in his book shelves) – the biography of Gerry Adams and take a short break to the Aran Islands to read it and chill out.  Sinn Fein have arrived and the Establishment including Martin (the invisible FF leader) and Leo (the failed bluffer) have to swallow a bitter pill.  We are talking here about 700,000 people and they voted under the Irish Flag OF DEMOCRACY so the old Establishment including Harris are really just remnants of bitterness, bigotry and burn-out.  Fred
Political chameleon is bound to give upper house some colour, Harris is a Political Travelling Circus.
EOGHAN Harris is a political chameleon who has changed his colours frequently while nailing each new set of them firmly to the mast.
Fiercely passionate, Harris stands as the perfect columnist contrarian. A catalyst for controversy, he sparked much of it when he infamously described President McAleese as a "tribal time bomb" on her election.
The bile visited in his direction in response was especially strong because of his own extreme past.
Born in Cork more than 60 years ago, Harris came into his own at UCC, where he was described last night as "a Republican of almost cartoon character dimensions".
Said a source: "He was a corporal in the FCA and he forced his men on long route marches around West Cork. Every Easter he would wear a green suit, bright white shirt and orange tie.
"He made great public speeches about Tone, Pearse and Emmet – and has spent the rest of his life trying to scrub himself clean."
Harris always regarded himself as an intellectual in Sinn Fein, and when that party split it was no surprise that he should go with the Officials, known as the 'Stickies', rather than with the Provos engaged at the coal-face of conflict.
Recalled also last night as "Cathal Goulding's brain", Harris veered more into Stalinist ideology as the 'Stickies' developed close links to Moscow.
As a producer at RTE, he quickly became a force behind leading current affairs programmes such as 'Seven Days' and 'Feach', where he put his Irish language skills to good use.
A sudden increase in the number of apparent 'Stickie' sympathisers at RTE – dubbed by some as the "brood of Harris" – led to some alarm in mainstream political circles in the late 1970s.
It was believed, certainly within Fianna Fail, that Marxists were deliberately infiltrating the media to further their own political objectives.
A prolific writer, Harris continued to churn out political articles and pamphlets all the while, but also found time to write a play called 'Souper Sullivan' which was performed at the Abbey in 1987.
Revelling in his position as an ideologue in the Marxist tradition, the fall of the Berlin Wall in 1989 – and thereafter the almost global eradication of Communism as a ruling political force – is seen as providing him with his Damascene conversion.
Harris split from the Workers Party/Democratic Left and went on to provide consultancy for the Labour party.
He played a key role in the mould-breaking election of Mary Robinson, "although not as great as he would subsequently claim", an associate recalled.
He then took a role with Fine Gael, his one-time political arch enemies, as an adviser to John Bruton.
It was Harris who provided the disastrous sketches for Twink that bombed at an FG Ard Fheis and led to accusations of sexism, crudity and the arch-crime of unfunniness.
The polemicist became ensconced in the Sunday Independent as a columnist, after a stint with the Sunday Times.
His long political journey also took him into the arms of David Trimble for whom he was an adviser for a short time.
Also a lecturer and screenwriter, Harris had hopes that his Michael Collins screenplay would become a Hollywood blockbuster but Neil Jordan wrote his own movie.
Harris backed the PDs for a time before eventually realising that Bertie Ahern had been the Messiah all along. In recent times he has written much in support of Fianna Fail, whom he claims to have known for nigh on four decades.
Harris's only consistency is said to be his unpredictability.
"The only certainty is that always turns on you in the end," said a former political associate.
Bertie will be hoping that won't be for some time yet.
He has also been a short-lived adviser to John Bruton, before he became Taoiseach; an adviser to the Ulster Unionist Party; and most recently a supporter of the Fianna Fáil-led government of Bertie Ahern. At one stage an Irish republican, Harris is now a bitter critic of modern-day Sinn Féin.
Fred
---