'Out and about' teenager is remanded in custody over coronavirus threat.  A father traverses the country for a dog for his autistic son; but then there are the dog breeders who are selling what is on order and breeches too.    Selective Laws, Abuse of Power.
A teenager accused of being "out and about" for no reason – despite sharing a house with two people who had tested positive for Covid-19 – has been charged with breaching emergency public health laws.
Aaron Tyrell (19) was repeatedly found "hanging around" outside and, although he was within the 2km restriction zone, he gave "no reasonable excuse" for being there and gardai feared he would spread the virus, a court was told.
Judge Grainne Malone refused to grant him bail and remanded him in custody for a week.
Mr Tyrell, of Woodhazel Close, Ballymun, is charged with four counts of breaching the Health (Preservation and Protection and other Emergency Measures in the Public Interest) Act 2020.
Dublin District Court heard he said he was exercising at the time and would be "fully contesting" the charges.
Mr Tyrell was kept in a remote room for his bail hearing and was presented before the court by video link that was visible to the judge but not to the courtroom or media.
Neither the accused, his lawyer nor the prosecuting garda could be seen in court and only an audio link of their voices could be heard.
Other garda witnesses gave evidence in person.
Garda Ross Brierley could be heard on the link telling Judge Malone he spoke to Mr Tyrell on April 8, the day after gardai were given new legislation.
Distancing
Mr Tyrell was out in Coultry Park, Ballymun, with another male at 8.40am. Gda Brierley said he spoke to the accused and told him to leave the area, return home and not be "out unnecessarily".
Detective Garda Gerard Mullarkey said he was on duty at the Omni Shopping Centre, Santry, at 12.15pm on April 8. Mr Tyrell was there with another male, they were "hanging around" and could give no reason why they were in the area.
They were advised about social distancing and both said they were waiting for a taxi.
The gardai told them not to get a taxi together as they did not live at the same address.
Another alleged breach happened on April 13, but there was no garda to give evidence.
Garda Rachel Goggins said she saw the accused out at Coultry Drive, Ballymun, at 5.45pm on April 21. He was on the road and moved into a friend's garden as she approached.
She told him to go home and he "informed me that he would not comply", she said.
There were two other males in his company and he was "at all times uncooperative and wouldn't engage", she said.
She was aware there were two positive Covid-19 cases in Mr Tyrell's household.
Gda Brierley said when Mr Tyrell was arrested at his home he was lying on his couch in the sitting room in a communal area of the house "which the HSE wouldn't consider to be self-isolating".
The garda said he believed if the accused was granted bail he would "spread the virus".
The legislation on movement listed the reasons people could be outside, Gda Brierley said. The guidelines had been explained to Mr Tyrell in "simple English" and he had never said he was exercising, he added.
Cross-examined by defence solicitor Brian Keenan, gardai confirmed the accused was not ever outside the 2km limit.
Applying for bail, Mr Keenan said Mr Tyrell had instructed that he was exercising, which is permitted. Mr Keenan said his instructions were also that no one in the house was showing any symptoms of Covid-19.
Judge Malone refused bail and remanded the accused in custody, to appear at Cloverhill District Court on May 1.
Fred says there must be another way of dealing with these hapless COVIDIOTS. 'Stay home, idiot!': Neighbours turn on each other as Europe's coronavirus lockdown tensions rise.  We are now in a Police State, the above case is riddled with holes and we see that a young man got jail last Friday for literally out sitting in a park in Ballymun  Could this be above old Scores set up by Rogue Cops?  Rural Ireland and Cities have shown great Community Spirit across Eire,  There are good people around, but they are thin on the ground.  We can see in Northern Paris (social housing area); certain German Cities and in some States in America that people have had enough and are willing to March while observing the physical distancing.  One city had an array of chairs with messages on them telling people how the loss of business was putting their coffee houses out of business.  Finally and importantly Mary (earlier posting) is sorted, with little help, but the Hawk won't forget to look out for those who are most in vulnerable in these pandemic times not experienced since the Spanish Flu in 1918, better again, Jesus wont? Back to the present, how can a Government thrown out by the people, last February 8th, have us under a Police State, where the fuck is Democracy?…..Trouble coming, next long weekend.  Be prepared – test the temperature of the ordinary people and ask the Gardai in their capacity to respect all people.  Equality is essential in these bizarre times.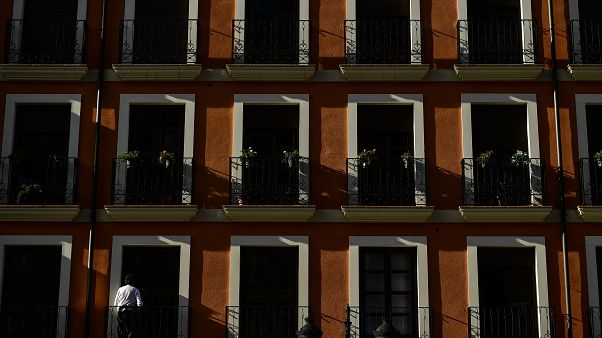 A man leaves the balcony of building during lockdown against the spread of coronavirus COVID-19, in Logrono northern Spain, Saturday, March 28, 2020.   –   
It was just a few days before his 58th birthday, and after almost a month in quarantine at his home in Rome, that choreographer Luciano Mattia Cannito finally snapped.
"Message to all the new sheriffs and warriors of the night that scream with hate from their balconies," he wrote on his Facebook page, "why don't you use that energy to give a word of comfort, positivity and love?"
A few days earlier his brother, a doctor in Toscana, had been on his way to work when someone had shouted: "Idiot! Stay at home!" from their balcony.
"My brother works 12 hours a day on the front line of this war – in the most dangerous place of all," Cannito told Euronews.
Italy remains the worst-affected European country from coronavirus, with almost 14,000 deaths, and has the most stringent of the continent's lockdowns, imposed on 8 March and barring residents from leaving their homes even to exercise.
In recent weeks, videos of mayors in some Italian cities taking to the streets to berate citizens who are not at home went viral, while more than 40,000 people have been fined for violating the lockdown. But it isn't only the police and authorities that are enforcing the rules.
Across Europe, ordinary citizens have appointed themselves as enforcers of the lockdown. In Spain they have even been given a name: 'the balcony police'.
But the phenomena has spread across Europe.
Alice from London told Euronews that she was verbally abused on her residential street for letting her two-and-a-half year old daughter play on the pavement outside her house.
"We don't have a garden for her to play in, so we have to go out," she said. "It's not like she's a live germ bomb walking around diffusing the virus."
Police encouragement?
In Britain, at least six police forces have set up dedicated phone lines for people to report their neighbours. Of the six, only two were willing to comment on the phone lines – Greater Manchester and West Midlands police. Both refused to reveal the numbers of calls they had received.
===================
Coronavirus: 15 deaths reported in single Dublin nursing home
GP resigns from Medical Council after criticising State's handling of nursing home outbreaks
St Mary's Hospital in Phoenix Park, which provides residential care to 198 older people. File image: Eric Luke/The Irish Times
Fifteen patients have died from Covid-19 in a Dublin nursing home run by the Health Service Executive (HSE) which has been struggling to contain the virus in recent weeks.
Transmission of the virus has become widespread in St Mary's Hospital in Phoenix Park, which provides residential care to 198 older people.
The nursing home has recorded 15 Covid-19 related deaths since April 2nd, four coming in the last four days. In fourteen of the cases the patients had tested positive for Covid-19, and one patient was a suspected case awaiting a test result.
In a statement on Monday, a HSE spokeswoman confirmed the number of fatalities.
"We offer our deepest sympathies to their family and friends and our thoughts are with them at this difficult time," she said.
St Mary's Hospital has "24/7 medical and nursing management on site, with a nurse specialist in infection prevention and control also working on site", the spokeswoman said.
"Every effort continues to be implemented to maintain the professional standard of nursing and health care assistant staffing in St Mary's Hospital during this time."
There is evidence of coronavirus outbreaks across nearly all units in St Mary's Hospital, according to a recent internal memo.
The memo, dated April 13th, revealed that apart from one section all units there have "evidence of more than 20 per cent" confirmed or suspected coronavirus infection and transmission was "generalised".
Elsewhere, a member of the Medical Council, Dr Marcus de Brun, has resigned from his position, days after writing an extensive blog post criticising the State's response to managing the Covid-19 crisis in nursing homes.
In a statement, the Medical Council confirmed that Dr de Brun had resigned "for personal reasons". A second member of the council, Alison Lindsay, has resigned on health grounds. Dr Rita Doyle, president of the Medical Council, said she wished to thank both "for their contributions to the Medical Council since their appointment and I wish them well in the future".
Dr de Brun, a GP, was an unsuccessful candidate in the 2016 General Election, where he ran as an Independent candidate in Dublin Fingal, winning just over 1 per cent of the vote.
In a lengthy blog post earlier this month, he said that herd immunity – when a significant majority of the population is infected with a virus – "is the only available mechanism whereby any given population will become progressively immune to Covid-19".

A strategy of allowing herd immunity to develop has proved politically contentious whenever it has been advocated, with critics arguing it would lead to a significant loss of life, rather than suppression strategies being deployed by many countries. Dr de Brun argued that such strategies, including lockdown and social distancing, would also allow the virus time to mutate and delay any herd immunity that might be achieved.
In the same blog post, he criticised the Government's response for being too focused on minimising the chances of the health system being overloaded. He argued that due to relatively low population density and the age profile of the population, a more tailored approach to combating the virus should have been deployed by Ireland.
"Unfortunately, Ireland has not tailored its response to reflect these factors, but instead, has simply followed the lead of other jurisdictions, with entirely different demographics and mortality/morbidity statistics."
In his analysis, the Irish strategy should have been focused on isolating at-risk groups, including older people, rather than confining the entire population. "Those most at risk, vis the elderly and nursing home residents, have featured as something of an afterthought," he said.
"Unquestionably the most vulnerable cohort of patients in Ireland are those residents of nursing homes. This fact should have been entirely obvious to all involved in the management of the crisis," he wrote.