Security fear as shooter suspect set to return on military aircraft
A 31-year-old Dublin man due to be charged with the 2016 feud-related murder of David 'Daithi' Douglas is expected to be flown to Ireland today on an Air Corps aircraft.
A risk assessment carried out by gardai deemed it would be "unsafe" for Lee Canavan to travel from London to Dublin on a commercial plane.
Instead, detectives from the garda Extradition Unit will travel to arrest Mr Canavan at an RAF airbase and travel back with him on the military plane, which is due to land at Casement Aerodrome in Baldonnel this evening.
It is expected he will then be arrested and taken to Kevin Street Garda Station ahead of a planned court appearance.
Gruesome
Mr Canavan is the suspected gunman in the gruesome Douglas murder case and has been in custody in England since his arrest on foot of a European Arrest Warrant in January.
"Because this man is due to be charged with a murder which is part of a feud that has claimed 18 lives, it was deemed that it was not suitable for him to be put on a commercial flight," a senior source said last night.
"It was deemed to be too much of a risk to himself and other passengers, so that is why he is being brought back to Ireland on a military aircraft.
"A major armed garda operation will be put in place at Baldonnel for his arrival."
Mr Canavan's extradition to Ireland was ordered last week at Westminster Magistrates' Court.
Catherine Brown, on behalf of the Irish Government, said: "It's an accusation of murder with a maximum sentence of life imprisonment and an accusation of criminal damage with a maximum sentence of 10 years.
"It is said that 'Daithi' Douglas was standing at the door of his wife's shop when he was approached by a lone gunman who fired three shots at him. He fell back into the shop.
"The requested persons proceeded to fire four shots into his head and body as he lay on the floor. A total of seven shots were fired.
"His daughter was in the back of the shop at the time of the shooting.
"He was taken to hospital and pronounced dead at 4.55pm.
"The criminal damage occurred when a Mercedes vehicle, which was previously stolen in June 2016 from a property in Dublin, was used as the getaway vehicle for the alleged murder.
"The requested person is seen exiting that vehicle along with another person."
Mr Canavan had previously resisted extradition after claiming "overcrowding conditions" in Irish prisons.
Mr Douglas (55) was murdered as part of the Hutch- Kinahan feud on July 1, 2016.
In August 2018, senior cartel figure 'Fat' Freddie Thompson received a life sentence at the non-jury Special Criminal Court for murder.
His DNA was found in two "spotter" cars used in the shooting, and detectives also identified him in CCTV footage as the driver of one of the vehicles.
In January last year, Nathan Foley (21), of Rosary Road, Maryland, was given a six-year sentence for driving one of the cars used in planning the murder and involvement in setting the getaway cars on fire.
Last February, Gareth Brophy (25), of Reuben Walk, the getaway driver of the car used in the murder, received 10 years.
===================
mob boss' fury
Daniel Kinahan 'upset' and 'greatly angered' by coverage of him in media as mob boss challenged to return to Ireland
EXILED godfather Daniel Kinahan has claimed that he has been left "upset" and "greatly angered" by coverage of him in the media.
Our revelations come after we told how the heir to Christy 'Dapper Don' Kinahan's empire had hired a top UK law firm to represent him.
Kinahan's legal team have claimed how articles on their client have caused him "distress and concern" and is part of a "concerted attack".
But despite the 'Kinahan Organised Crime Group' being named in the Special Criminal Court last week as being linked to a plot to murder Patsy Hutch, Daniel claims how the media has an "agenda of publishing offensive articles".
His claims were made before rap star J Spades appeared on YouTube alleging the Regency Hotel attack was part of a Government conspiracy and before boxing promoter Bob Arum claimed the Dapper Don's eldest son was an "honourable man".
Former CAB investigator Henry Ainsworth has now challenged Kinahan to return to Ireland as part of his latest PR campaign.
'JUST COME HOME'
Mr Ainsworth said: "If Mr Kinahan is claiming that he's just a businessman then why doesn't he come home and clear his name?
"If he was just a businessman there's no way the Hutch gang would be trying to kill him.

"Can he also tell us why he's associating with people like Freddie Thompson and Thomas Kavanagh. These are all legitimate questions. He's claiming he's upset because of the media coverage but look at the families who have been left without loved ones because of the actions of the Kinahan organisation.

"The group has been named in multiple jurisdictions linking them to serious organised crime but if he's nothing to do with any of this then just come home."

As Daniel continues to portray himself as a legitimate businessman, graffiti was daubed on Sky TV's office in Dublin over the weekend.

The graffiti read: "Daniel Cancer Kinahan MTK Scum."
Although the boxing group MTK have no involvement in criminality, they have been targeted in the past because of Kinahan's links to the boxing group.
KINAHAN 'STILL HAS SOME INFLUENCE'
A source said: "Daniel Kinahan previously part-owned MGM before it became MTK and many people feel he's still in the background.

"There are also a lot of people in Dublin who aren't happy because it looks as if Daniel Kinahan still has some influence.

"Daniel is trying to portray himself as a legitimate businessman but there are people who will oppose this narrative."
As part of his efforts to convince people he's not involved in organised crime, Kinahan also claims that he has been "vilified", portrayed in a "false and damaging light" and accused the media of having "evident agendas".
He made the claims prior to the Special Criminal Court in Dublin hearing last week how the 'Kinahan Organised Crime Group' was behind a plot to murder Gerry 'The Monk' Hutch's brother Patsy in March, 20
He made the claims prior to the Special Criminal Court in Dublin hearing last week how the 'Kinahan Organised Crime Group' was behind a plot to murder Gerry 'The Monk' Hutch's brother Patsy in March, 20
"KILL PLOT"
Two more men plead guilty to involvement in plot by Kinahan cartel to murder Patsy Hutch in Dublin two years ago
TWO more men have pleaded guilty to their involvement in a plot by the Kinahan cartel to murder Patrick 'Patsy' Hutch.
Ciaran O'Driscoll, 24, with an address at Avondale House, Cumberland Street, Dublin 1, today admitted to agreeing to act as a look-out in and to helping plan the intended shooting.
He pleaded guilty before the non-jury Special Criminal Court to participating in activities intending to facilitate the commission of a serious offence by a criminal organisation or any of its members, namely the murder of Mr Patrick Hutch within the State between February 1, 2018 and March 10, 2018, both dates inclusive.
Stephen Curtis, 32, of Bellman's Walk, Seville Place, Dublin 1 also pleaded guilty to a charge of participating in activities intending to facilitate the murder of Mr Hutch by a criminal organisation on the same dates.
Curtis admitted providing, or assisting in providing, one or more mobile phones for use by the Criminal Organisation and purchasing or assisting in the purchase of one or more mobile phones, sim cards and credit top-ups.
The activities also include passing on the phone number of the "looker" (or look-out) – O'Driscoll – to a member of the criminal organisation and planning or assisting in planning the intended shooting of Mr Hutch.
CASES ADJOURNED
The two, who were among six accused, both had their cases adjourned to Friday 29 May.
Stephen's brother, Patrick, 38, of the same address, who is accused of directing the activities of a criminal organisation and of acting as a conduit for communications between members by providing mobile phones, had his case adjourned to the same date.
All three accused appeared before the non-jury today wearing face-masks, while three other men charged in connection with the plot also had their cases mentioned.
Why Daniel Kinahan movie won't be a box-office hit in Ireland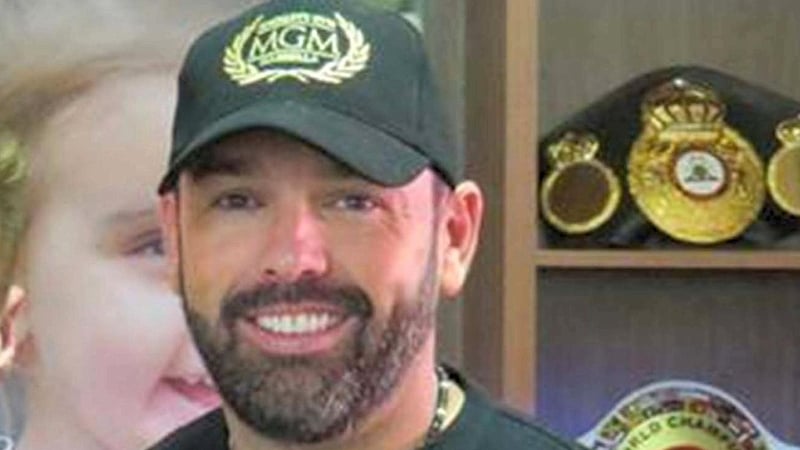 It is difficult to take seriously any person or any programme that greets you with the word "Yo". It's the first word introducing a short film which is circulating on YouTube and on social media purporting to tell the true story of the murder of David Byrne at the Regency Hotel.  The truth is however that the 15-minute, well produced and very dramatic film is packed with what gardaí investigating it would describe as fictions, false and unsubstantiated allegations and what we have now come to know as fake news.  Fake news is designed to disturb and to sow discontent and disbelief in reputable institutions and the lawful authorities of the state, in this case the Government and An Garda Síochána.
Gardaí believe this film is the latest step in what they
call "the reinvention of Daniel Kinahan".
First there was the release of a rap video making similarly bizarre claims about the Government, the gardaí and the media.
Then the legendary boxing promoter Bob Arum publicly endorsed the man he called "Dan" whom he said was "in effect their adviser in the Mid East".
Then Sandra Vaughan, the CEO of MTK – the company set up after Kinahan's boxing promotions company MGM was dissolved – came out to express her gratitude to "Daniel" for recommending fighters including Tyson Fury to MTK.
And now this film where a handsome actor plays the part of Daniel Kinahan has appeared on YouTube.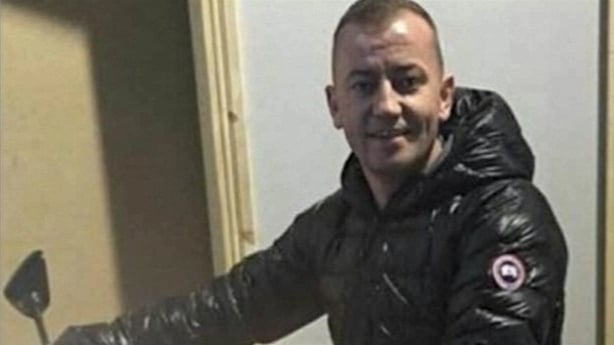 The film has been posted anonymously from the UK and the company that put it on that platform refuses to say who made it or who asked them to circulate it. It takes no responsibility for the content. The host also claims not to know who the "movie makers" are.
So while it's not clear where the film came from, it is clear it cost a lot of money. The set is realistic, the actors professional, it even appears some of it was shot on location at the hotel in Dublin. If the subject wasn't so serious the film itself could be dismissed as part comedy, part farce.
The film is told from the perspective of Daniel Kinahan. There is no mention of the fact that Daniel has been identified in the High Court in Dublin as a senior figure in organised crime on a global scale, that the Criminal Assets Bureau said he "controlled and managed" the operations of the Kinahan organised crime group, an organisation which smuggles drugs and guns into Ireland, the UK and mainland Europe and "has associations that facilitate international criminal activity in Europe, Asia, the Middle East and South America".
Daniel Kinahan is instead portrayed as a boxing promoter arriving at the Regency Hotel in February 2016 who is concerned because there are no gardaí there.
"This was unnerving" we are told because there had been a previous attempt on Daniel's life three months earlier. We are also told that Daniel was "worried that the boxing fans and their families there to enjoy themselves were now at risk".
The notion that a senior figure in organised crime wanted to see a police presence around him is laughable: A man who "controlled and managed" the Kinahan organised crime group which has smuggled guns and drugs into Ireland, the UK and mainland Europe, and has caused untold misery. It's risible.
The film immediately raises a number of questions which it doesn't answer. Why had there been an attempt on Daniel Kinahan's life three months earlier? The film doesn't tell us. Did Daniel report it to the gardaí and co-operate with their investigation? We don't know from the film but the answer is no!
Why was Daniel's life under threat in November 2015 and when he arrived at the Regency in February 2016? We are not told this in the film. Who did Daniel, a boxing promoter call that day who reassured him it was safe to proceed with the boxing weigh-in? It certainly wasn't the gardaí.
The film continues and begins to conflate fact with fiction before moving in to conspiracy theory territory where it firmly remains for the rest of the production. It accurately states that "a team of assassins arrived", that they were "dressed as police" armed with "AK47 assault rifles" and that one of them was "Kevin Murray".
Known as 'flat cap', Murray was pictured in the newspapers, subsequently arrested and was due to face gun and murder charges in connection with the Regency. He died however in August 2017 before he could be extradited from Northern Ireland to face trial at the Dublin Special Criminal Court.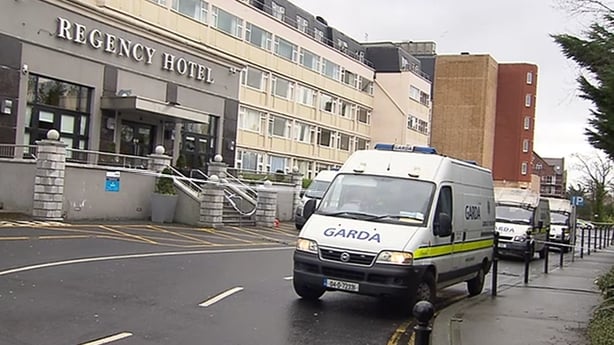 The film asks questions about the gang's use of AK47 assault rifles and its links to the IRA but this is a red herring. Criminal gangs also use AK47s and machine guns, these weapons are not the sole preserve of terrorist organisations.
Since the murder at the Regency, the gardaí have seized over 120 firearms and more than 5,300 rounds of ammunition, including assault rifles.
Most of these have been seized from active members of the Kinahan organised crime group involved in shootings, murders and attempted murders in Dublin and Meath.
The boxing weigh-in, we are told, was "an important event for Daniel" and "many friends were in the crowd" including "David Byrne" and "Sean McGovern".
We see a brutal reenactment of the murder of David Byrne, who is the brother of Liam Byrne, named in the High Court as the leader of the Byrne organised crime group, the Irish branch of the Kinahan Organised Crime Group. We are not told that Sean McGovern is a senior member of the Byrne organised crime gang.
The High Court found that the gang and, in particular, its leader Liam Byrne and Sean McGovern were laundering the proceeds of the gang's criminal activities, transferring wealth between the members of various crime gangs, providing a fleet of luxury cars and high-powered motorbikes to gang members and hiding the beneficial ownership of those cars and motorbikes.
The Criminal Assets Bureau seized Sean McGovern's Rolex Oyster Two Tone watch, cash in euro, sterling and Australian dollars with a total value of €10,000, and his house in Dublin. In total it seized €1.4m assets from the Byrne organised crime gang. The High Court ruled these were the proceeds of crime.
Seven minutes in to the movie and the action erupts into gun violence and murder and more false allegations are espoused. The 999 calls or calls to the gardaí and the "Dublin division" according to the film were not answered.
"It was like all the police in Dublin had vanished" the narrator says." There was no emergency response for twenty three minutes." This claim is totally false.
The 999 call was received at 2.24.22 that afternoon. The emergency services were dispatched and en route exactly one minute, 16 seconds later. The gardaí arrived at the scene at 2.39.11, exactly three minutes and 33 seconds after they were alerted. The first unit to arrive comprised of three armed detectives. The paramedics were already there.
The claims in the film get more outlandish, to the point where it even suggests that Daniel Kinahan could have been shot dead before he went into the hotel and that Kevin Murray alone could have killed him. It even re-enacts this fantastical murderous scenario complete with bloodstained actor and ominous backtrack music. Daniel is portrayed as a martyr.
The film shows, along with the murder of David Byrne, two other men being shot and injured – one of whom was Byrne organised crime gang lieutenant Sean McGovern. It doesn't show what actually happened on that day when Sergeant Noel Nolan arrived outside the hotel near the Centra store a short time later.
The sergeant tried to help McGovern and asked him what happened but he "was told where to go". The crowd there were also hostile and unco-operative. McGovern did not co-operate with the subsequent Garda investigation.
The film also refers to the fact that the trial of Patrick Hutch Junior for the murder of David Byrne collapsed but doesn't refer to the fact that neither Sean McGovern nor Daniel Kinahan testified at the Special Criminal Court.
The film descends into farce towards the end by posing questions without any evidence whatsoever pointing to a conspiracy between the Government and "high ranking members of the police" to rig the election which was held three weeks later.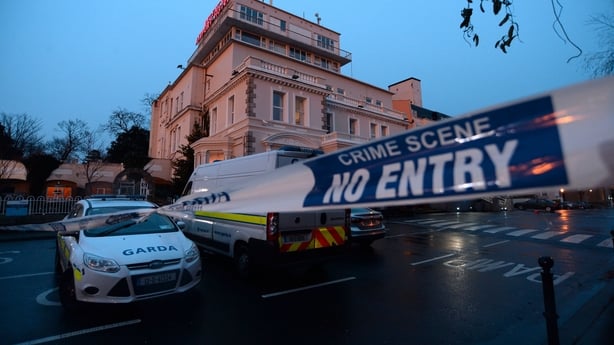 "Those looking for answers," it grimly informs us "have made shocking links to the general election. Could all of this have been designed to change the results?"
It doesn't tell us who "those" are who "have made these shocking links" before embarking on a conspiracy theory which the finest practitioners of the black art of disinformation would be extremely proud. This is disturbing and dangerous nonsense.
The origins of the film are unclear and unknown and the Claire Byrne Live programme has been trying to get to the bottom of it, with little success. The film is hosted on YouTube by a company called Scarcity Studios who tell RTÉ they are based in Birmingham in the UK and post "crime and music commentaries" on various social channels.
It was made by an "independent production company" but the person RTÉ spoke to at Scarcity Studios said he was contacted "out of the blue" and asked to post the material "on condition of anonymity".
He also said he was not paid. He said he wanted to publish it so "people could make up their own minds".
He would not give RTÉ the names of the people behind the film, he claimed not to know who they are and when pressed, finally said he was going to ask them to contact RTÉ. We are still waiting.
The irony of the film is that it purports to claim that
"our very democracy is at stake".
The reality is that the ongoing activities of organised criminal gangs presents a greater threat not just to democracy but also to the lives of the citizens of this country.
While the gardaí have saved 75 lives, the Kinahan organised crime gang, which was only last week publicly named for the first time in an Irish court, has been responsible for 16 of the 18 feud-related deaths in Ireland and Spain over the past five years. The Hutch-Kinahan feud continues.
---
Paul Reynolds well written and detailed piece above.  It is beyond Logic that Daniel Kinahan believes in his own Fantasies, that he is Mr Clean, the perfect Gentleman of Boxing PR. Daniel get a grip, the Coalition of Police Agencies that are Closing in, will bring you back to Planet Earth. Miss Vaughan PR Stated you are a "True Gentleman, Honest, Trustworthy", a man she would go to for ADVICE.  Remarkable, beyond Mars.   Anyway any Views on the Hutch family, and the Innocent people in the wrong place at the wrong time, now Dead, Anyway you are in the Limelight of the Boxing World? 
Mesmerised at the idea that Daniel Kinahan, associated with the Kinahan Empire of illegal drugs and dealers in crypto-currency which has made massive returns over the years since it's inception in 2011, has the audacity to make a film about his life and boxing ambitions, showing himself as the victim of a corrupt Garda/Ireland.  The Empire for illegal activity in Europe is £30 billion and the Kinahan Cartel are entrenched.  A film about this renowned family is a shocking indictment.  Surely there is a law that you cannot make a financial gain/s on illegal enterprises.  The drug culture has had its impact on Ireland and people have died, parents have lost on children, and children have not had the support and love of parents.  A film by a syndicate who make their money from these drugs must be interpreted as just what they are and that is criminals who destroy the lives of people with illegal drugs.  To make the contrast as horrific as possible; let us look at what happened in America.  The difference here was that the African Americans were criminalised because they were black; this does not happen with these Gangsters in Ireland.  The message about drugs is clear.  https://www.youtube.com/watch?time_continue=2&v=krfcq5pF8u8&feature=emb_logo