Notion of hit team' on streets of midlands town 'doesn't seem far-fetched' – senior garda
"If someone had told me 10 years ago that we'd have a hitman from Lithuania coming here to kill a Dublin criminal in Belfast, I would have laughed at them," a senior garda officer said today.

"Now, however, the notion of a South American hit team on the streets of a small midlands town doesn't seem all that far-fetched."

The officer was referring to the capture and conviction of Imre Arakas who was jailed for six years for conspiring to murder a Hutch gangster three years ago.

The Hutch and Kinahan organised crime gangs are responsible for much of the drugs and firearms trafficking in this country and as such take up a lot of garda time and resources.

But they are not the only armed and dangerous criminal gangs operating in Ireland, a fact that has become abundantly clear over the last 24 hours.

The two incidents which have served to highlight this are the discovery of almost €750,000 in suspected drugs money in Dublin and the interception of what gardaí believe was a South American "hit team" in Co Offaly.

Armed officers from the Emergency Response Unit intercepted the four men in the early hours of this morning outside the village of Clara. Three of the men were travelling in a van, the fourth separately in a car. They were armed with a machine gun, a sawn-off shotgun and several rounds of ammunition.

The men were targeted by An Garda Síochána's Security and Intelligence section which also investigates subversive crime. The unit suspects the "hit team" was contracted to carry out a shooting as part of an ongoing feud among criminal gangs within the Travelling community.

Gardaí said the feud escalated because of a failure to pay a small drugs debt, less than €100.
"The feud escalated because of a failure to pay a small drugs debt, less than €100"
Gardaí suspect the four are from Brazil and in their 30s but are trying to establish their identities and how long they have been in Ireland.
Searches have been conducted at addresses in Dublin. The four are being questioned at garda stations in Tullamore and Portlaoise and can be detained for up to three days. One of the men was due to leave Ireland first thing tomorrow.
Three other men are also in custody in relation to another separate organised crime operation, this time by the Garda's Drugs and Organised Crime Bureau. First a car was stopped on Collins Avenue in Dublin at around 6pm yesterday and €400,000 was found. The cash was in blocks and wrapped in elastic bands and masking tape. Two men, aged 53 and 29, were arrested at the scene.
In follow up searches in Ashbourne and north Dublin, a further €300,000 in cash was found along with around €30,000 of cocaine and ecstasy. A 22-year-old man was arrested during the Dublin search. All three men are being detained under anti-gang legislation in Clontarf, Raheny and Ballymun garda stations and can be questioned for up to a week.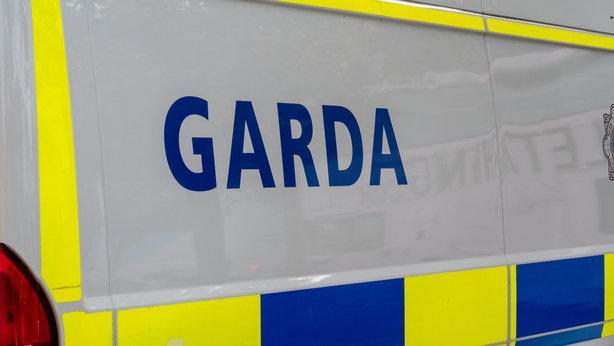 This seizure is different from other drugs and cash seizures – not just because of the large amount of money involved but also because of the criminal gang believed to have lost it.
The gang is led by a man originally from west Dublin who left Ireland after the Criminal Assets Bureau was set up in 1996 but since then has continued to operate from Europe, particularly the Netherlands and Germany.
There was intense garda pressure on those involved in organised crime following the murder of journalist Veronica Guerin in June 1996, which resulted in John Gilligan's drugs gang being dismantled and its members, including Gilligan, Brian Meehan and Patrick Eugene Holland, being given lengthy prison sentences.
The west Dublin criminal got out in time and set up in the Netherlands where he continued his involvement in organised crime. He lived quietly with his family in Amsterdam. Apart from the relatively minor inconvenience of being caught with stolen computers in the late 1990s and having to serve a two-year jail sentence, he has managed to continue to keep a low profile. And that is the way he also likes to run his network.
When the feud erupted between the Hutch and Kinahan gangs, which has so far resulted in 18 people being shot dead in Dublin and Spain, this man stayed out of it. He also tried to employ people not associated with either side, preferring to use those like himself who could stay under the Garda's radar.
He was aware that much of the Garda's resources were focused on the feud, particularly on life-saving operations where hit teams were intercepted. More than 75 lives have so far been saved.
He was not, however, aware that an operation had also been set up to target his criminal gang which focused on the movement of large sums of money that could be linked back to drugs. His gang was under surveillance here and last night gardaí moved in.
The three men in custody are trusted figures in the gang leader's organisation, trusted to move his €700,000. They do not have serious convictions and are not well known to gardaí. They have successfully kept the requisite low profile – until now.
"One of the three is a successful businessman who lives in a large, luxurious, expensive house"
It has emerged that one of the three is a successful businessman who lives in a large, luxurious, expensive house. He and his family have access to properties abroad, including in Portugal and the UK.
Gardaí believe he helps to launder the cash through his own company, effectively operating "a clearing house" for the drugs money. They also suspect much of it has been invested in his and his family's properties. The Criminal Assets Bureau will now be investigating the source of his wealth.
Assistant Commissioner John O'Driscoll, who's in charge of Special Crime Operations, usually issues statements after successful seizures and convictions that relate to the activites of Kinahan gang members.
The Drugs and Organised Crime Bureau has also publicly identified that gang in court.
But today's statement is different in that it refers not to the activities of a feuding criminal gang but to an operation aimed at dismantling a non-related organised crime gang and the total seizure so far in cash of over €2m.