Taoiseach tells Dáil garda file on Barry Cowen 'not quite as portrayed'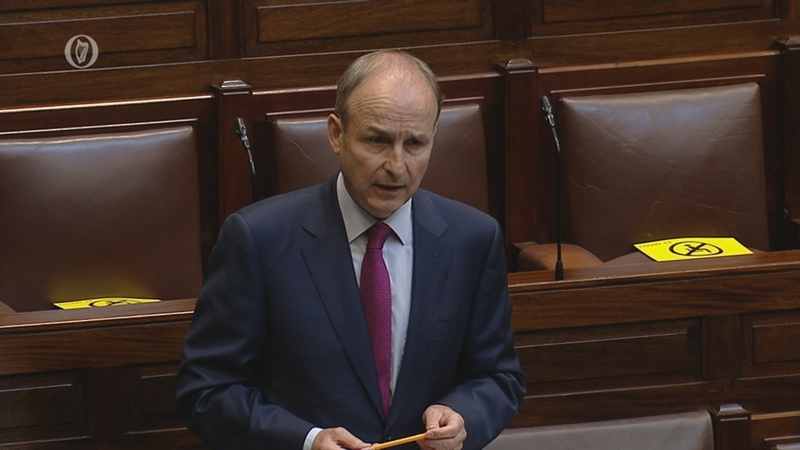 The Taoiseach has said he has seen a garda file relating to the 2016 driving offence of Minister for Agriculture Barry Cowen and that it is "not quite as portrayed".Speaking during Leaders' Questions in the Dáil, Micheál Martin said he spoke to Mr Cowen the weekend before last and at the time the minister "adamantly denied any suggestion or implication that he would have evaded or attempted to avoid a checkpoint." 

Mr Martin said that he could not have worked on the basis of a media source at the time, and that he could not verify what was on the garda record without seeing it himself.

He said he had a lengthy conversation with Minister Cowen last night and saw the garda document early this morning.

On Sunday, Mr Cowen issued a statement in response to an article in the Sunday Times newspaper.

He said he did not evade or attempt to evade a garda on the night he was found to be drink-driving in September 2016. 

Mr Cowen's statement said the article refers to an incorrect garda record dealing with the incident, despite the fact that his solicitors wrote to the newspaper in advance of publication. 

Mr Cowen was stopped at a checkpoint and breathalysed on his way home to Co Offaly from Dublin after the All-Ireland football final four years ago.

He was found to be over the limit and issued with a fixed charge penalty notice, €200 fine and disqualified from driving for three months. 

The Taoiseach said Mr Cowen had been "taken aback" when it was first put to him by a reporter that he had turned away from the checkpoint. 
"He was very adamant about that to me, he said there was no issue made of it at the time and no reference to it at the time," Mr Martin said.
The Taoiseach added that Mr Cowen is "entitled to seek a correction of the record in so far as he believes it does not accurately convey what transpired, or implications can be taken from it that may not necessarily be the case.
"He is pursuing that and he believes the entire issue has become public because of the illegal procurement of the information. He believes his rights have been transgressed and he is entitled to due process", Mr Martin added.
Sinn Féin leader Mary Lou McDonald said Mr Martin "did in fact know about the garda PULSE record" and about the allegation that Mr Cowen had sought to evade a check point before the minister made his Dáil statement. 
Mr Cowen addressed the controversy in the Dáil last week when he said he was profoundly sorry for the offence, which he said was a stupid mistake.
"I find it extraordinary that you would stand over a Minister who has made an incomplete statement on a matter of this importance to the Dáil," Ms McDonald said.
The Taoiseach responded that he was not aware of the PULSE record and did not see it until this morning. 
"Just because a journalist says to somebody 'I have a source here, I have a paper that says X', I cannot work on that basis," he said. 
"Having seen the document, it is not quite as portrayed." 
Deputy Cowen himself was unaware for the past four years of any suggestion that that was on the record, the Taoiseach said. 
"He saw it himself during the week, he contacted the gardaí to get possession of it. Because he didn't have it – others had it before he had it and there is an issue there too," he added.
"In my view, in terms of his contribution to the House last week, he hadn't the document and he did not want to incriminate himself in relation to it.
"He has very, very serious concerns about it and about how the whole thing has developed in relation to how his own personal information was procured or disseminated from the PULSE record and that is an issue that he is extremely angry about," the Taoiseach said.
Meanwhile, Minister Cowen will not be required to make a further Dáil statement or answer questions to the House on issues surrounding a Garda report on his drink driving conviction in 2016.
The Dáil voted down a motion seeking to alter the schedule to include statements from the Minister.
The Government, who argued that he will not make such a statement until such time as investigations by GSOC and the Data Protection Commissioner into the leaking of a garda file are complete, won the Dáil vote with the support of six Independent TDs.
Sinn Féin, the Labour Party, Social Democrats and Solidarity People Before Profit – as well as the Independent TD, Thomas Pringle – sided in favour of asking Mr Cowen to make a statement and answer questions.
The final vote was 29 in favour of the Government and 16 against it.
Earlier, Tánaiste and Minister for Enterprise, Trade and Employment Leo Varadkar said he was sure Mr Cowen "will answer any questions that are pertinent" in relation to his drink-driving ban.
Speaking on RTÉ's Morning Ireland, Mr Varadkar said what is "more important is that he has made a complaint to the gardaí about this garda report", which said Minister Cowen avoided a garda checkpoint.
Mr Varadkar said "there's nothing more to say about it", until he sees the outcome of the garda investigation into it.