Dara Calleary resigns from Cabinet over Clifden event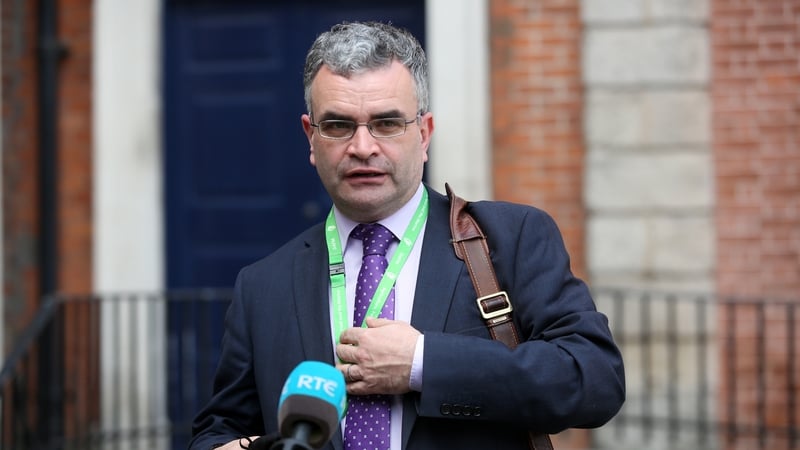 Minister for Agriculture Dara Calleary has confirmed he is resigning from Cabinet after attending an event in Clifden, Co Galway, with 80 other people on Wednesday night.Taoiseach Micheál Martin has accepted Mr Calleary's resignation.

In a statement, he said that Mr Calleary's attendance at the event was "wrong and an error of judgement on his part".

The Fianna Fáil leader said "people all over the country have made very difficult, personal sacrifices in their family lives and in their businesses to comply with Covid regulations.

"This event should not have gone ahead in the manner it did given the Government decision of last Tuesday," Mr Martin said.

He added that Mr Calleary "remains, a committed and dedicated public representative".

Mr Calleary and EU Commissioner Phil Hogan were among the guests at the Oireachtas Golf Society event.

Other guests included independent TD Noel Grealish, Supreme Court Judge Seamus Woulfe, and former RTÉ broadcaster Sean O'Rourke.

There have been calls for Mr Hogan and Leas-Chathaoirleach of the Seanad Jerry Buttimer, who was also in attendance, to explain why they were at the event.

Minister for Education Norma Foley said that Mr Calleary made "a very serious error of judgement" by attending the function.

Speaking on RTÉ's Morning Ireland, she said she understands the anger, frustration and disappointment people felt and it should never have happened and the event should not have taken place.
---
Read More:
Disappointing end to Calleary's short ministerial reign
---
The Irish Examiner reported last night that 81 people were at the dinner, with guests split into two separate rooms.
On Tuesday, the Government announced new restrictions to halt the spread of Covid-19, which included limits on social gatherings and that no formal or informal events or parties should be organised in restaurants, cafes and hotel restaurants.
Mr Calleary was appointed Minister for Agriculture last month following the sacking of his predecessor Barry Cowen, who had been at the centre of controversy over a drink-driving ban he received in 2016.
Mr Calleary had been scheduled to appear on Morning Ireland, but withdrew from the interview shortly before his resignation was announced.
In a statement last night, Mr Calleary had apologised and said he should not have attended the event.
"I wish to apologise unreservedly to the public, from whom we are asking quite a lot at this difficult time. I also offer this apology and my sincere regret to my government colleagues," he said.
It is understood Mr Calleary also apologised to the Taoiseach and contacted the leaders of Fine Gael and the Green Party.