Meath farmer's shock at finding rave on his land
Updated / Monday, 21 Sep 2020 15:01
A Co Meath farmer has spoken of his shock to discover a rave attended by more than 100 people had taken place on his land over the weekend.
Speaking on Today with Claire Byrne, broadcaster and farmer Darragh McCullough said he went up to the field early this morning to do harvest, when he found the dregs of the party that had taken place the night before.
Mr McCullough posted footage on social media upon his discovery. It comes after a rave in Dublin's south inner city on Saturday night, just one night after new restrictions were introduced to tackle Covid-19 in the capital.
"Needless to say it was entirely unexpected. We were on the last lap of our harvest, our cereal harvest, and we have one field which is right beside the seaside... We had left it to the very end because we had to get the combine onto the beach at low tide, and of course the crop needs to be ready and the conditions need to be right. So a lot of planets need to align before we're ready to strike," he said.
"So Monday morning was the morning, and we landed into the field ready to go, with the combine and tractors and trailers and everything else, only to be greeted by a couple of hundred, I reckon, at least a hundred, ravers.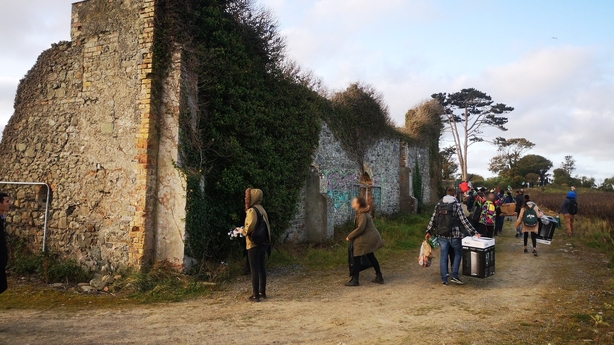 "They were having a great time, it was just the dregs of the party. I should have seen the warning signs, because on my way down to the beach that morning, I got up early because I wanted to make sure there was going to be no cars parked at the entrance of the beach where we need to get the combine through, which is four metres wide. It's quite an awkward machine and it needs a lot of space.
"When I was driving down the road I saw a group of stragglers at a random bus stop out in the middle of nowhere. I was going, 'where did those guys come out of?' and I was thinking maybe they were working in the local nursing home.
"They did look a bit worse for wear, I didn't think too hard about it, and I drove onto the beach car park, and there were about four or five cars already there. This was just after 7, dawn had literally broken, and I was thinking 'Mother of God, there's some people on the ball here fairly early this morning coming out for their exercise' or whatever," he said.
"Again, thought nothing of it, but of course it was all the stragglers and people who were attending this rave."
Mr McCullough said it seemed like the party was wrapping up by the time he arrived, but there were still about 100 people there. It's likely that even more had attended and left earlier, he said.
"When I literally landed up and I have a video there of when I landed into the site… The music was off, and the guys were already packing away the decks. These guys were set up proper, they had vans, they had decks, they had huge amps and speakers, this was no messing. I guess a degree of the crowd had dispersed as well."
"I mean, I don't know if it was mad or brave or what, but the blood was up a bit. When you land into your field… Actually when I got to the gate of the field there was a couple of lads down at the gate. I thought OK, here's a couple of lads now who had a good night.
"As I hopped out of my jeep to approach them and tell them to clear off, they turned and headed up the brow of the hill towards the ruin. There's a ruin in the middle of the field, ideally located for an all-night party, may I add, overlooking the sea.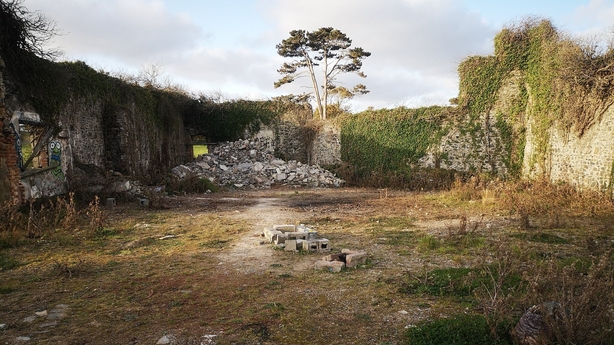 "When I got up there then, my jaw hit the ground. I thought maybe there's four, five, six, seven lads who had a good night. But to be greeted by vans, taxis… I didn't do a head count obviously but there were at least a hundred people there when I got there.
"It could have got ugly, if there's booze involved and suddenly I got in and told everyone to clear off… I was amazed that basically everybody said OK, sorry about that, and headed for the gate," he said.
"The party was in the ruin so they confined themselves to the ruin, they weren't out trampling the crop. OK, there was an odd beer can around the field, but that's nothing new.
"A number of the partygoers went around with black bin liners, they came prepared with black bin liners, and picked up all the rubbish. I got talking to a few of them because I wanted to make sure that no stragglers were hanging around, so I kind of escorted them out of the site."
He struck up a conversation with some of them, and "it turned out they were all Brazilian and most of them were students, some professionals, there were five Series BMWs there, so they weren't all hard up students looking for a cheap night out".
Mr McCullough did not call the gardaí, and he said he knows some people might think he should have done so because of the Covid-19 regulations.
"That was the last thing on my mind at that particular point in time, until one of the guys thought I was such a sound farmer he tried to give me a hug", to which he was thinking "back off there, I have my limits".
"Social distancing wasn't even in the equation, there were couples canoodling around the side of the wall. It was a good old-fashioned knees up in Irish terms," he said.
Fred says: They tell us about their Models and Projections via Philip Nolan NPHET team. The Truth is they need to introduce the word used by others dealing with COVID-19. "Fatigue" arrived last night in Dublin and Meath and the people spoke out, used their mobiles, decided their locations and the plans were made and put into action. This happened in the UK months ago; it had to happen in Ireland. NPHET must step up to the plate now and call in their contact tracers, having first appealed to all those who attended the gatherings in Meath and at the flat complex called Oliver Bond to have their COVID-Tests especially any of the people who are showing symptoms. Our Swiss Cheese approach to COVID-19 is now exceptionally porous and dangerous for vulnerable people, elderly people, people with cancer or other immune deficiency illnesses, to people with disabilities and so many more who are prey for a lurking virus that has no conscience called "COVID-19". Fred recommends that people access Dr Google, then World Health Organisation and link directly to Dr Mike Ryan and Dr Tedros. It is an excellent website.
We need to wake up. We know that Rave Parties are the RAGE in the UK. We know their Justice Minister Pritti Patel was present when armed police (over 20) raided the house of a dealer known as "County Lines" supplier of those demon killer illegal drugs. County Lines is about recruiting youngsters who are placed on trains to deliver the drugs all over the UK. It has to be happening in Ireland. Who planned these gatherings? Drink yes but be sure illegal drugs were distributed and vast sums collected into the hands of drug gangs and are now being processed through illegal laundering and heading off overseas.