Seamus Woulfe meets Chief Justice over attendance at golf society event
Updated / Thursday, 5 Nov 2020 18:21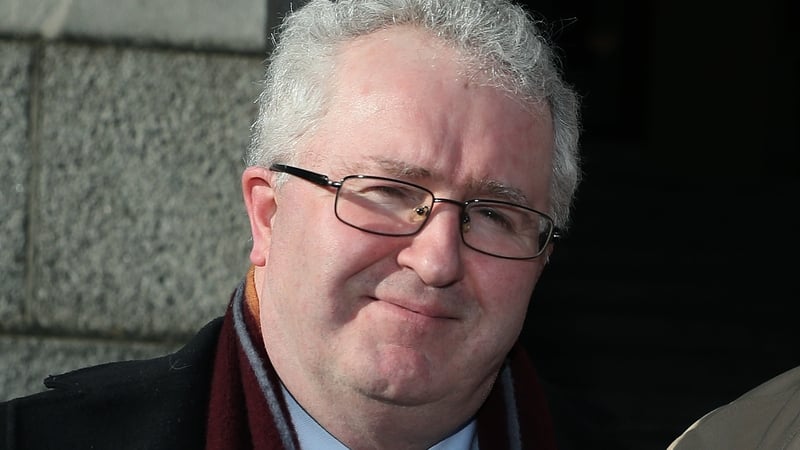 Legal Affairs Correspondent
Supreme Court judge Seamus Woulfe has met the Chief Justice to discuss Mr Justice Woulfe's attendance at an Oireachtas Golf Society dinner in Galway. 
It is understood the meeting took place at the Four Courts this evening.
However, a statement is not expected to be issued until early next week.
Four previous meetings had been postponed at the request of Mr Justice Woulfe, three of them on medical grounds.
It is understood a meeting of Supreme Court judges took place remotely this afternoon, before the meeting between the two men.
Seamus Woulfe was appointed to the Supreme Court in July but has yet to sit on the bench due to the ongoing controversy.
He was due to meet Mr Justice Frank Clarke to discuss the review carried out by former chief justice Susan Denham into his attendance at the dinner in Clifden in Galway on 19 August.
Ms Justice Denham said he should not have attended the dinner and was not vigilant about how it looked for a Supreme Court judge to attend a celebratory dinner in a public place in the middle of a pandemic. 
But she found he did not break any law or knowingly breach public health regulations. She said calls for his resignation would be unjust and said the Chief Justice could resolve the matter informally.
A transcript of Mr Justice Woulfe's interview with Ms Justice Denham was released which put pressure on the judge.
It was widely seen as showing a lack of insight into the perception of his attendance at the dinner.
In the transcript, Mr Justice Woulfe said he had told Frank Clarke several weeks beforehand that he intended to go to the golf event although neither men discussed a dinner.
He claimed he had been prejudged by the media, politicians and even some of his colleagues. He also blamed much of the controversy on "all the lies in the media".
Three senior judges met Mr Justice Woulfe to begin discussions on the informal resolution process, after which he is understood to have been "shocked" and taken aback.
He was then due to meet the Chief Justice for the first time in early October, but postponed the planned meetings until today.