Beaten by colleagues, mishandled by bosses: how Mark Kennedy went rogue
This article up Dated by Fred Bassett
Police spy became resistant to intervention of management, who failed to control him properly or work out exit plan, report finds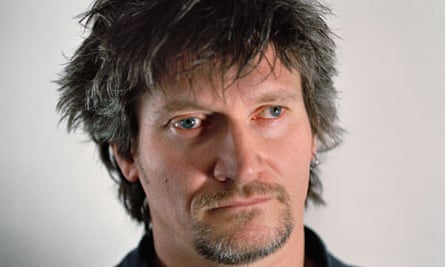 Mark Kennedy said he 'experienced a lot of unjust policing' while posing as an activist. Photograph: Philipp Ebeling for the Guardian Thu 2 Feb 2012 00.05 GMT
3
When protesters watched horrified as the man they knew as Mark Stone was beaten up by five police officers, they would not have guessed what was actually going on.
For the truth was that the police were beating up one of their own, putting him in hospital with a broken finger, a prolapsed disc and a big cut across his head. Stone was really Mark Kennedy, an undercover police officer in the middle of a seven-year covert mission to infiltrate and disrupt the environmental movement.
A damning report published on Thursday reveals that the bizarre incident was a key milestone in a scandal that has inflicted great damage on the police over their 40-year penetration of political groups. The deployment of Kennedy was so disastrous that police chiefs have now been forced to clean up the running of undercover operations in the protest movement. Advertisement
No one could have predicted that outcome when Kennedy turned up with long hair, tattoos and a plausible backstory at a gathering of environmental activists in 2003. He pretended to be Stone, a professional climber with a dodgy past dealing drugs. Soon, he became a trusted activist who was always ready to help organise demonstrations.
He took part in almost every major environmental protest during his seven years undercover. One of them was a climate change demonstration against the Drax power station in 2006. According to his account, he rushed to protect a protester who was being hit on her legs with a baton by police.
"They kicked and beat me. They had batons and pummelled my head. One officer repeatedly stamped on my back," he told the Guardian last year. He complained that he "experienced a lot of unjust policing" and was at times "appalled at being a police officer".
Ironically, the police were there only because he had secretly tipped them off about the protesters' plans – just one of the numerous occasions he fed his handlers intelligence about the activists.
But the incident should have warned police chiefs that something was beginning to go badly wrong with their secret mission.
Kennedy defied his bosses' instructions to stop working after he was beaten up and arrested at the Drax demonstration. He went back to visit the activists where, he says, he received far more love and attention over his injuries than the police gave him.
Kennedy was "becoming resistant to management intervention", in the view of Dennis O'Connor, the head of the body that inspects the police. "He seems to have believed that he was best placed to make decisions about how his deployment and the operation should progress," O'Connor's report concludes.
O'Connor found that Kennedy also ignored his bosses' instructions when he accompanied a protester abroad in 2009, and should have been removed from his deployment at that point. O'Connor concludes that Kennedy broke the rules by operating outside of the police's code of conduct, and his wrongdoing included sleeping with women he had been sent to spy on.
The report criticises Kennedy's bosses for failing to control him properly. The "operational supervision, review and oversight" of the National Public Order Intelligence Unit (NPOIU), Kennedy's handlers, was too weak "to identify that his behaviour had led to disproportionate intrusion" into the privacy of the activists, it says.
"There were insufficient checks and balances to evaulate and manage Mark Kennedy's deployment. The measures in place (such as monitoring intelligence reporting on Mark Kennedy's activities whilst deployed) proved ineffective," O'Connor concludes.
Kennedy was deployed to spy on activists in 11 countries, including Germany, Iceland and Denmark, on 40 occasions. But his unit was failing to properly inform the police chief in charge of authorising these overseas missions about what he was doing abroad.
O'Connor found that the unit's managers were also to blame for failing to stop Kennedy sleeping with activists. He found that however Kennedy was misbehaving, the "absence of robust controls and systems" in the unit led to the miscarriage of justice when a group of environmental activists were wrongly convicted over a plot to break into a power station at Ratcliffe-on-Soar, in Nottinghamshire, in 2009.
They were cleared after judges at the court of appeal ruled that police and prosecutors had withheld secret recordings – made by Kennedy – of the activists' private meetings.
By 2009, Kennedy was about to "go rogue" and was experiencing a conflict of loyalties between the activists and the police. He had become good friends with many of the campaigners and enjoyed socialising with them. But at the same time, he felt impelled by his job to continue telling his bosses about their political activities. Trouble was brewing.
"The long-term aspects of Mark Kennedy's welfare and personal development were not well provided for," the report says. Little thought was given by Kennedy or his bosses to how he could end his undercover mission and take up another police job.
Kennedy quit the police after being told, he says, in a curt text message that his undercover mission was over and then that he was only qualified to drive a panda car.
O'Connor criticises Kennedy's managers for failing to devise a proper plan to remove Kennedy from his secret mission without provoking the suspicion of the activists. The bungling meant it was the activists themselves who eventually unmasked him in the autumn of 2010 – the discovery that lead to stream of disclosures about the police's infiltration of political groups over the last 40 years.
The irony, O'Connor reveals, is that the entire disaster for the police could have been averted, as the NPOIU had rejected Kennedy as unqualified on his first attempt to join the covert unit.