Eleven deaths at Co Laois nursing home in two weeks
Updated / Monday, 18 Jan 2021 18:25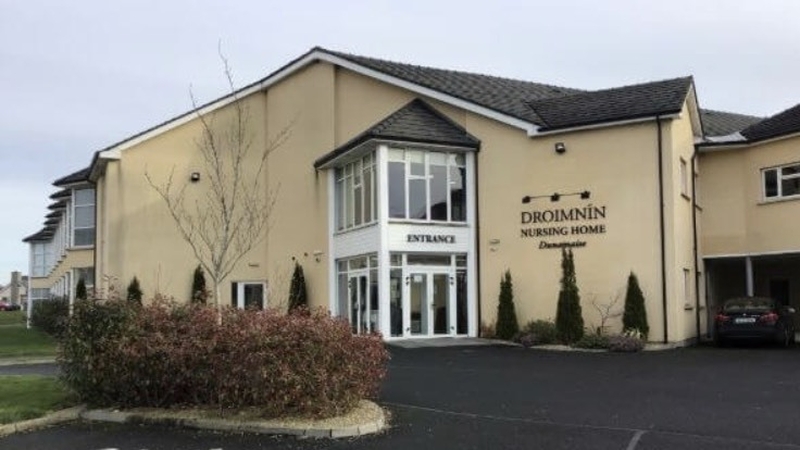 Midlands Correspondent
Another elderly resident has died with Covid-19 at Droimnín Nursing Home in Stradbally, Co Laois, bringing to 11 the number of deaths at the centre in the last two weeks.
The latest death on Saturday was confirmed today by chief executive Gearóid Brennan of Brookhaven Healthcare, which runs Droimnín and four other nursing homes.
In a statement to local media Mr Brennan said: "I would like to express my deepest sympathy to the families of the eleven residents who have died. This has been a devastating time for them.
"The loss of our residents has also had a huge impact on the staff of Droimnín, who have lost people they have cared closely for and grown to know and love."
The nursing home is arranging compassionate visits by families of all residents who are under stress or are critical from Covid-19, while families are also being contacted by staff each day.
Mr Brennan said that a small number of residents are still unwell at Droimnín, but the vast majority are now "post-Covid" and exhibiting no symptoms.
Of the home's 75 staff, 36 have tested positive and 39 remain negative.
Mr Brennan added: "Many of our staff who tested positive in the early stages are back at work and this has greatly improved things in terms of workload pressure.
"We continue to augment our staffing from external sources, to ensure that all residents receive the best possible care at this difficult time."
Regular testing of staff continues with one round today and another scheduled for Wednesday.
The original plan was for residents and staff at Droimnín to get the PfizerBioNTech Covid-19 vaccine tomorrow.
Mr Brennan said the vaccines will arrive within the next week, but only "non-detected" cases will be vaccinated as positives (staff and residents) must be 28 days clear.
---
---
He added: "I would like to say a huge thanks to all our staff for their exceptional work at this critical time and for the sensitive way in which they continue to look after all our residents.
"I would also like to pay tribute to the people of Stradbally/Portlaoise and surrounding areas for their empathy and support.
"We receive daily gifts and offers of support into the nursing home. The kind and caring nature of the people of Laois has shone through."