Sinn Féin calls on Taoiseach to 'act' over GP contract leak
Updated / Wednesday, 20 Jan 2021 23:14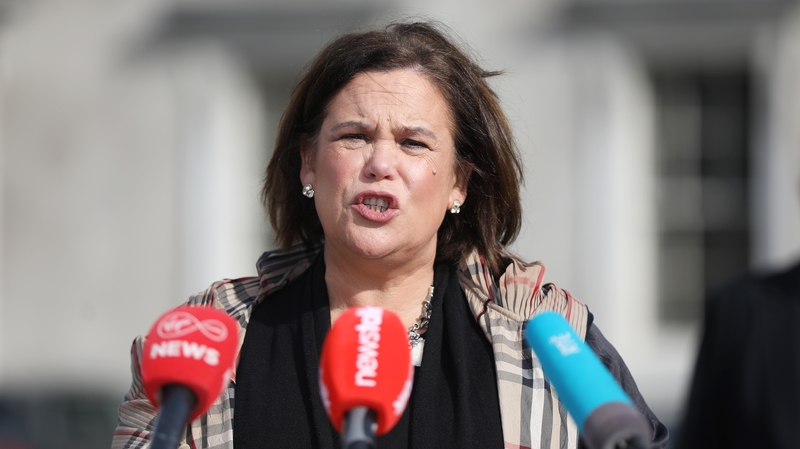 Political Correspondent
The Sinn Féin President Mary Lou McDonald has written to the Taoiseach Micheál Martin demanding that he "act" on new information relating to Tánaiste Leo Varadkar's leaking of a GP contract.
The contract had been negotiated between the Government and the Irish Medical Organisation, and had been provided to a rival GP group – the National Association of General Practitioners.
In a tweet, deputy McDonald said she had "serious concerns" about issues raised in the internal Department of Health emails, and asserted that Tánaiste Varadkar has additional "questions to answer" about giving the contract to his friend Dr Maitiú Ó Tuathail.
The Sinn Féin leader said Simon Harris, who was the Health Minister at the time, also had questions to answer. https://platform.twitter.com/embed/index.html?creatorScreenName=rtenews&dnt=false&embedId=twitter-widget-0&frame=false&hideCard=false&hideThread=false&id=1352000419833278467&lang=en&origin=https%3A%2F%2Fwww.rte.ie%2Fnews%2Fpolitics%2F2021%2F0120%2F1191058-gp-contract-leak%2F&siteScreenName=rte&theme=light&widgetsVersion=ed20a2b%3A1601588405575&width=550px
Last November, Mr Varadkar told the Dáil that giving over the GP contract was an "error of judgement" and he accepted sole responsibility for that action.
He contended that all of the details of the deal were in the public domain before 6 April, 2019, and it was "most likely" 15 April when he gave the draft contract to Dr Ó Tuathail.
However, Sinn Féin's Pearse Doherty, who secured the new documents under the Freedom of Information, said they showed that Leo Varadkar was sharing the GP contract with Dr Ó Tuathail, at a time when Minister Harris could not access the document.
In response to that comment, a spokesperson for Minister Harris said he sought a copy of the final contract on 15 April, ahead of a Dáil debate. He received it on 17 April and it was published the next month.
A spokesperson for the Tánaiste said the draft contract, from around April 4th or 5th, was given to Dr Ó Tuathail and added: "Our understanding is that the Minister was looking for an up-to-date copy following Dáil exchanges in mid-April."