€1.2m worth of drugs seized at Dublin Port
Updated / Friday, 26 Feb 2021 16:33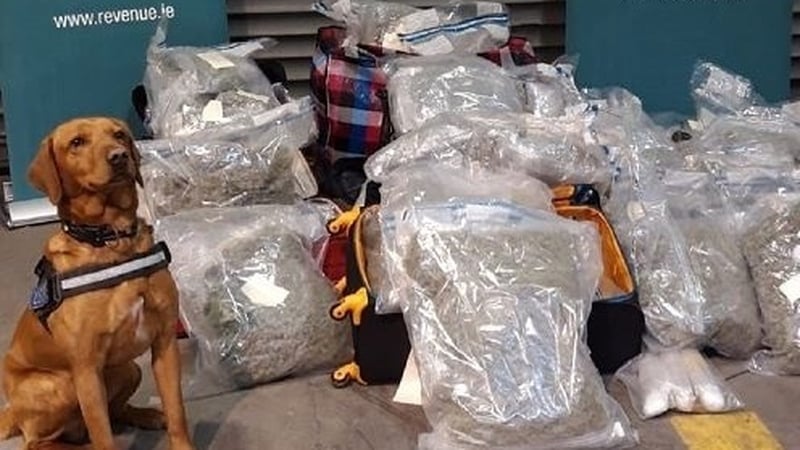 Drugs worth more than €1 million have been seized at Dublin Port.
During a routine operation, Revenue officers seized 55kg of herbal cannabis and 2kg of cannabis infused 'jelly sweets', with an estimated combined value of €1.2m.
An Irishman in his 50s was arrested by gardaí.
The drugs were discovered concealed in suitcases that were stored in the driver's cab of a commercial vehicle, which had disembarked a ferry from Holyhead.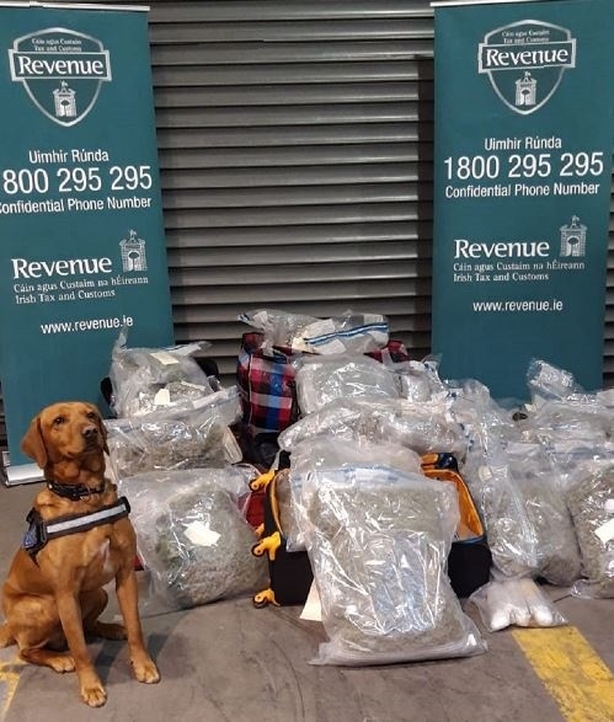 Officers were assisted by detector dog James and Revenue's mobile X-ray scanner.
Investigations are ongoing.
Fred likes to listen to people; you hear both what they say and the silences also convey a meaning. Too often these days you hear of children of middle class families hooked on cocaine. They give it up, they attend Rutland Centre or if they are really desperate they go to Sr. Consilio. Either way they know that they have crossed that invisible line in the sand and morality has been put aside because cocaine is about crime, addiction, infliction of damage to family members, especially if you have children.
COVID-19: on the 5th of March, Dr Sadlier will experience the 1st anniversary and the significance of same to her is that she identified the first person with COVID-19 in Cork hospital; he was just 45 years old. He contracted the virus "in the community"; the Cork hospital had no option but to move him to a Dublin hospital and he was dead as a result of COVID-19 25+ days later. Yes, a 45 year old had died from this awful disease.
In this one year of Pandemic there is a second pandemic in the making; it is mental health; it relates to people with addictions, it relates to people who are poor, middle class or rich. What happens when you are a personal trainer, your employment is in a gym and you are on a path that each day you wake, that it is probable your first thought is how do I feed my habit? To make matters worse, the gym has been closed on three occasions due to lockdowns so you are not free to exercise, build muscle, even indulge in steroids; you have an abandoned person ripe for temptation and being lured back to cocaine, if that is their drug of choice. Then you think of what the addiction centres have tried to inculcate in you and sometimes you succeed but more times, you sink back into that mire of addiction.
COVID-19 has resulted in the Government being proactive and introducing supports like the PUP payments to assist all those who are in precarious work which is most likely closed by the three very long lockdowns (100 days+) the longest period being in Ireland versus other countries. There are no pubs, coffee shops, no Merchant's Quay, or psychiatric facilities other than zoom calls which are not of any use to those affected by the digital divide and who often have the worst of addictions and mental health. These people need urgent support. People with addictions cannot sustain these harrowing times of stress, anxiety, uncertainty without support and what they are left with at present is their addiction and a flooding of illegal drugs into Ireland either via post, sea, plane whatever. The powder is powerful. The desire is massive. Add to this knife crime and volatility and go beyond the halldoors of homes who have these addicted often adult children and experience their hell. What do they do? Do they turn their troublesome children (often older) away with a barring order to the streets? Ireland is experiencing at present, in the real time, what Sir Angus Deaton and his wife Anne Case have described has happened in the America. In real time and the media are not reporting same, we are experiencing "Deaths of Despair".
Fred in depression and despair