ovid …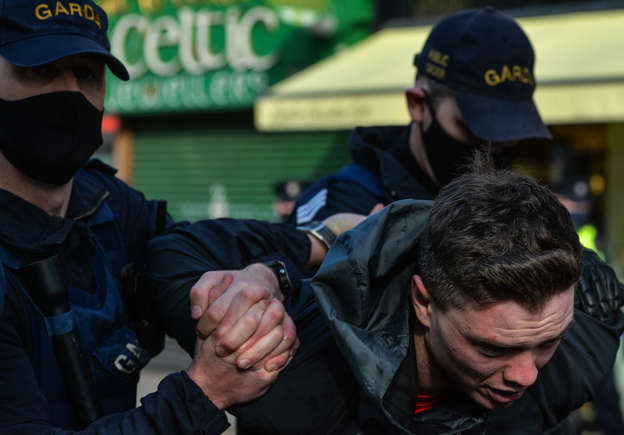 © (Photo by Artur Widak/NurPhoto via Getty Images) An Anti-Lockdown protester arrested by Gardai during clashes in Grafton Street, Dublin, during Level 5 Covid-19 lockdown. On Saturday, Fabruary 27, 2021, in Dublin, Ireland.
GARDAÍ HAVE ARRESTED 23 people after a protest against lockdown measures in Dublin city centre that turned violent for a time this afternoon.
Around 500 people took part in the demonstrations. A smaller number were involved in scuffles with gardaí and a number of fireworks were let off in the direction of public order officers called in to police the growing protest.
125 gardaí were initially involved in the operation, with further resources sent out during the afternoon.
Three gardaí have been injured, including one garda who required hospital treatment for his injuries. It's understood he's being treated for a broken ankle.
The situation has now been brought under control and the Garda presence in the city centre is being scaled down. 
Those arrested were brought to garda stations in the city centre, and a number of them are expected to be charged at a special sitting of Dublin District Court this evening at 8pm.
"Garda members engaged with the gathered individuals over a considerable period of time," the gardaí said in a statement.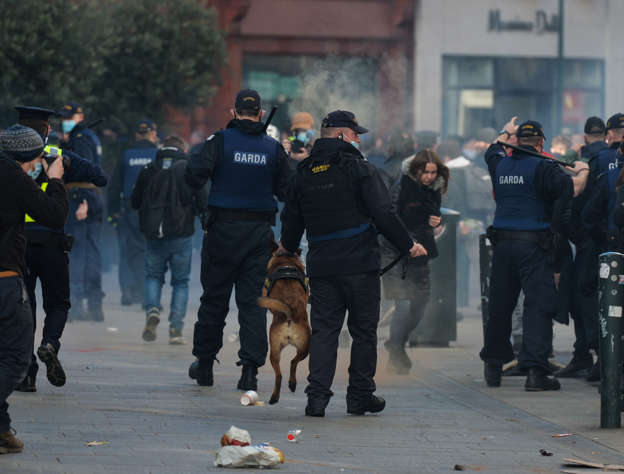 © (Photo by Artur Widak/NurPhoto via Getty Images) A group of Anti-Lockdown protesters clash with Gardai (Irish Police) in Grafton Street, Dublin, during Level 5 Covid-19 lockdown. On Saturday, Fabruary 27, 2021, in Dublin, Ireland.
"Following continued and orchestrated non-compliance with Public Health Regulations and failing to comply with directions from An Garda Síochána, the gathering became violent on occasions with members of An Garda Síochána targeted with fireworks, missiles and spit."  
Political leaders have condemned today's events, with the Taoiseach saying in a statement that it posed an "unacceptable risk to both the public and gardaí".
The gathering, he said, showed a "complete lack of respect to the people who have made huge sacrifices during this pandemic".
"Nor can we tolerate the thuggish behaviour or attacks on gardaí, who have the public's utmost respect as they continue to protect and serve our society in difficult circumstances."
Speaking this evening Garda Commissioner Drew Harris said: "You don't carry fireworks to a protest with any other purpose than to engage in violent conduct, as we saw today.
"But we will follow through with an investigation and bring perpetrators to justice."
In addition to the arrests made today officers would also be pursuing other individuals, Harris said. 
Justice Minister Helen McEntee said the special court sitting was being arranged "to make sure these law-breakers are prosecuted speedily".
"I understand fixed charge notices have also been issued to a number of people," she added. 
"I want to commend the courage and professionalism of the Gardaí on duty today in Dublin who responded with great control and discipline in an extremely challenging situation."
Protest
A number of online groups had planned a protest for Stephen's Green, but the park was closed about an hour in advance of the planned start time of 2pm. 
As the crowd increased, gardaí attempted to move protesters down Grafton Street. Fireworks and other items were thrown at officers during this phase of the protest, and arrests were made. 
Some protesters later moved along College Green and across the Liffey. Large numbers congregated on O'Connell Street as the Garda operation continued.
Luas services were briefly disrupted as the protests took place, but the tram service has since resumed with some delays.
Planned online
Business groups yesterday urged the public not to defy lockdown rules following efforts by online activists in recent weeks calling on people to reopen non-essential retail and hospitality activity. 
These activists have set up several groups in recent weeks in a bid to try to swell support for businesses to open their doors in defiance of the health guidelines.
Gardaí were also aware of these groups, which set up today's planned protest, and have been monitoring online activity in advance of today's operation.