Major Garda presence in Dublin as anti-lockdown events take place
---
…
© Leah Farrell Gardaai on Dublin's O'Connell Street today.
A major garda operation is continuing in Dublin after a number of anti-lockdown protests were organised to mark St Patrick's Day.
Events were organised for O'Connell Street in the city centre, Herbert Park in south Dublin, and at the RTÉ campus in Donnybrook.
So far, the Herbert Park event is by far the largest of the three – with smaller numbers turning out for the other two protests.
________________________________________________________________
________________________________________________________________
© Sam Boal Protestors standing on the pedestrian overpass beside the entrance to RTa earlier today.
The park event has been billed by organisers as a 'family and mental health day'. It's estimated several hundred people have attended.
Arrests were made on O'Connell Street earlier as people attempted to gather.
Meanwhile, a small number of protestors who gathered outside RTÉ in Donnybrook have now moved on.
© REUTERS/Clodagh Kilcoyne Police officers detain a man, amid the outbreak of the coronavirus disease (COVID-19), on Saint Patrick's Day in Dublin, Ireland, March 17, 2021. REUTERS/Clodagh Kilcoyne
A large Garda presence was observed at the scene with a number of vehicles and gardaí mounted on horses present, and a Garda helicopter overhead.
In a statement this afternoon, gardaí confirmed 16 people – 13 male and three female – had been arrested in connection with the anti-lockdown events as of 3pm this afternoon.
Ten people are due before a special court sitting later today.
© REUTERS/Clodagh Kilcoyne Police officers detain a woman, amid the outbreak of the coronavirus disease (COVID-19), on Saint Patrick's Day in Dublin, Ireland, March 17, 2021. REUTERS/Clodagh Kilcoyne
"This has not been a normal St Patrick's Day," Deputy Commissioner of Policing and Security Anne Marie McMahon said in a statement.
"I acknowledge the huge level of compliance and social responsibility demonstrated today.
"I appeal to the public to continue this effort into this evening, please do not engage in house gatherings or parties or congregate in public spaces and amenities."
© PAUL FAITH/AFP/Getty Images Irish Garda Police officers stand on duty in the almost deserted streets on St Patrick's Day in Dublin on March 17, 2021, as official St Patrick's Day celebrations have been cancelled for the second year in a row due to the coronavirus pandemic. – St Patrick's Day is traditionally a bonanza trading day for publicans across the Republic of Ireland. Huge crowds heave into city centres on the national holiday, jamming pubs cheek by jowl and spilling out into the streets in an alcohol-fuelled, shamrock-themed celebration of the Emerald Isle. (Photo by PAUL FAITH / AFP) (Photo by PAUL FAITH/AFP via Getty Images)
The increased Garda presence came after a protest in Dublin city centre turned violent last month. Three gardaí were injured following clashes with demonstrators at the Grafton Street event.
Fred recommends you read the Irish Times article by Senator Michael McDowell for some common sense reporting the decision to ban the AstraZeneca vaccine.
People have a right to gather so long as they comply with the law. However, in the Republic we appear to be overfocused on the COVID-19 impact on our country, with daily briefings to scare the general public even more than is necessary. Our attention needs to be re-directed to crime at another level and that is to illegal drugs like cocaine, crystal meth, heroin, benzos etc. We know that people are frustrated; we know that there is massive psychological trauma building within our people, both now and as for what lies ahead, and we can assume it will involve massive upgrading of our mental health services especially at a local community level. We know that mental health is the cinderella of the health serivce which has been under-funded for decades. Young people and anxiety is a real problem especially people with eating disorders.
The North of Eire: We think of BREXIT, the Protocol being thrown to the wind, the Good Friday Agreement being entrenched. We hear so little in our media. Well I highly recommend you watch Spotlight BBC 1 16th March 2021 about Gangland but North of the border "South East Antrim Ulster Defence Association (UDA) " who most definitely (have not gone away). Below are the relevant details. The source of drugs to this illegal outfit of Gangsters is the Republic of Ireland as well as other countries. This is merits urgent attention.
Glenn Quinn: 'Break the silence' urges murder victim's brother
By Jennifer O'Leary
BBC NI Spotlight reporter Published
21 hours ago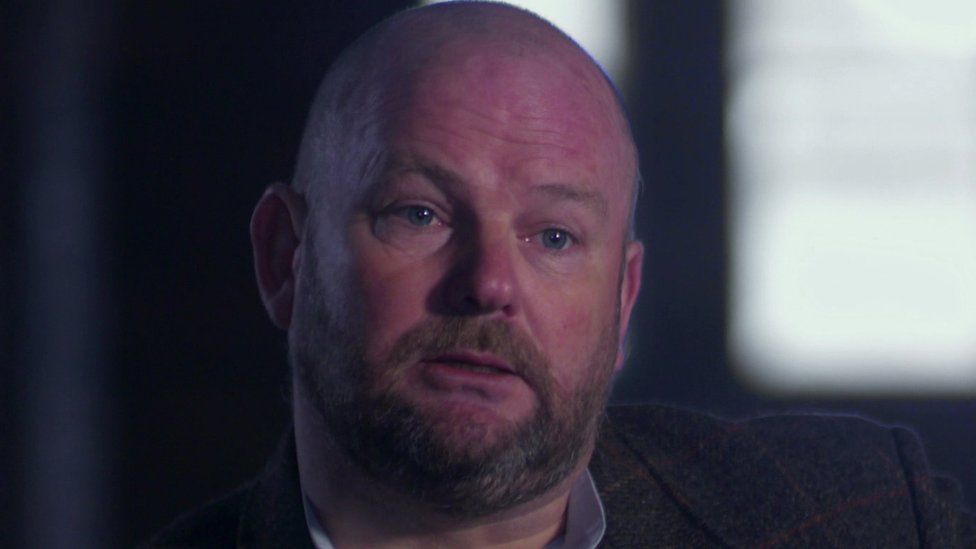 The brother of a man found murdered in his home in Carrickfergus last year has appealed to the public to help "break the silence".
Martin Quinn made his remarks as part of a BBC NI Spotlight programme about his brother's unsolved murder, and the paramilitary gang believed to be responsible.
Glenn Quinn was terminally ill from a blood condition when he moved into a flat in the town just weeks before Christmas 2019.
The 47-year-old had no connections to any crime or paramilitary gang but was threatened after he privately made a throwaway remark when he criticised an attack by the South East Antrim Ulster Defence Association (UDA) on a friend's business.
The South East Antrim UDA is one of Northern Ireland's largest paramilitary gangs.
According to a recent MI5-police intelligence assessment shared with Spotlight, the gang "has access to arms" and is "heavily involved in drugs supply, community coercion, intimidation and other criminality". media caption'Next time it might be your son'
In December 2019, Glenn Quinn was first assaulted and threatened after he parked his car outside his flat.
Fearful for his safety, he told his brother Martin what had happened to him.
"The window was down, and the guy approached from the rear of the car, put his hand in through the window and shoved Glenn back and basically grabbed him by the throat," he said.
"He was really concerned because at the end of that assault, he was told that the UDA were coming back to sort him out."
Glenn told his brother, and others, the name of the man who assaulted him.
Security and loyalist sources have confirmed to Spotlight that person is known to them as a member of South East Antrim UDA.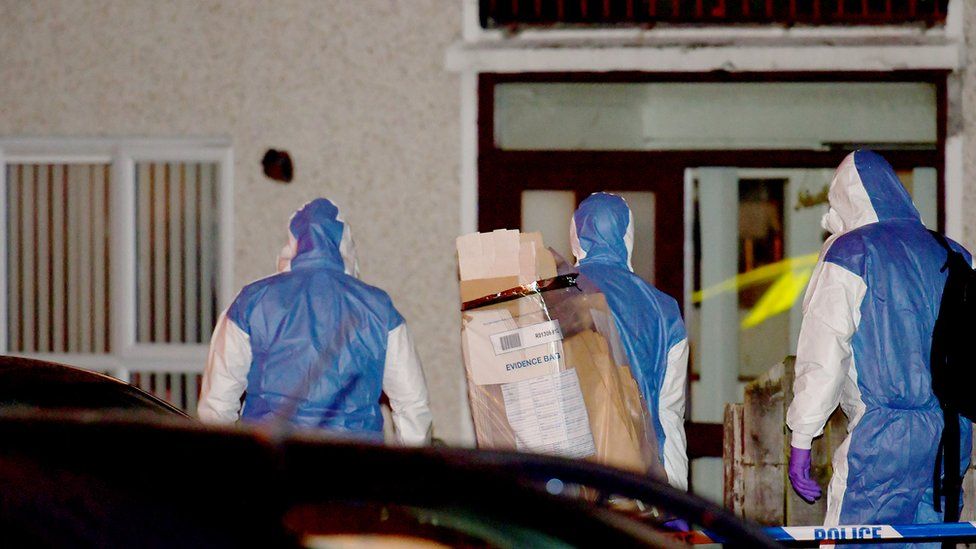 Just days later, the threat against Glenn Quinn was borne out.
"Glenn had just walked into the hallway of the block of apartments and as Glenn was opening the door, he was attacked from behind.
"There were three people, and these three people, then, gave him a terrible beating.
"They went at him with weapons. He just tried to get into a ball and protect himself as best he could."
Martin is aware of some of the details of the attack because his brother managed to ring him in the minutes afterwards.
However, Martin was not fully aware of the critical nature of Glenn's injuries.
"He was quite lucid and by no means did I think that Glenn had been assaulted as badly as he had been.
"The next was Glenn couldn't be contacted and that's when Glenn's body was found.
"I still blame myself that I didn't act, didn't phone an ambulance.
"I wish I'd spoke longer to him, I wish I'd have said so many other things and if I had knew this was the last conversation I was going to have with Glenn. Tell him how much I loved him… talk about old times, and I didn't have that opportunity."


History of the UDA
The Ulster Defence Association, formed in 1971, had tens of thousands of members at its peak.
It killed hundreds of people during the Troubles in Northern Ireland and often claimed responsibility for sectarian murders using the cover name the Ulster Freedom Fighters (UFF).
The UDA had remained a legal organisation until it was banned in August 1992.
Notorious attacks by the UFF included the shooting dead of five Catholics at a Belfast bookmakers in 1992 and the Greysteel massacre the following year.
Read more here: Loyalist paramilitary groups 'have 12,500 members'

Glenn Quinn was beaten to death for passing a remark about the South East Antrim UDA.
When his family appealed for help with the PSNI investigation, they were also threatened by the South East Antrim UDA.
"I personally have been threatened three times, my mother's been threatened… They're threatening to shoot a 76-year-old woman.
"And that's part and parcel of how this organisation operate, they try to put people in fear."
Glenn Quinn's death shocked Carrickfergus and beyond, but many locals remain too scared to speak out.
The murder, they say, is what happens when a ruthless criminal gang is effectively out-of-control and perceives itself to be above the law.
"I want people to search their hearts," said Martin.
"Because, next time, and there will be a next time, it might be their brother, it might be their son, and I'd ask them to do something to stop this.
"To break the silence. And help us."
Watch the full Spotlight story on iPlayer.