Ryan says there needs to be more clarity from Minister Cowen
Updated / Monday, 13 Jul 2020 UP DATED BY FRED BASSETT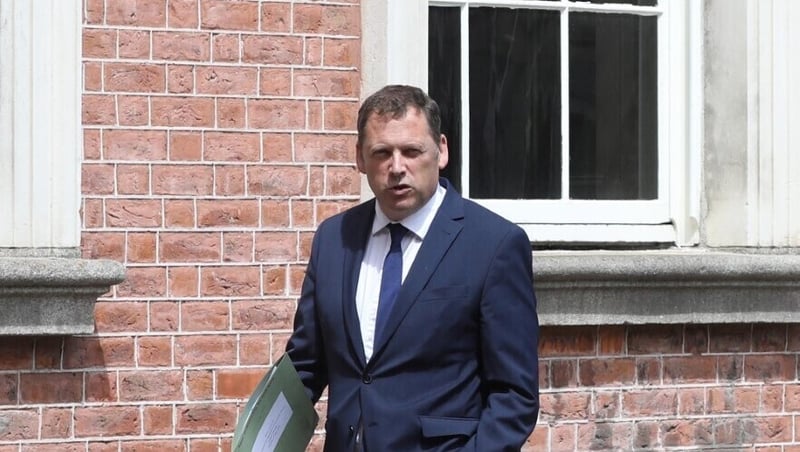 Green Party leader Eamon Ryan has called for further clarity regarding Minister for Agriculture Barry Cowen's drink-driving ban.
The Transport Minister told RTÉ's Drivetime there was a "whole range of questions" being asked.
"I'd imagine [Mr Cowen] will answer them in the coming days and weeks. There needs to be further clarity," said Mr Ryan.
Earlier today, the deputy leader of the Green Party also called for more clarity. In an interview with Newstalk radio, Catherine Martin said that Mr Cowen had "strenuously denied" the allegations over the weekend.
However, the Minister for Media, Tourism, Arts, Culture, Sport and the Gaeltacht added that "more questions" had arisen and "more clarity" was needed.
She said that Mr Cowen had shown "remorse" in relation to the drink-driving conviction. Ms Martin also said it was a "serious mistake", but he had recognised that and learned from that.
Sinn Féin TD Louise O'Reilly said the Agriculture Minister must answer questions in the Dáil this week about why he is disputing a Garda account of what had allegedly happened
However, the Social Protection Minister Heather Humphreys backed her Cabinet colleague, saying people make mistakes but that should not be held against them for the rest of their lives.
Meanwhile, Fianna Fáil TD and Minister of State Thomas Byrne told LMFM that it is clear he was not the source of the Barry Cowen story becoming public. He said he is on good terms with the Agriculture Minister.
Labour Party spokesperson on transport, Duncan Smith, said Mr Cowen "probably needs to answer some more questions in order to draw a line under this, or move on".
This morning, Mr Cowen said he would not be making any further comment on the weekend allegations that he tried to evade a garda checkpoint.
Speaking in Co Leitrim, Mr Cowen said he would rather make no further comment on the issue.
"Enough has been said already," he said, and on legal advice he was not making any further comment.
He said he had apologised already on numerous occasions and had been "sincere and honest".
The minister said he had issues with the newspaper article published yesterday, but he had been advised to say no more on the matter as there was an investigation under way.
Yesterday, Mr Cowen issued a statement in response to an article in the Sunday Times newspaper.
He said he did not evade or attempt to evade a garda on the night he was found to be drink-driving in September 2016.
Mr Cowen's statement said the article refers to an incorrect garda record dealing with the incident, despite the fact that his solicitors wrote to the newspaper in advance of publication.
"I did not evade, or attempt to evade, a garda. Such an act would constitute a serious criminal offence and I was not charged with such an offence," he said.
In 2016, Mr Cowen was stopped at a checkpoint and breathalysed on his way home to Co Offaly from Dublin after the All-Ireland football.
He was found to be over the limit and issued with a fixed charge penalty notice, €200 fine and disqualified from driving for three months.
Mr Cowen addressed the controversy in the Dáil last week when he said he was profoundly sorry for the offence, which he said was a stupid mistake.
In the statement yesterday, the Offaly TD said he sought a copy of the garda incorrect record and is taking steps under the Data Protection Act to have it corrected.
Mr Cowen also said that gardaí have begun a criminal investigation into the source of the leak.
Garda Commissioner Drew Harris has decided to refer the matter to the Garda Síochána Ombudsman Commission.
The RISE TD for Dublin Mid-West Paul Murphy has said he would like Mr Cowen to come into the Dáil and give a new statement.
This time "he should answer questions from the Opposition", Mr Murphy said.
Speaking on RTÉ's Today With Sarah McInerney, Mr Murphy said this is about accountability.
"It's not about the person of Barry Cowen. But do we establish a precedent that ministers get to give statements and walk off and say 'that's the end of it, I've answered all the questions', even though they very definitely haven't?" he said.