Fred puts on his wisdom hat: Why Eviction conjures such horrors in the Irish psyche; we are a very young Nation: it is our centenary. This is what drove us to seek our indepedence.
Post Famine eviction photographs show how merciless British landlords were (source IrishCentral)
Tenants protected their homes with thorny shrubs, boiling water and cow dung to try and prevent their evictions.
Frances Mulraney @FrancesMulraney Mar 27, 2017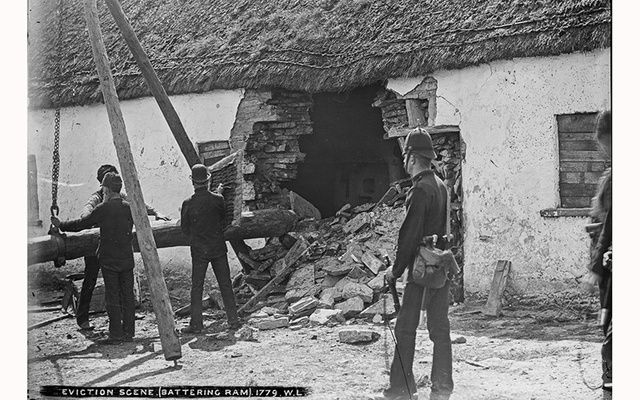 Police use a battering ram to forcibly evict a tenant c. 1888. National Library of Ireland
The Irish Land War was an organized campaign of civil unrest in Ireland that lasted from the 1870s until the 1890s. It was called a 'war,' and there were violent incidents and deaths during the campaign, but the Land War, led by the Irish National Land League, was essentially a non-violent movement of tenant farmers with the aim of resisting the landlords' efforts, backed by the British government, to evict tenant farmers who were struggling the pay the ever increasing rents.