https://southernstar.ie/news/bailey-wants-sophie-murder-case-reviewed-4223592 @SouthernStarIRL#ianbailey
says some journalists betrayed his trust when he agreed to interviews. Here's hoping he means me. Mr Bailey's seal of approval would signal I'd done a bad job with #murderatroaringwater. I'm not one of his "puppets on strings". Bailey wants Sophie murder case reviewed | The Southern Star IAN Bailey is calling on Garda Commissioner Drew Harris to reopen the case of the brutal murder of Sophie Toscan du Plantier on December 23rd 1996.Speaking exclusively to The Southern Star, Mr… southernstar.ie
ps://m.independent.ie/irish-news/new-statement-about-alleged-cleaning-of-bloody-clothes-after-sophie-murder-40727240.html
At last, a real and significant new development in the #sophietoscanduplantier case, as reported in the Irish Independent today. Que justice pour Sophie soit enfin rendue. Sophie Toscan du Plantier: New statement about alleged cleaning of bloody clothes after Sophie… A new statement about the murder of Sophie Toscan du Plantier – and the alleged cleaning of blood-stained clothes – has been supplied to An Garda Síochána. independent.ie Nick Foster @NFoster66 ·
https://sundayworld.com/showbiz/tv/filmmaker-jim-sheridan-admits-in-many-ways-ian-bailey-has-been-punished-for-unsolved-murder-40569699.html
I have massive respect for #jimsheridan as a storyteller and took part in #murderatthecottage, but in NO WAY has Ian Bailey been "punished for this crime". And Mr Bailey suffering? I saw the tears and profound pain of Sophie's parents and son* @sundayworld Filmmaker Jim Sheridan admits 'in many ways Ian Bailey has been punished' for unsolved murder It is one of the more infamous crimes to have taken place on Irish shores and now award-winning filmmaker Jim Sheridan is seeking answers to the murder of Sophie Toscan du Plantier. sundayworld.com
More Topics Nick Foster @NFoster66 ·
https://irishmirror.ie/news/irish-news/ian-bailey-says-thinks-knows-24353921
@irishmirror No, it was not a hitman. This was the only trip Sophie ever took to Co Cork alone. How could someone ordering a hit have guessed she would be travelling solo when she had never done so before? And why 50 frenzied blows, many to her face? Ian Bailey says he thinks he knows who killed Sophie Toscan du Plantier EXCLUSIVE: The 64-year-old Englishman said his life has been ruined by the murder irishmirror.ie Nick Foster @NFoster66 ·
https://southernstar.ie/news/i-truly-believe-sophie-toscan-du-plantiers-murder-can-be-solved-4224686 Yes, I really believe the appalling murder of #sophietoscanduplantier can be solved. Glad to have taken part in #murderatthecottage with #jimsheridan. Writers and documentary makers should never give up in the search for truth @SkyCrimeUK@TheMirrorBooks 'I truly believe Sophie Toscan du Plantier's murder can be solved' | The Southern Star British author Nick Foster's interest in the murder of Sophie Toscan du Plantier is a labour of love, primarily driven by the distress he saw on her father's face in a French court, he tells Siobhán… southernstar.ie Nick Foster @NFoster66 ·
Ian Bailey says no "actual evidence" links him to Sophie's murder. I disagree. So I challenged him to a TV debate on the contents of the Garda file, which he says is "corrupt". The @SouthernStarIRL reports Mr Bailey de
https://sundayworld.com/showbiz/tv/filmmaker-jim-sheridan-admits-in-many-ways-ian-bailey-has-been-punished-for-unsolved-murder-40569699.html I have massive respect for #jimsheridan as a storyteller and took part in #murderatthecottage, but in NO WAY has Ian Bailey been "punished for this crime". And Mr Bailey suffering? I saw the tears and profound pain of Sophie's parents and son @sundayworld Filmmaker Jim Sheridan admits 'in many ways Ian Bailey has been punished' for unsolved murder It is one of the more infamous crimes to have taken place on Irish shores and now award-winning filmmaker Jim Sheridan is seeking answers to the murder of Sophie Toscan du Plantier. sundayworld.com
A British journalist, who has written a new book on the murder of Sophie Toscan du Plantier, has said he is hopeful of 'significant progress' on the case by the end of the year.
Nick Foster's 'Murder at Roaringwater' is the inside story of the final days of Ms du Plantier, who was murdered at her cottage in Co Cork in 1996.
Back in 2019, a French court found Ian Bailey guilty of murder and sentenced him to 25 years in prison.
The Paris court charged him with voluntary homicide in his absence, and he was convicted in absentia.
However the High Court refused to extradite Mr Bailey to France last October.
Nick Foster told Pat Kenny he is exploring new leads in the case as a result of the book.
"I think there's an even, or even slightly better chance, that there will be significant progress in the case by – say – the end of the year.
"I am hopeful, I'm exploring some new leads that were passed on to me in the last few months or so.
"The other thing I would say is that allegiances shift over time – so people might come to reflect on their own personal knowledge of the case, and approach Gardaí even at this late stage.
"It's a cold case but it could warm up again – and it certainly should warm up again because Sophie's poor parents deserve closure, as does her son Pierre Louis".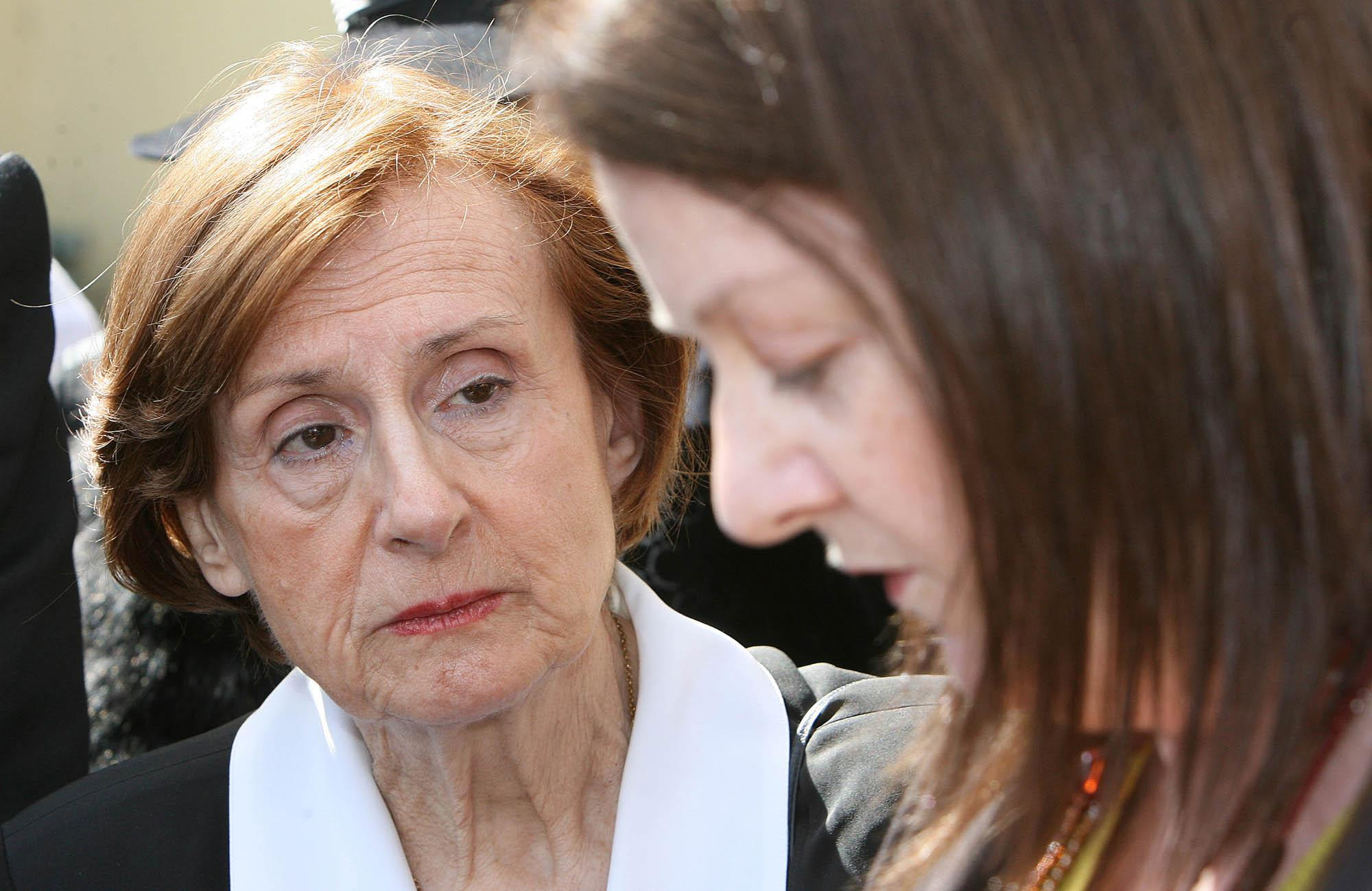 Marguerite Bouniol, mother of Sophie Toscan du Plantier, listens to the prayers of Anne Delcassian – sister of Dundalk woman Irene White – during a special vigil to remember more than 120 women killed violently in Ireland in April 2007. Picture by: Niall Carson/PA Archive/PA Images
'I was immediately intrigued'
Nick said it was the setting, and details of the murder, that first caught his attention.
"The first I heard about the case was in early 1997 when I was listening to French news, actually on the arrest of Ian Bailey.
"And I was immediately intrigued because it seemed so unusual, the scene of the crime was so remote but it was also clearly so peaceful.
"And then you had the violence of the assault, and that was so appalling, so brutal.
"And then a couple of months later, it turned out that Sophie had left a poem marked in an anthology of Irish poetry in the house.
"She'd marked a particular Yeats poem – titled 'A Dream of Death' – now that's not a poem about a murder, but it is a verse about a young woman dying alone in a foreign land in what's clearly a rural environment.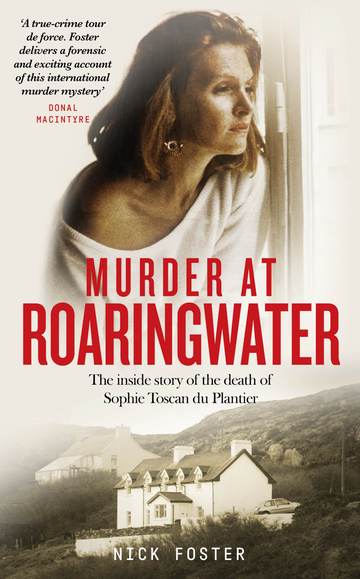 Picture by: Mirror Books
"It just seemed so prescient of what in the end happened to her".
Nick also said her final visit was the only time that she went to the house on her own.
"This was the very first time that Sophie had travelled on her own to west Cork.
"I calculated that in all the roughly four years that she had the house, she probably went about 16 or 18 times.
"But this last time was the only time that she went on her own.
"She was always there with people, she was sociable, she always loved travelling to west Cork with other people – and that was the first time that she went there on her own".
* Bias…Clear statement of fact in Mr Foster's appraisal and confirmed in writing. The DPP said there was no case to answer. They questioned the performance of the Gardai. Fred Bassett