SubscribeEvents Global Stage Afghanistan GZERO World Signal In 60 Seconds Puppet Regime Quick Take Podcast Living Beyond Borders Graphic Truth

The Graphic Truth: How opium kept the Taliban going
August 18, 2021 Carlos Santamaria and Ari Winkleman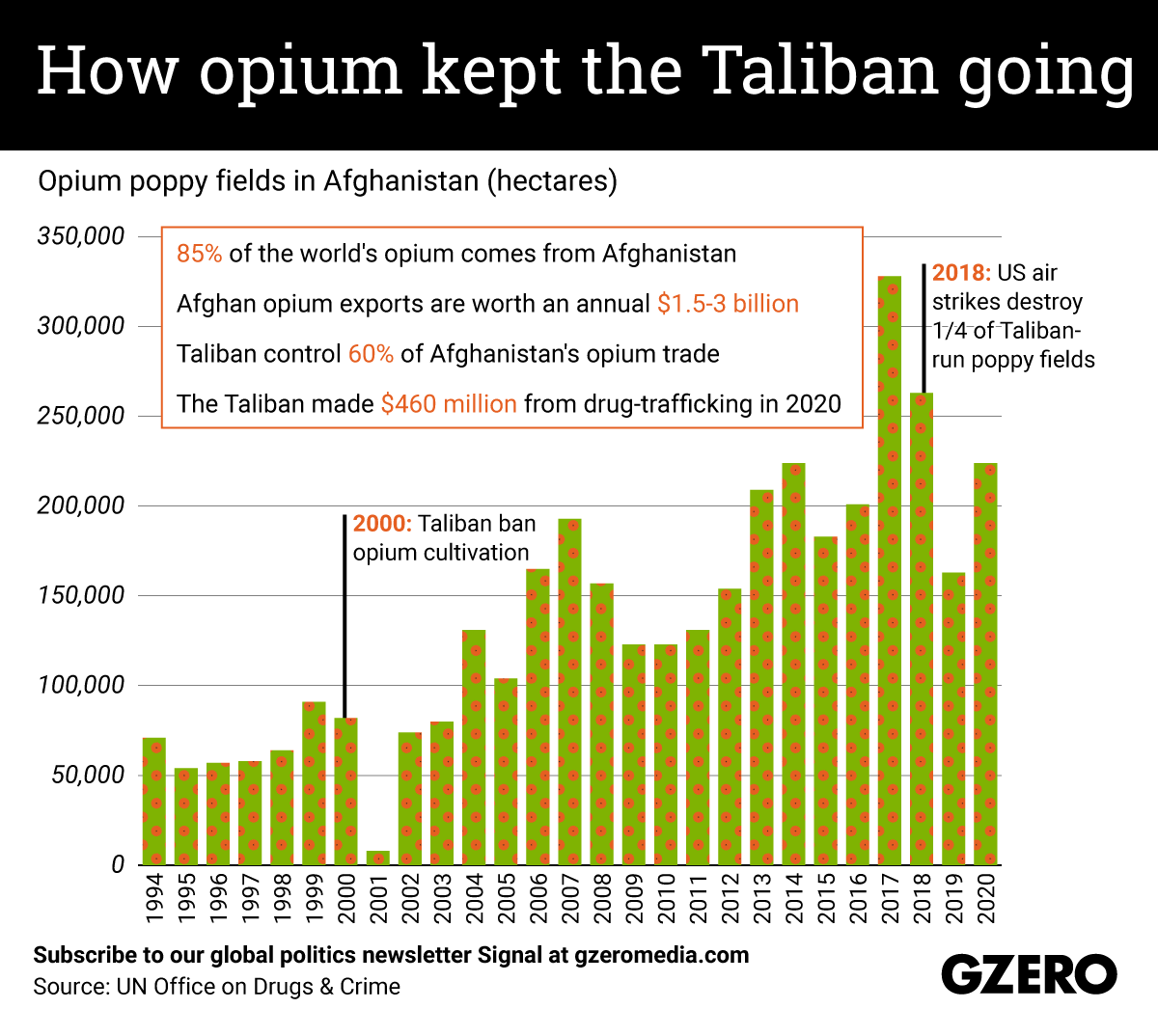 The Taliban (officially) banned opium cultivation before 9/11 and the subsequent US invasion that ousted them from power in Afghanistan. But in the 20 years since, the group has taken over most of the country's vast poppy fields, becoming the Pablo Escobars of the global opium trade. The drug has been so lucrative for the Taliban that without it, they may not have had the longevity and military capacity to make the decisive territorial gains seen in Afghanistan in recent weeks. We look at opium cultivation since 1994, spanning the Afghan civil war, Taliban rule, and the US occupation.
September 13, 2021 GZERO Staff
Ian Bremmer's Quick Take:
Hi everybody, Ian Bremmer here. Welcome to your week, happy to be back in the offices, of course, in New York City. And by the way, and what do I have at my desk here? A fan sent me a Moose the dog cookie, which how does one eat that? You can't eat that because it's Moose, you just keep it! But that's pretty awesome, a Norfolk Terrier in a cookie right there, very talented. Thank you so much.
And let's get started. So what I was thinking about as I saw over this weekend, today. Not only is the United States today the most economically-unequal of the G7 advanced industrial democracies, and the most politically divided, but we're also now in terms of first jabs of the COVID vaccine, we are the least vaccinated of the G7, which is annoying because we were the most vaccinated of the G7 months ago. And of course, all of this speaks to the fact that the United States is enormously wealthy, enormously powerful, there are so many great things about this country, but the politics are deeply, deeply screwed up. And the problems we have are self-inflicted. More ian bremmerquick takecovid-19 vaccinevaccine hesitancyg7us alliesus political dividechinaunited kingdomjapanitalyus covid vaccine rateeu covid vaccine rateeuropean union
September 13, 2021 Carlos Santamaria
Representatives from some 40 donor countries for Afghanistan gathered on Monday in Geneva to make a tough choice: keep humanitarian aid flowing to a country governed by violent religious zealots, or potentially watch one in three Afghans starve to death this winter.
In the end donors collectively pledged more than $1 billion, well above the $606 million the UN had asked for in order to avoid a famine that would have affected 14 million Afghans, about a third of the population, by the end of the year. But that's a drop in the bucket for the country's immense needs. More AFGHANISTANtalibantaliban takeoverafghan aidunited nationsantonio guterres
September 13, 2021 Gabrielle DebinskiAlex Kliment
September 10, 2021 GZERO Staff
Ahead of Monday's UN conference on aid to Afghanistan, UN Secretary-General António Guterres knows he can't turn Taliban-run Afghanistan into Sweden — but still hopes to ensure basic rights for all Afghans, including women and ethnic minorities, as well as prevent civil war and terrorism. For Guterres, it's time for "all the elements of the international community to come together and to engage with the Taliban positively." If we show them we can keep humanitarian aid flowing, Guterres says, perhaps we'll gain leverage and sell the Taliban on "the idea that they can become part of a normal world." Watch this clip from Ian Bremmer's exclusive interview with Guterres on GZERO World, which will air on US public television during the week of the 76th UN General Assembly.
antónio guterresungaafghanistan aidgzero world with ian bremmerafghanistanunited nationshuman rightsafghan womentalibancrisis in afghanistanun general assembly
September 13, 2021 Gabrielle Debinski