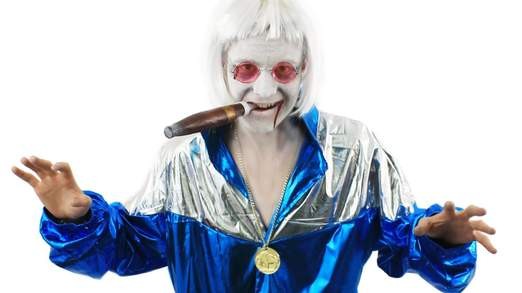 How Jim fixed it in Ireland
by Village 2 November, 2012, 4:24 pm up Dated by FRED BASSETT.
Ireland, as so often, fell for the celebrity
In the early 1970s, a relatively unsophisticated view of charitable contributions prevailed in Ireland. For the most part school children collected money in tins outside supermarkets. For organisations like the Irish Wheelchair Association these annual collections were a vital stream of income. The constant hazards of the semi-professional 'chuggers' on urban streets were far in the future. Before the days of monthly bank drafts or charitable foundations, every penny literally did count. And one way of gathering pennies was the ubiquitous Charity Walk. Primary school children would often comprise the bulk of these not-for-profit phalanxes. I can still recall one walk from Stillorgan Shopping Centre to Croke Park. We had been promised an appearance by Maureen Potter and other 'celebrities' and then witnessed some form of Gaelic-Australian rules hybrid gladiatorial joust.
One international celebrity was very prominent in a number of these events. In 1971 Jimmy Savile led a Charity Walk from Dublin city centre to Baldoyle. He was participating in a fundraising event to benefit the Central Remedial Clinic.  The great and the good of Irish society joined him. Charity and celebrity provide an irresistible cake for the media to ice. The gathering included Dickie Rock, the Chief Justice, Reverend Michael Cleary and Lady Goulding.  The Irish Times estimated the crowd at 30,000. It reported that Savile "demanded" that Lady Goulding and the showband singer kiss onstage "to show the guys and gals what democracy is all about". The testimonies of the distressingly large number of people who have accused Savile of sexual violation give a fair indication of his vision of democracy.
It is worth quoting from the paper to get a sense of the day:
"At Baldoyle Father Cleary gave a popular rendering of his old stand-by, 'The Chattanooga Shoe-shine Boy,' while Jimmy Savile delighted the crowd by stripping to the waist and flinging his shorts into a screaming throng".
Sadly no film footage exists of the event.
Huge crowds gathered for the charity walks with Jimmy Savile. The events generally ended with a concert: for many of the walkers their first concert. In a country with few international music visitors this combination of walking, doing good and popular music was irresistible. Fintan O'Toole wrote how he took part in one of these charity walks despite his then lack of interest in both charity and walking. He went because there was a big free gig at the end of it. And it was being led by the man we all recognised from 'Top of the Pops'. Music critic Barry Egan described these events as "one of the highlights of my year". They were his launch-pad into rock concerts (and thence into gossip columnising).
For many of the bands it was an opportunity to reach an audience usually unable to attend gigs in hotels or bars. Savile recalled a young U2 appearing at his event, while rumours of Horslips playing still exist. The photographs certainly confirm that the Indians performed in full regalia. Naturally Savile couldn't be at every charity event in the land. In 1970 the Central Remedial Clinic held a stationary event. The gathering had to make do with the rock sounds of local band Thin Lizzy! The money gathered was earmarked for a trip to Lourdes for some of the young patients. In Ireland popular music and Catholicism overlapped in the most unlikely places. And frequently the charity came from the pop music side of the equation.
The Irish newspaper obituaries  last year proclaiming that Jimmy Savile's legacy would be 'tireless' charity work were incorrect. The way in which he will be viewed has changed drastically in light of the allegations of his sexual abuse of up to 300 people, mostly young victims. He will be remembered alright but not for his charitable acts. And this needs to be placed in a specifically Irish context.
Celebrities come in all sorts of guises: international, national and local. Even the playground bully enjoys a celebrity of sorts. Institutions frequently seek the charismatic leader who overshadows the firm.
Savile had access to the Irish political, church and cultural elite because of his celebrity. His Irish family origins were frequently mentioned. He had the ability to raise money for Irish causes and to raise their media profile. In any society power provides or sustains opportunities for particular groups and individuals. We can interpret that society by the way it enables those groups or individuals to gain that power. And one of the great shortcuts to power is celebrity. Savile was able to enjoy privileged access to the elite because they gained from proximity to his celebrity. How apt the expression 'cult of celebrity' is. And in Ireland there is a particular penchant for celebrity worship. It is as if their VIP all-access pass invites the rest of us to somehow participate vicariously in their lifestyle. Their projection becomes our aspiration. Their attraction is our distraction. In an era requiring clear heads and focus it is not what we need.
Savile was an attractive front-man for charities because of his media visibility. Some of the spotlight he enjoyed would be shone on their mission. In a telling remark in a 2001 Irish newspaper interview he was quoted saying: "I have been to charity dos, where women dressed up just in bras to raise money. Charity is an escape. In normal life they couldn't do that or they would be arrested". For him charity was an area of transgression, even if it was a life-sentence   for many of the people he was reputedly supporting. Charity was a playground. A sexual playground at times. For him. The implication was he was beyond the rules because he did work for charity.
His perspective on his contribution to the lives of people he obviously saw as targets shows he took a parasitic pleasure in others' suffering. "It is an awesome experience for me to use my profession to take a 16-year-old schoolgirl's mind off spending the rest of her life in a wheelchair while in hospital. Or for instance a nervous patient's thoughts off the blade on the way to an operating theatre". These were words he used in 1977 in an Irish paper to explain the satisfaction he gained from his work. He saw himself as above the law.
He was also a master of deflection. Mary Punch of the Irish Independent interviewed him in 1974. Chillingly this took place in his BBC dressing room where a number of his abuses allegedly also took place. Punch asked him why he had such an affinity for people, particularly youngsters. "Look. I used to be a coal-miner. Don't give me those big words. What's 'affinity'? Talk normal please".
It is not hard to account for Savile's superhuman opinion of himself. The Irish President joined him in his 1975 Dublin charity walk. The following year he was billed by walk organisers in Northern Ireland as "the pied piper for peace". This was his sixth walk in the province and he was already renowned for his headline-grabbing ability. Perhaps now we can see that such headlines were awarded cheaply.
And so the sordid Savile story gives us plenty to reflect on. The unqualified position we place celebrities in, even when they are disposable, gives them power in our society. Their choices become invitations for us to consume. Savile was not famous for being a disk jockey playing records. He was famous because his giddy public persona helped sell records. He was a spectacle. His relationship with charities, many of them incredibly and unqualifiedly deserving of support, became part of that spectacle. The management of hospitals, institutions and charities who gave Savile the keys to their institutions will rightly have their competency questioned. And on a human level, all must ask themselves how they were not unnerved by this sinister weirdo.
In a 1971 Irish Independent interview Savile, at the height of his celebrity, was asked a question that prompted the briefest response. A clinical response. It was an exchange between journalist and subject that is tempting to analyse with the benefit of hindsight. It will provide no comfort to his victims. It might help us to understand egomaniacs like Savile. And to see them for what they are.
Journalist: "Is there anything that particularly moves or shocks you? "
Savile: "No".