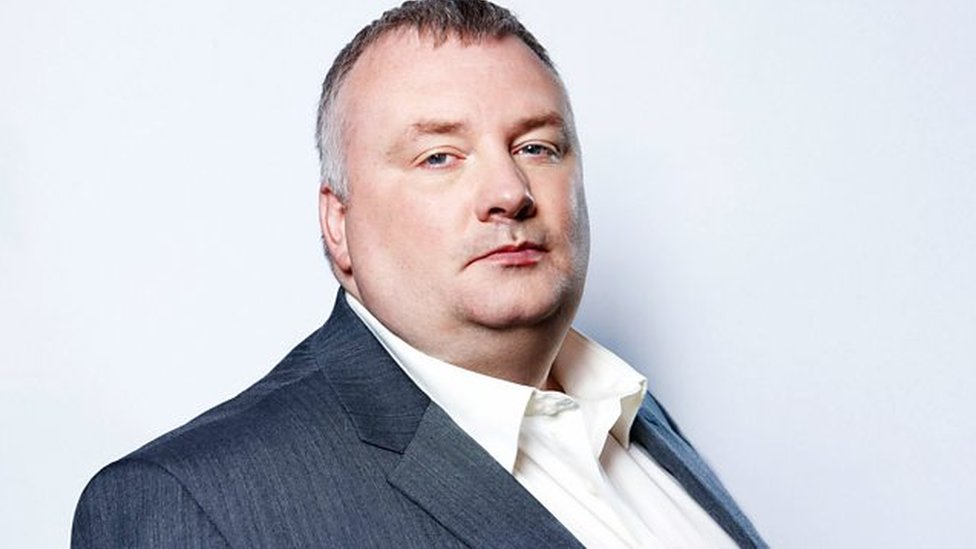 Nolan sues Sinn Féin supporter who accused him of promoting hate
14th November 2021 (This is not written by Fred)
---
Stephen Nolan is suing a Sinn Féin-supporting businessman who accused him online of "promoting hatred, violence and bigotry". The BBC broadcaster — who received a six-figure settlement from a troll earlier this year — has now lodged High Court papers in Dublin naming auctioneer and off-licence owner Eddie Barrett in a libel action. Mr Nolan is seeking substantial damages from the 60-year-old Kerry republican over a series of outrageous and hurtful claims he made about him on social media. These include defamatory posts alleging the Radio Ulster star to be a "hate vendor", a "bigoted hatred spreader", and accusing him of "promoting loyalist terrorism" on air. Barrett also compared Nolan to Hitler's Nazi propaganda minister Joseph Goebbels. The businessman posted that loyalist bullies would love to return to days when they could "put Irish nationalists under your heel", adding: "But the days of you loyalist bullies is well and truly over and even arch Goebbels like propagandist Stephen Nolan is drying up… Unification of Ireland is coming, suck it up."
The businessman also called for Nolan to resign from the BBC or be sacked. Top libel and media lawyer Paul Tweed, who is representing Nolan, said: "I can confirm proceedings have been lodged with the court, but because the matter is active, I cannot say anything further." Although contacted several times by Sunday Life, Mr Barrett was unavailable for comment. When pressed by this newspaper during the summer about whether he thought he had libelled Nolan, the Sinn Féin activist said: "I have never did so and I deeply resent the inference that I ever would."
Barrett's comments came after Nolan took £100,000 in damages from a Twitter troll who made a series of false claims against him. The man behind the account is a former government advisor who used the anonymous handle 'Pastor Jimberoo' and 'Pastor Jimberoo's Ghost' to harass the BBC presenter. After receiving the mammoth six-figure payout, Nolan agreed with a request not to reveal his tormentor's identity, saying it showed that he is "the bigger man". The defamatory 'Pastor Jimberoo' tweets included linking the journalist to loyalist paramilitaries and accusing him of inciting trouble on the streets, racism and homophobia. Nolan said the Jimberoo figure was out to destroy him. "I just thought why am I taking this?" said the successful presenter who says he's determined to hold the trolls "to account".
Some Twitter posts from Eddie Barrett appear to be in the same vein, with several directed at Nolan's BBC employers urging them to sack the radio and TV host. Barrett is well known in Co Kerry and is a director of several companies including Norths Auctioneers Real Estate Co Ltd and an Irish language radio station. He is also a good friend of convicted IRA gunrunner and former Sinn Féin TD Martin Ferris, showing up at several republican events in his company. In a tweet last year Barrett talked of his pride at being a member of the party, writing: "I am 50 years an adult member of @sinnfeinireland & am so chuffed & proud of our now so youthful organisation of tremendous volunteer workers and canvassers over the past number of years. But isn't @MaryLouMcDonald simply outstanding? The rest are like novices so far behind her."
In 2016 Barrett — who is the grand-nephew of Sinn Fein's former Home Affairs minister Austin Stack — showed up in a Co Kerry court to support ex-Provo gunman Angelo Fusco who was appealing against a decision to refuse him a shotgun licence.