'The way my boss monitored me at home was creepy'
By Justin Parkinson
Political reporter, BBC NewsPublished 5 November 20221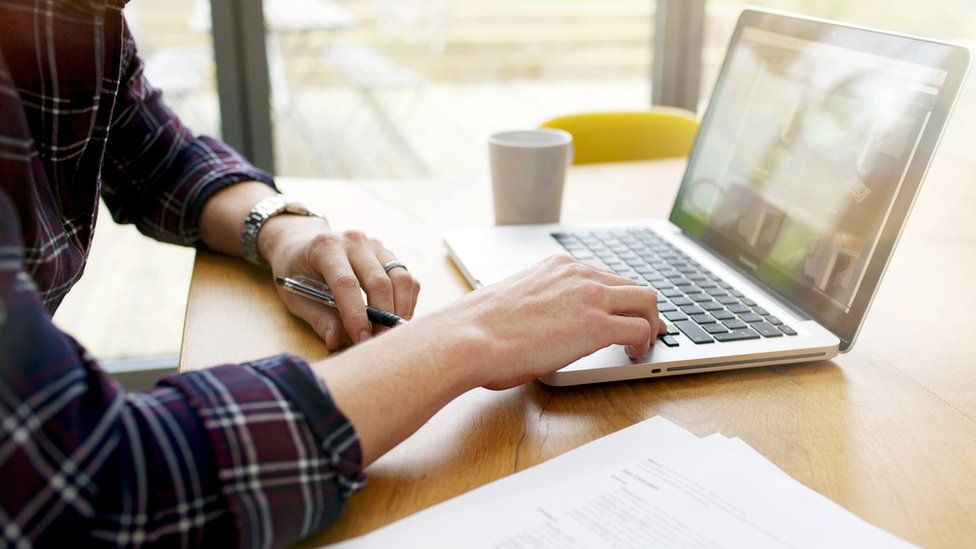 Electronic monitoring of home workers by companies is rising sharply, a survey suggests. The government is being urged to toughen the rules – and ban most webcam use.
"It was creepy," says Chris. "One of my managers was watching people's personal computers to monitor what we were doing at home – all the time, not just when we were working. It was a bizarre way to carry on."
When the first lockdown started, the firm that employed Chris – a 31-year-old engineer from Sheffield – sent most of its staff home.
They were ordered to connect their private laptop and desktop computers to more powerful office machines so they could continue their high-tech operations.
"We didn't mind," says Chris, "but I found loads of screens switched on one day when I came in to the office, and everybody's desktops were there, on display.
"One of the managers wasn't just looking at our work. He could see exactly what we were doing all the time – what we were watching on YouTube, that kind of thing."
The pandemic forced millions of people, who previously carried out most or all of their work in the office, to do it at home instead.
And many firms have been using technology once mostly confined to the office to monitor what staff are getting up to.
Cameras can watch people at their desks. Movement sensors can be employed. Keyboard strokes and mouse movements can be recorded.
Bosses can take screenshots of desktops to check staff are working rather than browsing the internet or watching videos.
The trade union Prospect is calling for stronger regulation of the use of monitoring technology by employers.
And it wants the government to make it explicitly illegal for employers to use webcams to monitor home workers, apart from when they are taking part in meetings and calls. https://emp.bbc.com/emp/SMPj/2.44.4/iframe.htmlMedia caption, Is your boss spying on you as you work from home?
Prospect's latest polling suggests 32% of home workers are now being monitored by firms – up from 24% in April. The rate is highest – at 48% – among people aged 18-to-34, it adds.
The union, which is launching a new sector to recruit tech workers, also says the proportion of people being monitored at home by camera has more than doubled – from 5% to 13% – since April.
"We are used to the idea of employers checking up on workers, but when people are working in their own homes, this assumes a whole new dimension," says general secretary Mike Clancy.
"New technology allows employers to have a constant window into their employees' homes, and the use of the technology is largely unregulated by government."
The Information Commissioner's Office (ICO) advises that employers should ensure staff are aware of monitoring at work – whether at home or in the office – before it starts. They should also explicitly be informed of the reasons for this happening.
The ICO urges employers to consider the potential negative effects of monitoring on staff and whether there are less intrusive alternatives, such as catch-up calls or email exchanges.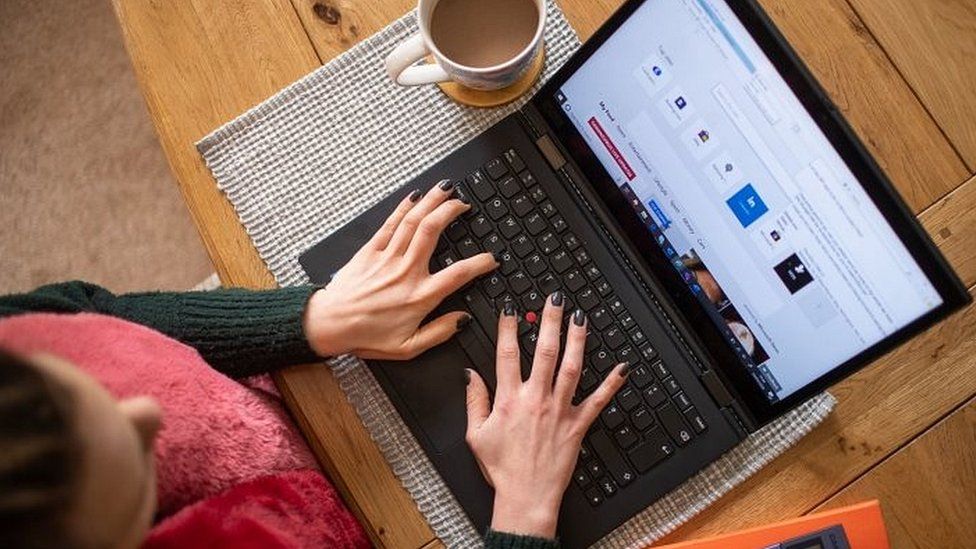 Chris, who changed companies after he found out one of his managers was monitoring his home activities. thinks "excessive" surveillance is counter-productive.
"My productivity didn't go down when I started working from home," he says, "and when I knew what was happening it made me more nervous.
"A lot of the time in my job is spent designing things on paper, away from the screen, so that doesn't register if someone is simply looking at what's going on on my desktop.
"It probably looked to that guy like I was downstairs watching Netflix or something, but I wasn't. It's a very blunt, depersonalising way of trying to ensure people behave in the way a company wants."
Anna Thomas, director of the Institute for the Future of Work think tank, says increased surveillance is "driving an intensification" of pressure on staff.
But firms using the technology argue that they are acting reasonably, with so many employees now out of sight of managers and otherwise difficult to oversee.
Official research suggests that, as Covid measures are relaxed, fewer people are working exclusively from home or under hybrid arrangements – a mixture of home and office – than at the height of the pandemic. But many still are.
The government is proposing that people should get the right to flexible working as soon as they start a new job. Its consultation, which includes looking at home working, closes on 1 December.
"People expect that they can keep their personal lives private and that they are also entitled to a degree of privacy in the workplace," an ICO spokesperson said.
"We are currently working on updating our employment practices guidance to address the changes in data protection law and to reflect the new ways employers use technology and interact with staff," they added.
For Labour, shadow digital minister Chi Onwurah said: "Ministers must urgently provide better regulatory oversight of online surveillance software to ensure people have the right to privacy, whether in their workplace or home."
For Prospect's survey, 2,424 UK workers were questioned by Opinium from 19 to 22 October.
Chris's real name has been changed for this article.