Let's have a look at what some people manage to do while the rest of us live by the Rules of the Pandemic with that degree of altruism needed for our fellow human beings. These people have no regard for the WHO, the Vaccine Apartheid that is slowly but surely destroying people and causing death and serious illness.
Airbnbprivate accommodationsvacations rentalsIreland > Dublin
10 Luxury Airbnbs In Dublin, Ireland – Updated 2021
Search the best Airbnb Vacation Rentals
Destination: Check-In Check-Out Powered by
James Updated Nov 14, 2021
When you talk about regions in the world that are atmospheric, beautiful, welcoming, arty, and friendly, then Dublin is undoubtedly among the top picks. Dublin has the spectacular reputation of accommodating different caliber of people with warmth and hospitality. Although Dublin is the capital of Ireland, it looks a bit more archaic than other European states, featuring Georgian inspired buildings and medieval cathedrals and castles and so many prominent attractions. This beautiful capital can be best described as a place with a great blend of cosmopolitan and local tradition. Dublin also has a good selection of accommodations to stay, from inexpensive apartments to the pricey, luxury ones. This article focuses on some top picks of luxury Airbnb vacation rentals in Dublin, Ireland to spend a memorable time in this wondrous city.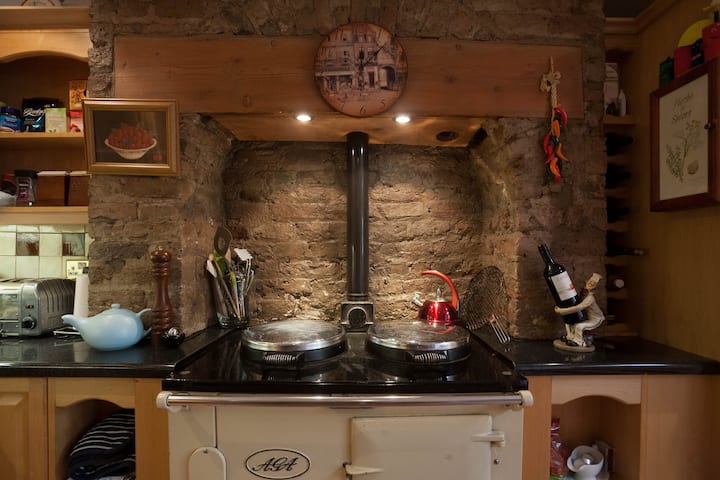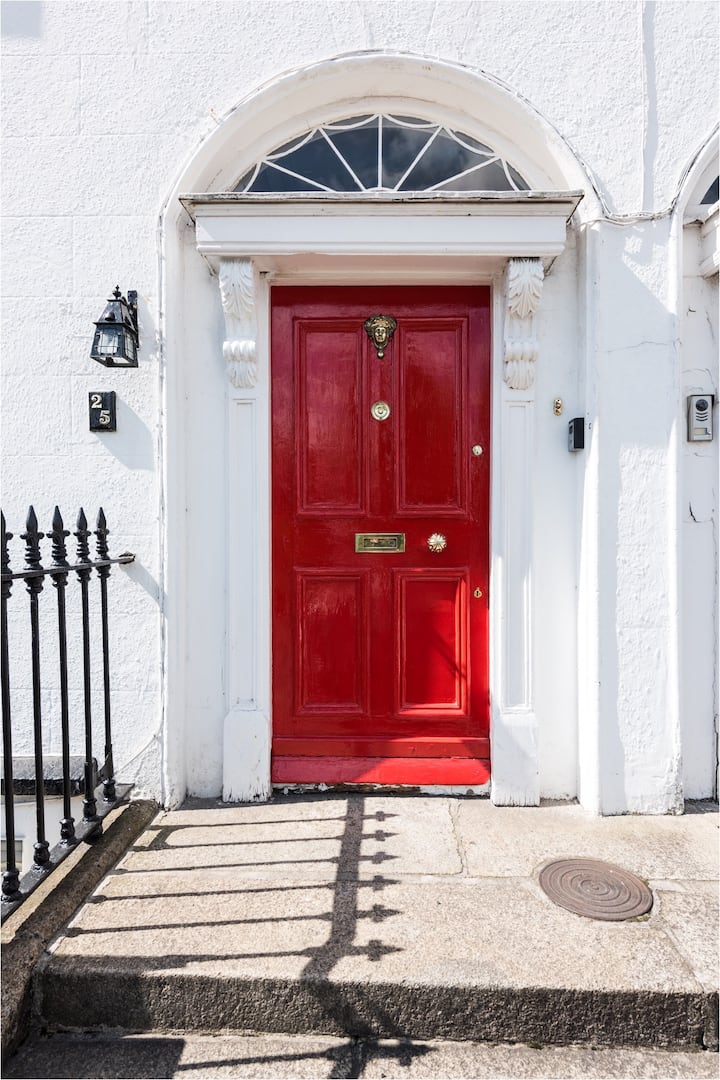 Settle in this old, Georgian villa which boasts of all the amenities of a comfortable contemporary home and is located in the social heart of Ballsbridge where you have access to some of the most important attractions in the city. The home features spacious four bedrooms, two showers and a fully stocked and equipped kitchen where you can prepare your favorite meals and green coffee/tea with the available ingredients. You can also relax in the sun trap garden at the back of the home or step out to some most amazing Dublin landmarks such as Rds sports stadium, museums, Herbert Park, restaurants and bar which are only a few minutes walk from this beautiful dwelling. Victorian House 4 Bed City Centre Ballsbridge D4 Ballsbridge, Dublin, Ireland
132 reviews

Superhost Entire residential home 4 Beds 8 Guests 4 Bedrooms 2 Bathrooms
Accommodates: 8

Top guest reviews
we slept 7 adults very comfortably with lots of room and some very thoughtful homey touches
we loved the kitchen and dining area so much natural light and outside area
Read more reviews Read More from EUR 959 view deal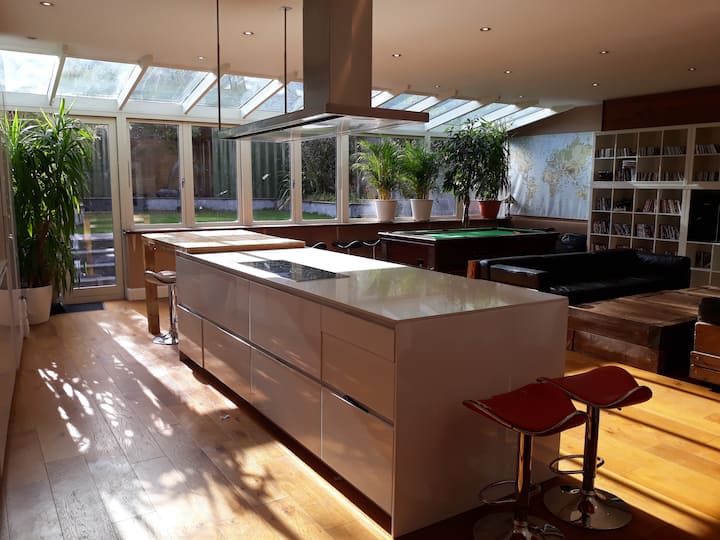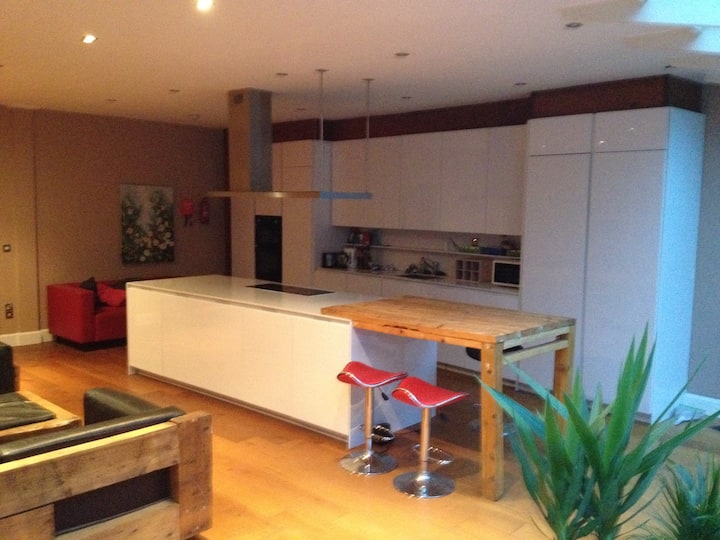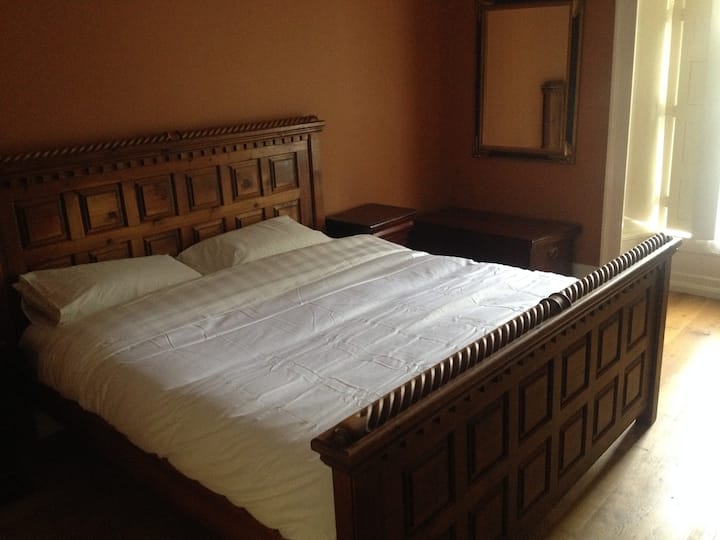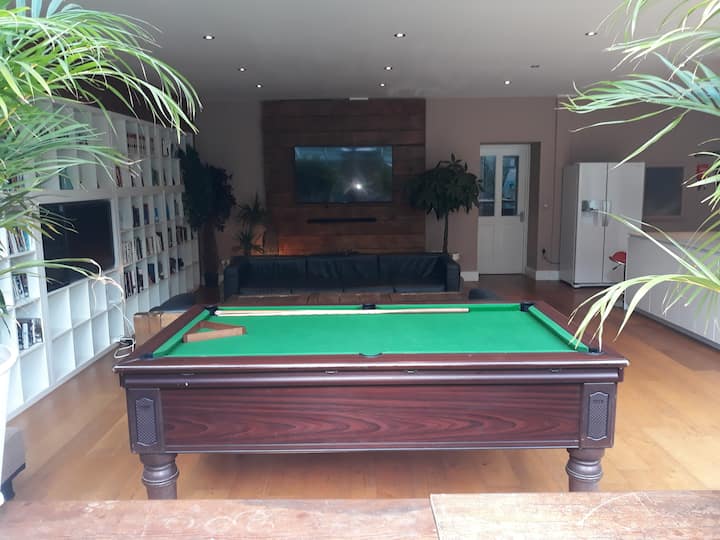 Sitting in Portobello, a neighborhood of the Dublin City Center is a refurbished seven-bedroom luxurious home designed with your leisure and comfort in mind. The apartment is beautified with a south facing garden, containing lovely rowan and willow ash trees allowing free circulation of air throughout the abode. Other amenities of this villa include a large fully equipped kitchen with an excellent design from top to bottom, a futuristic pool table, a large HD TV and lots of room to accommodate a large number of leisure holiday seekers. You can't get bored with the provided YouTube, Netflix access and also the full movie and sports TV channels. City Centre 7~Bedroom Georgian House~Portobello Dublin 8, County Dublin, Ireland
110 reviews

Superhost Entire residential home 12 Beds 16 Guests 7 Bedrooms 3 Bathrooms
Accommodates: 16

Top guest reviews
great house for a group with plenty of space and beds
fantastic space which accommodated our large group comfortable
our stay at brian's was great – plenty of room for our large group of 12 girls
Read more reviews Read More from EUR 1,009 view deal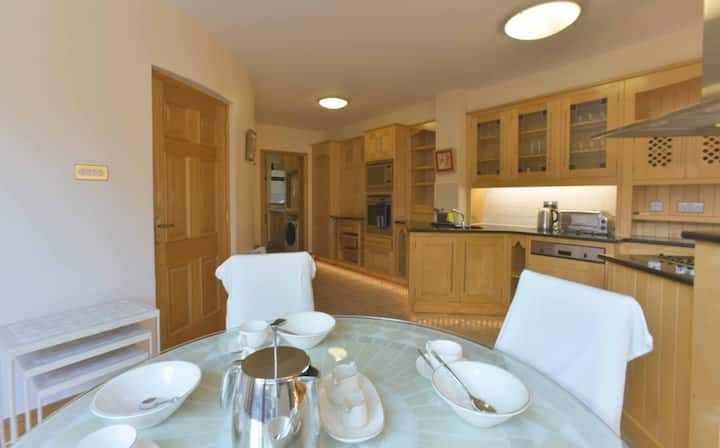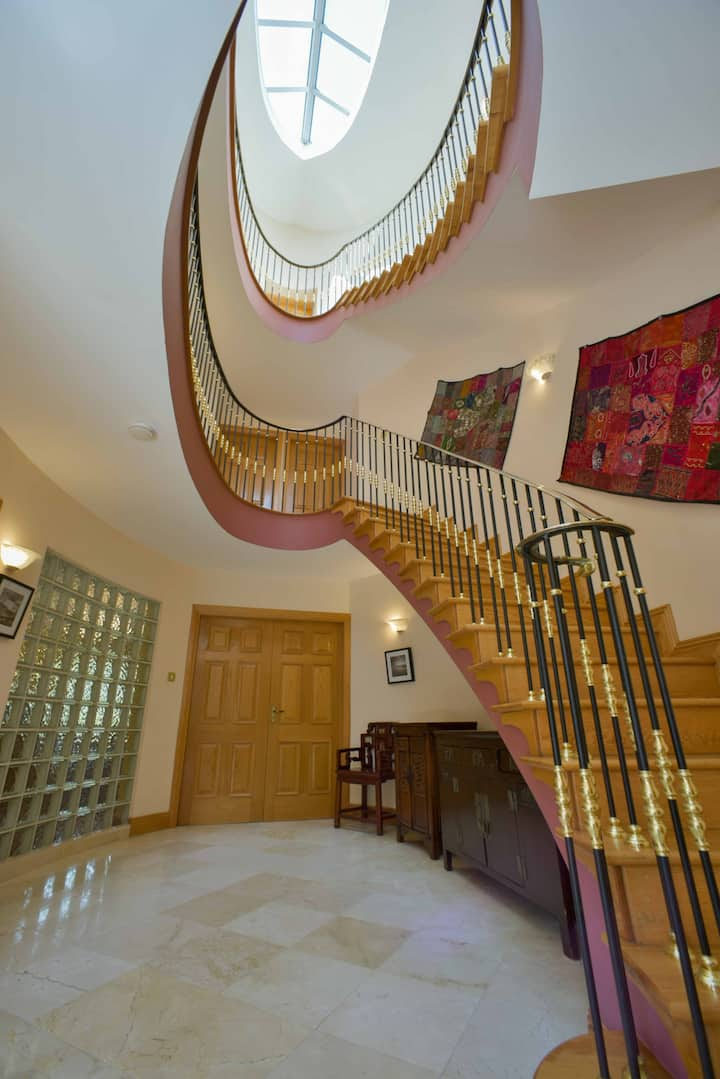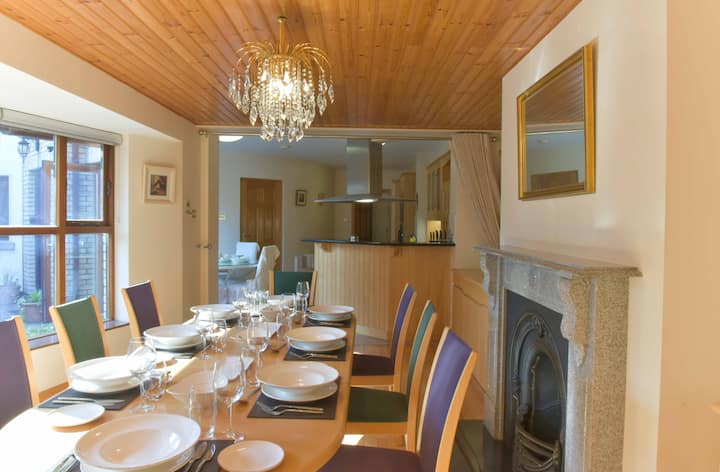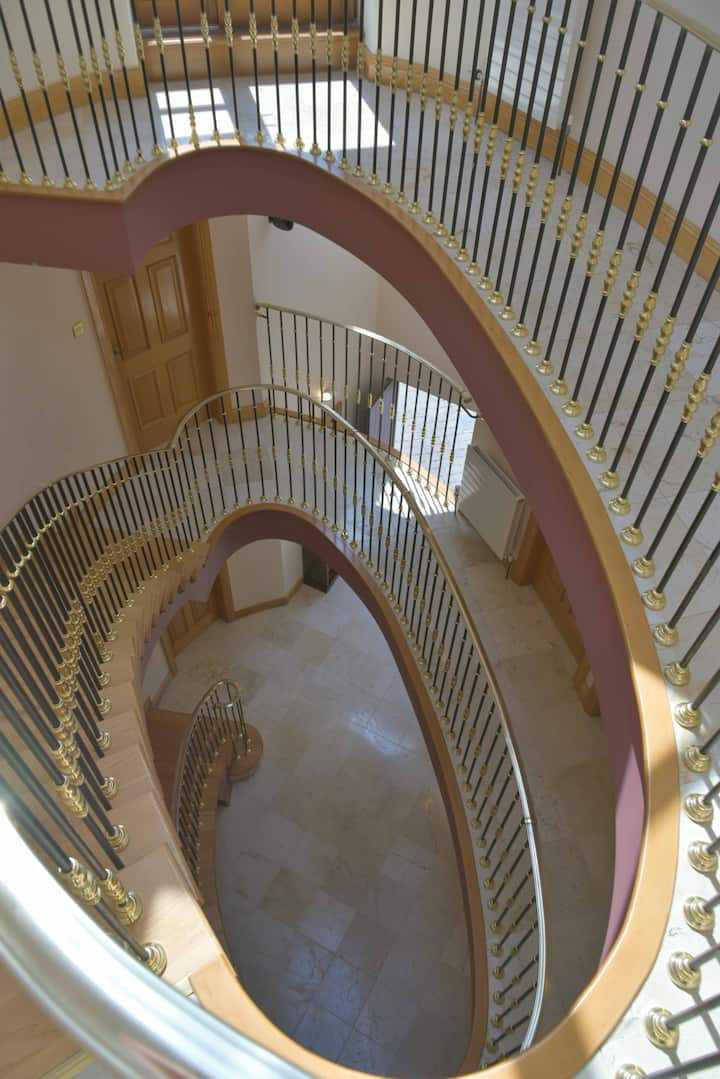 Surprise your family with this stunning, well spaced, decorated and bright abode with all the amenities you may require to have an unforgettable vacation or stay. All the bedrooms of this little haven have an en-suite, and TV with access to Netflix or Sky satellite. The master bedroom is fitted with a hot tub and a shower while the other three rooms have only showers. The dining area accommodates 12 people, and the kitchen is fully equipped, and the living area has a leather settee suite with a huge TV showing popular series all for you to have a pleasant and comfortable stay. You also have access to a full laundry facility and an ample parking space. A Dublin Gem, Ballsbridge
25 reviews

Superhost Entire residential home 6 Beds 10 Guests 4 Bedrooms 5 Bathrooms
Accommodates: 10

Read more reviews Read More from EUR 432 view deal
Enjoy picturesque views of the city from the terraces and balconies of this vibrant abode and experience a vacation full of tranquility and leisure when you settle in the large penthouse. The home boasts of a living area on each floor and a bright and well-decorated bedroom each containing elegant bathrooms for your comfort. The property comes with a central dining area and a well-equipped kitchen. Stay entertained with Netflix, multiple channels and high-speed WiFi. All that you require for quality and luxurious stay, is contained in this beautiful abode, and only a visit can fully convince you of that. Large Luxury Penthouse in the City. Dublin, Ireland
65 reviews

Superhost Entire condominium (condo) 3 Beds 6 Guests 3 Bedrooms 2 Bathrooms
Accommodates: 6
Read more reviews Read More from EUR 594 view deal
Have an unforgettable luxurious getaway in this charming two-story building also situated in the beautiful Dalkey Island? The building offers terrific views of the Irish Sea, Sugarloaf Mountain, Dalkey Island, Dublin Bay and an opportunity to explore the significant cultural heritage of the country in the Emerald Isle. The home features six bedrooms with en-suite, a shower and sauna, gourmet kitchen, a pillared entrance porch, games rooms for fun and convenience. You are also a few steps away from boutiques, recreational facilities, pubs, shops, just a perfect abode for passionate adventurers. Dazzling Sea View Villa on Dublin Bay. Dalkey, County Dublin, Ireland
6 reviews Entire residential home 7 Beds 13 Guests 6 Bedrooms 5 Bathrooms
Accommodates: 13

Top guest reviews
when we walked in the door the house was filled with beautiful fresh flowers in every room
this is a beautiful well appointed home with amazing views from nearly every room in the house
super responsive and attentive
easy walk in to dalkey where there are friendly pubs and fantastic restaurants
a perfect place for a family christmas or special occasion
This stylish, spacious home was constructed in 1994 and is now open to vacationers who wish to experience a tranquil stay amidst a beautiful and natural environment. The ground floor is well decorated with an original Adams fireplace, a spacious dining area, direct access to the garden, a guest shower, utility area and a working office for your convenience. The second floor boasts of a storeroom, shower room, and two spacious bedrooms. The apartment also features a fully equipped Danish-inspired kitchen, a dining area, and comfortable outdoor living. It also has a beautiful garden sitting in the better part of the 0.86 acres (0.35 hectares) land of the apartment, featuring amazing trees. Sonas Brennanstown Vale Carrickmines Dublin 18 Dublin, County Dublin, Ireland Entire villa 5 Beds 5 Bedrooms 3 Bathrooms Oops, this listing is currently inactive. Check out these alternative properties in the same location. View properties in Dublin
The Santry home was built in the 1950s but recently underwent significant renovations. Settle in this peaceful home, situated 5 km ( 3.1 miles) from the heart of the city and close to banks, restaurants, cafes, cinema and more. The building is tastefully designed with three bedrooms, one containing a king size bed and the two others fitted with double beds. Treasures and vintage finds acquired from the many trips of the host can be seen all over the home and add spice to the entire decor. Santry Home, 5km from Airport & 5km from City! Whitehall, County Dublin, Ireland Entire house 3 Beds 3 Bedrooms 1 Bathroom Oops, this listing is currently inactive. Check out these alternative properties in the same location. View properties in Dublin
Overlooking the Dublin's River Lifeway is this newly refurbished penthouse with modern designs for your curb appeal. The home can comfortably accommodate six people in its different living sections with private balconies, a spacious dining room, living area, and a fully equipped kitchen. The walls of this spacious abode are tastefully designed, and the couch on the living area can be converted to two single beds for your comfort. The two bathrooms are en-suite and contain a shower each, and you also have access to a working office where you can go through some interesting books on Ireland and Dublin. Coopers Residence – City Centre Luxury River Views Dublin, County Dublin, Ireland
9 reviews Entire condominium 5 Beds 3 Bedrooms 3 Bathrooms Oops, this listing is currently inactive. Check out these alternative properties in the same location. View properties in Dublin
Sitting in the tranquil village of Dalkey with stunning views of the Howth and Dublin Bay is a beauteous period house. The recently renovated villa is vibrant, bright and spacious with a comfortable living area, dining area, and a gourmet kitchen to complement your stay in this beautiful city. You can step out and have a refreshing coastal walk or stroll to Dalkey Island and enjoy some memorable times fishing, kayaking or rowing. This home is gorgeous and peaceful promising you every luxury you wish for during your vacation. Large period house, Dalkey Dalkey, County Dublin, Ireland
5 reviews Entire house 4 Beds 4 Bedrooms 4 Bathrooms Oops, this listing is currently inactive. Check out these alternative properties in the same location. View properties in Dublin
This old 1836 Georgian building is a recently refurbished three-story property and is situated in the heart of the city with access to everywhere. Although it is newly renovated, its distinguishing features such as the wooden floors, open fireplace, and shutters were restored and remains intact. The basement opens to a luxurious home with a fully equipped and stocked German-inspired kitchen, an integrated SONOS music system, garden room, and dining space for your convenience. The first floor of the building has an open fireplace, a study room, TV room, and large reception rooms. There is also a laundry facility and a spacious garden with a barbecue and a dining area, all for your use and convenience. Luxury Townhouse – Exclusive City Centre Location Dublin, Ireland
86 reviews Entire townhouse 3 Beds 3 Bedrooms 2 Bathrooms
Top guest reviews
we loved the rooms and amenities
pros: luxury space great kitchen area
the kitchen was phenomenal and the wi fi was the best we experienced in our travels through europe
beautiful home incredibly well equipped and kitchen fantastic
our group of 5 adults were very comfortable
quiet location on a lovely square
Read More Oops, this listing is currently inactive. Check out these alternative properties in the same location. View properties in Dublin
Dublin, an ideal holiday destination
Whether you are looking for a comfortable luxury apartment from where you can explore this city's major attractions or you require a more secluded location to rest from the hustle and bustle of life, these luxury Airbnb vacation rentals in Dublin has got you covered. So if you are planning to visit this city, do your homework, map out your ideal destination and look forward to a fabulous getaway. Take me to AirbnbDisclosure: Trip101 selects the listings in our articles independently. Some of the listings in this article contain affiliate links.
Get Trip101 in your inbox
Unsubscribe in one click. See our privacy policy for more information on how we use your data
James Kure is an ardent writer from a very humble background. He loves writing about the world's top travel destinations, especially the Scandinavian and Japanese regions. When not writing, James…Read more Want to contribute as a Local Expert? Register Here LET'S CONNECT BECOME A LOCAL EXPERT Want to contribute to our content as a Local Expert? Register Here Recommended Articles
NEARBY CITIES
More Articles from this Author
Good things are meant to be shared!
Where To Stay
Things to do
Get in Touch
Follow Us
COPYRIGHT © 2021 TRIP101 Pte Ltd Currency: EUR Airbnb
Hotels
Car Rentals
Hostels & Guest Houses
Boutique Hotels
Ryokans
Bed & Breakfast
Resorts & Villas
Nightlife
Food & Drinks
Sightseeing
About us
Our team
Our partners
Partner with us
Contact Us
Careers
Advertise With Us
Become Our Local Expert
Terms of Use
Privacy Policy