The Final Flights of the Afghan Air Force
As the Afghan government collapsed, the country's pilots were left with an impossible choice: stay and face possible death at the hands of the Taliban, or fly away.

By Catherine Putz December 30, 2021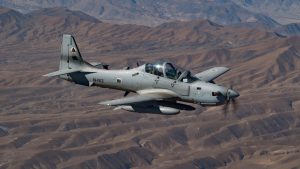 Col. Mohammad Tawfiq "Ice Man" Safi's A-29 was shot shortly after taking off. Its bright navigation lights were easy targets over the village of Gur-e-mor, just beyond the airfield at Mazar-i-Sharif. The A-29's canopy was gone, Safi suspected a bullet had hit an engine, too. He turned back to the darkened airfield, idled the thrust, and radioed for help.
A colonel and the wing commander at Mazar-i-Sharif, Safi had ordered the wing to head for Kabul and regroup with the rest of the Afghan Air Force. Mazar-i-Sharif's ground forces had surrendered, but the fight for Afghanistan wasn't over, yet, he thought. It was August 14, 2021.
Habibullah "King Kong," a major with the Special Mission Wing who asked that The Diplomat only use his first name, answered Safi's call for assistance. Habibullah had taken off from Mazar-i-Sharif only 15 minutes earlier, he wasn't far away. Just after sunset the Special Mission Wing squadron had also begun taking off, the squadron's PC-12s leading the way toward the Salang Mountains and beyond to Kabul.
"It was a really bad moment," Safi told The Diplomat of his return to Mazar-i-Sharif. There were no lights on the runway, no tower to guide him in, and Safi didn't know who exactly was on the ground shooting across the runway. With no engines and too much speed, Safi set the aircraft down, bouncing off the tarmac and crashing into the dirt.
Enjoying this article? Click here to subscribe for full access. Just $5 a month.
The Diplomat spoke to two Afghan Air Force A-29 pilots and a Special Mission Wing pilot about their final days in Afghanistan, as well as the Americans who trained and advised them.
The Afghan pilots, who trained to fly in the United States, adopted the custom of giving each other American-style call signs. It's one illustration of how close and personal the relationship between the U.S. Air Force and the Afghan Air Force was. Given that close connection, the swift fall of the U.S.-backed Afghan government in mid-August 2021 reverberated among those who trained, and flew with, the Afghan pilots.
"Of all the issues and problems there were in Afghanistan with trying to train, advise and assist their forces, the Afghan Airforce and Afghan Special Mission Wing along with the Afghan Special Forces, their Commandos, were three very good news stories because they were very successful," said retired U.S. Air Force Brigadier General David "Trashman" Hicks, who commanded NATO's air advising and training effort in Kabul from 2016 to 2017. Hicks is CEO of the Operation Sacred Promise Foundation, which began as an ad-hoc volunteer-driven effort to rescue and recover Afghan Air Force and Special Mission Wing personnel and their families and has evolved into a wider endeavor to aid them in transitioning into their new lives in the United States.
"We were having success building and training those guys. And we did it because we have a very close relationship, we tried to make it a personal relationship with the guys we were advising," Hicks told The Diplomat. "Because of those close relationships we were committed to try and help [our Afghan partners] get out of country when everything went to hell."
Although the U.S. Congress in 2009 established a visa regime — within the Special Immigrant Visa (SIV) program — for Afghans who worked with the U.S. government as translators and employees, there was no plan to extract members of the Afghan military which the U.S. spent billions training and equipping. 
The Afghan military, after all, was supposed to defend Afghanistan. But that task became impossible once the Afghan political leadership gave up the fight and fled. As the Afghan government collapsed and the military chain of command broke down, Afghanistan's pilots were left with an impossible choice: stay and face possible death at the hands of the Taliban, or fly away from their homeland.
***
The Uzbek city of Termez and the Afghan city of Hairatan are separated by the Amu Darya. The border is just 50 miles north of Mazar-i-Sharif. The Friendship Bridge spans the river; Soviet Forces departed Afghanistan in 1989 across it. On August 14, 2021, Afghan forces were fleeing over the bridge. Although Uzbek authorities have never confirmed it, it is believed that the infamous Uzbek warlord Abdul Rashid Dostum and the governor of Balkh province, Atta Muhammad Noor, fled with their forces across the bridge before Tashkent closed the border.
By the time a satellite passed over on August 16, at least 46 aircraft had appeared on the previously empty tarmac at Termez International Airport: 22 small fixed-wing aircraft and 24 helicopters.
There were conflicting reports about the number of Afghans who had arrived. Sources suggested to The Diplomat that some who had crossed the border by land were added to the group of those that flew in — inflating the number of Afghans who sought refuge in Uzbekistan to around 585 people. Some voluntarily went back, but many remained in Termez, worried about Taliban retaliation should they return to Afghanistan.
Enjoying this article? Click here to subscribe for full access. Just $5 a month.
The Uzbek government confirmed that 46 aircraft had been "forced" to land after crossing the border. One A-29 crashed after colliding with an escorting Uzbek MiG-29. Initial Uzbek government comments suggested the A-29 had been shot down, but later reports clarified that there had been an accident.
The pilots ejected safely, and The Diplomat has learned that the Afghan pilot is now recuperating in the United States, having sustained serious injuries.
An analysis of the satellite images by The Drive suggested that as many as 19 Mi-8/Mi-17 Hip helicopters and seven UH-60 Black Hawk transport helicopters had landed at Termez. Of the fixed-wing aircraft, it appeared that at least five were Cessna 208B Caravans and 11 likely Pilatus PC-12 intelligence, surveillance, and reconnaissance aircraft. The remainder appeared to be A-29s.
According to a July 2021 report from the Special Inspector for Afghanistan Reconstruction, as of June 2021 the Afghan Air Force had 23 A-29s and 23 Cessna 208s, among other aircraft, usable and in-country. As for helicopters, there were 32 Mi-17s, 43, MD-530s and 33 Blackhawks. The Special Mission Wing had its own inventory of aircraft, thought the exact numbers were classified.
Sixteen other Afghan aircraft landed at an airfield in Bokhtar, Tajikistan as well, carrying a reported 143 people.
***
***
***
Enjoying this article? Click here to subscribe for full access. Just $5 a month.
***
"So we start a new life, emotionally we are hurting because we didn't give up, we fought to the last moment," Faqeer said. "This is life. You have to be strong, you have to be patient. You have to never give up." Authors

Staff Author
Catherine Putz
Catherine Putz is managing editor of The Diplomat. She tweets @LadyPutz.View ProfileTags
Related
RSeptember 28, 2021Report: Putin Suggested US Use Russian Bases in Central AsiaBy Catherine PutzA new Wall Street Journal report suggests that Putin offered Russian bases for the U.S. to use to monitor Afghanistan. It's not at all clear if the offer was genuine. September 13, 2021What's Next for Afghan Pilots Who Escaped to Central Asia?By Catherine PutzWith Uzbekistan under pressure, those who landed in Termez are being moved to the UAE. Those in Tajikistan are waiting. August 31, 2021Uzbekistan and Tajikistan Hedge on Afghan RefugeesBy Catherine PutzBoth countries have been willing to take some Afghan refugees in, but only temporarily. July 14, 2021Russia Cautions Central Asia Against Hosting US ForcesBy Catherine PutzAs the U.S. looks to station over-the-horizon capabilities to address issues in Afghanistan, Central Asia is an obvious locale.
Top Stories
TDecember 30, 2021Japan Braces For Sixth Wave Driven By Omicron By Thisanka SiripalaThe spread of the new Omicron variant is on the rise and authorities are bracing for a worst case scenario.December 28, 2021How Does China Aim to Use AI in Warfare?By Yuan-Chou JingAI in particular is seen as a "game-changing" critical strategic technology.December 27, 2021Nepal Begins Hydropower Export to IndiaBy Santosh Sharma PoudelThe Himalayan country needs Chinese investment and the Indian market to tap the full potential of its hydropower sector. Can Nepal walk the fine line?December 17, 2021The Solomon Islands Crisis Shows America Needs a New Pacific StrategyBy Alexander B. Gray and Cleo PaskalThe U.S. has been largely subcontracting its foreign policy for many Pacific Islands to Australia and New Zealand. That needs to change.
FJanuary 05, 2022Are 'Sponge Cities' the Answer to Shenzhen's Water Scarcity? By Genevieve Donnellon-May and Guangtao FuShenzhen is facing its worst drought on record. Can authorities find a holistic, long-term solution?January 04, 2022How AFSPA Undermines India's 'Act East' PolicyBy Stanzin Lhaskyabs Repealing this controversial law is a necessary condition for peace and stability in India's Northeast. January 03, 2022The Art of Survival for Central Asian StatesBy Brian Wong, Iskander Akylbayev, and Valikhan Bakhretdinov30 years on from the dissolution of the USSR, Central Asian states are a case study in hedging and balancing between global superpowers.December 31, 2021Duterte's Sluggish Typhoon Rai Recovery SpendingBy Michael BeltranFrustration is growing two weeks after a devastating typhoon struck the Philippines, with government assistance slow to reach the affected areas.
BJanuary 05, 2022Unprecedented Protests Rock Kazakhstan as Government Clings to Familiar ScriptBy Catherine PutzIn a January 5 televised address, Kazakhstan's president followed a familiar script: blame the unrest on a conspiracy.January 05, 2022Is China's 'Debt-Trap Diplomacy' in Greenland Simply on Ice?By Erin ParsonsShould Greeland continue to move toward independence, the cash-strapped territory would be at high risk of falling prey to Chinese investments that seek to gain influence.January 05, 2022North Korea Fires Unidentified Projectile Off Its East CoastBy Mitch ShinThe response and counter-response to North Korea's latest missile test will send crucial signals about the possibility for talks in 2022. January 05, 20222021 Was a Bad Year for Democracy in South AsiaBy Niha DagiaThe pandemic made it easier for governments to justify authoritarian measures, including crackdowns on the media and excessive surveillance. Regions
Topics
Blogs
More
Archives
The Diplomat
Magazine January 2022 The Asia-Pacific in 2022: What to Expect © 2022 Diplomat Media Inc. All Rights Reserved.