Mikhail Khodorkovsky (English)
Great victory,

19th June 2022
"Whatever happens next, we have these now. We held the line. There were at least four meetings between the main funder of the Brexit campaign and the Russian government. There are reasonable grounds to believe there were many more. Fact."
Quote Tweet

The Observer
@ObserverUK
· 5h
Arron Banks set out to crush me in court. Instead, my quest for the facts was vindicated | Carole Cadwalladr https://theguardian.com/uk-news/commen
==============
Mikhail Khodorkovsky (English)
19th June 2022
Another long year has passed. Another year of a life stolen by Putin. Today marks 19 years (6939 days in custody) that Alexey Pichugin has been in prison. Every opportunity for his release must be used.
: https://pichugin.org/en/alexey-pichugin-18-years-of-gulag/
: https://pichugin.org/en/mikhail-khodorkovsky-his-refusal-to-falsely-testify-saved-my-life/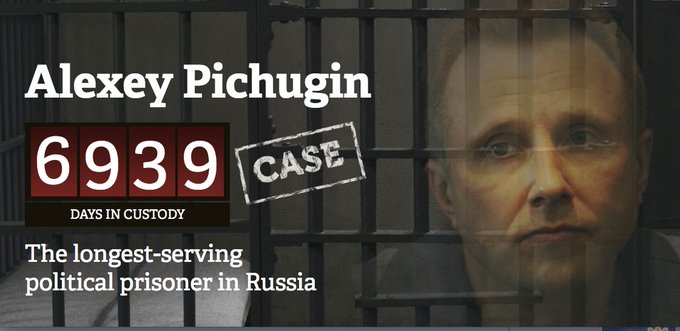 Amnesty Eastern Europe & Central Asia and 4 others
================
Fred says:
Those "Meddling" Russians while the rest of Europe and the US were in a state of amnesia.
Russia sought out the weaknesses and being predator bear having done that it meddled with Gordon Brown in 2006, then it usurped the BREXIT deal that has wrought economic savagery on the Island of Ireland and then there was Trump and his antics in the US.  All along there was a plan by a man who sees himself as Peter The Great of this century returning Russia to Imperial Empire status with the Ukraine as its Jewel in the Crown.
Watch this man, Dictator President Putin, aged 70 with a remarkable brain but also watch his sycophants and successors.  Long ago and far away as a young rookie hound dog yet to learn about hunting.; a wise auld dog called me aside and told me a story.  The man was a chartered accountant as it goes and went to work for Dublin Shipping, we are talking half a century ago.  The accountant was called to the "Leader's Office" ie Chief Executive.  He was asked to the name the most impressive people in the organisation which he did and guess what the reply was from "The Leader".  Fire the ones who could possibly take my job!  Nothing changes.
Fred.