What We're Watching: Turkey backs off, Texas migrant tragedy, bombshell Jan. 6 testimony, Iran woos BRICS
Turkey opens NATO door to Finland and Sweden
The first day of the NATO Summit in Madrid brought concrete results. Turkey, Finland, and Sweden came to an agreement that addresses Ankara's security concerns and paves the path to Finland and Sweden joining NATO. The Nordics' joint bid for membership, inspired by Russian aggression in Ukraine, was at the center of the summit's agenda. Accession demands consensus, and Turkey had raised objections, making demands from Stockholm and Helsinki that threatened to slow the process. In response, Sweden and Finland have suspended a 2019 arms embargo against Ankara and agreed to cut assistance to the People's Protection Units, an armed group affiliated with the Kurdistan Worker's Party, Turkey's enemy. Some of Ankara's requests still need to be discussed, but Turkey is walking away from its veto option, swinging the doors open to Finland and Sweden's membership in NATO. Vladimir Putin, meanwhile, has said the expansion doesn't threaten Russia but warned that Moscow would respond to any extension of military infrastructure into that region.
Will new Jan. 6 testimony move the needle?
The ongoing January 6 hearings on Capitol Hill took a notable turn on Tuesday when a former aide to then-White House Chief of Staff Mark Meadows provided new details about what went down that day. Crucially, Cassidy Hutchinson – who had unfettered access to the president's inner circle – testified that Trump encouraged rioters to descend on the US Capitol knowing that many of them were armed with weapons. Hutchinson also testified that Trump said former Vice President Mike Pence was deserving of the mob's wrath because he rebuffed Trump's plea to reject the 2020 election results. She said she cleaned up a mess from Trump throwing his ketchup-soaked lunch against the wall in anger after former Attorney General William Barr gave a news interview in which he said he had not found widespread voter fraud. Hutchinson also said that Meadows, her former boss, later sought a pardon for his role in the events on that fateful day. Some legal analysts say that Trump allegedly knowing members of the crowd were armed and encouraging them to march to the Capitol could open him up to criminal charges. But will it impact American voters who are more deeply divided than ever ahead of November's midterms?
Texas migrant tragedy and Biden's immigration dilemma
The dual problem of a broken US immigration system and chronic instability in Central America was highlighted again this week when a truck filled with dozens of dead migrants was discovered near San Antonio, Texas. At least 46 people – including Mexican, Honduran, and Guatemalan nationals – were found dead in an abandoned tractor-trailer amid 100-degree temperatures. At least 16 others, including children, were taken to the hospital, where four later died, raising the death toll to 50. This tragedy, the deadliest US immigration event in recent years, highlights the ongoing challenge President Joe Biden faces in making good on his promise for a more "humane" immigration system. So what has the administration been trying to do? First, it sought to lift the Trump-era "Remain in Mexico" policy, which requires migrants seeking entry to the US to wait in towns south of the border while their asylum applications are considered. That case is now awaiting a decision by the Supreme Court after Republican states sued to keep it in place. Biden has also sought to lift the Trump-era Title 42, which allowed the US to stop processing asylum claims due to COVID. For now, a federal court has banned Biden from lifting the law, which leaves the president open to mounting criticism from the left flank of his party.
Iran wants in on BRICS
Increasingly isolated on the global stage, Tehran could use a few friends. On Tuesday, it applied to join BRICS – a loose economic grouping made up of Brazil, Russia, India, China, and South Africa that has set up its own development bank and claims to represent the Global South. (China notably accounts for 70% of the group's collective economic strength, while India accounts for 13%.) Iran's economy is on life support due to crippling Western sanctions – another reason they're seeking membership – but Tehran says it would be an asset to BRICS because it maintains the world's second-largest gas reserves. We will be watching for reactions from India and the US. Delhi has long positioned itself as nonaligned – though a more apt description might be "aligned with everyone" as it's tried hard to remain chummy with Russia in recent months while maintaining warm ties with American and European allies. The White House, focused on reviving the ailing Iran nuclear deal, would not look kindly on a decision by India to grant membership to Tehran and help the heavily sanctioned state boost its economic prospects.




Should NATO watch its southern flank?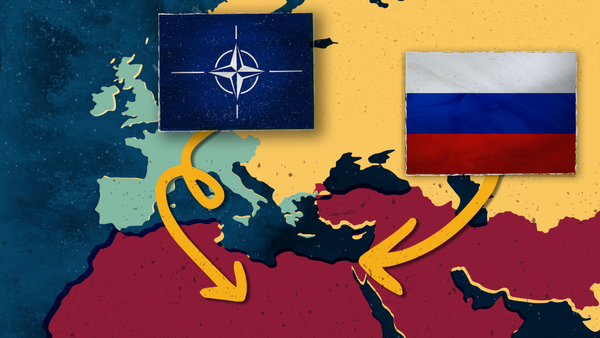 As NATO leaders gather this week in Madrid for their first summit since the war in Ukraine began, they will talk mainly about the immediate bogeyman, Russia, and the long-term strategic rival, China. Meanwhile, host Spain is seizing the opportunity to get the alliance to pay at least some attention to Africa and parts of the Middle East, where Russia and jihadists are stirring up trouble that could impact Mediterranean countries.
Wait, doesn't NATO have enough on its plate? Certainly, but Spain and Italy — and to a lesser extent France and the UK — have long warned that political instability in the Sahel and elsewhere has ripple effects across Europe in the form of jihadism that triggers massive waves of African migration.
The Spanish have a clear interest in all of this. Days before the summit, 23 migrants died while trying to jump the border fence to enter Melilla, one of Spain's two enclaves in Morocco. Although in the past the Moroccans have weaponized migration as leverage over the Spanish, the two sides have been chummier lately since Madrid acknowledged Rabat's sovereignty over Western Sahara earlier this year.
This time, though, the Moroccan border guards didn't stand down. They were overwhelmed.
Spain claims that the unprecedented wave of migrants has a lot to do with the pandemic-induced economic and food crises aggravated by the war in Ukraine, which has, for instance, led to a recent surge in migrant arrivals to Spain's Canary Islands.
Dario Cristiani, a senior fellow with the German Marshall Fund and the Rome-based Istituto Affari Internazionali, doesn't buy Madrid's argument.
The war in eastern Europe, he says, "will not unleash a new, bigger wave; there will be always waves of migration from Africa" due to massive population growth, water scarcity, and climate change, so migrants will still want to flee the continent "no matter what happens in Ukraine."
Spain and Italy also worry about Russia's growing mercenary activity in Africa, especially in fragile countries like Libya and Mali.
Madrid and Rome fear that — emboldened by their success in Syria — Vladimir Putin might use mercs employed by the shadowy Wagner Group to perpetuate instability and unleash another migrant crisis on Europe as payback for sanctions — similar to what his pal Alexander Lukashenko did with the EU late last year.
NATO should definitely keep an eye on what the Russians are up to in Africa, says Marc Pierini, a former EU diplomat and visiting scholar at Carnegie Europe.
Wagner's soldiers of fortune, he explains, have become "very visible" in Libya, where they now enjoy de-facto control of the Jufra air base near Sirte. If the Russian military someday decides to take over from the mercs and deploy ballistic missiles there, Pierini notes that "the defense of Europe would be in a totally new situation."
So, what does Spain actually want from NATO? Officially, Madrid is asking for stuff like more intelligence-sharing and better policing of "hybrid threats" related to migration.
(Although they probably won't say it out loud, especially as summit hosts, what the Spanish would really like is for NATO to revise its charter to place the enclaves in Morroco under Article 5 protection, so Rabat will back off.)
The thing is, its southern flank has never been a priority for NATO, according to Cristiani.
Spain and Italy, he adds, might better pitch the alliance by arguing that the Russian merc presence in Mali, Libya, or Syria is all "part of the same arc of crisis" as Putin's war in Ukraine. But they should do so carefully — unlike what he called Spain's "shoddy" attempt to blame Russia for a recent spat with Algeria.
Finally, if NATO is too busy, who should step in to help out with migration to the EU? Perhaps Brussels.
"Just as the EU pays Turkey to do this with Syrian refugees that want to cross into Europe, the EU — and not Spain alone — should pay Morocco to do this," says Mark Katz, professor of politics and government at George Mason University. "In other words, the problem Spain faces with refugees from Africa should not just be considered a NATO issue, but an EU one as well."