Russia's Blockage Of Ukrainian Grain Exports Contributed To Sri Lanka Turmoil, Blinken Says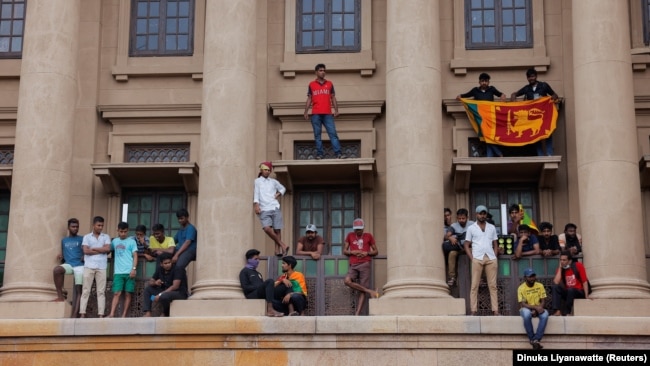 Russia's blockade of Ukrainian grain exports may have contributed to Sri Lanka's turmoil, U.S. Secretary of State Antony Blinken said, voicing concern that it could lead to other crises elsewhere in the world.
Blinken reiterated calls on Russia to let an estimated 20 million tons of grain leave Ukraine, which Moscow invaded in February.
"What we are seeing around the world is growing food insecurity that has been significantly exacerbated by the Russian aggression against Ukraine," Blinken told reporters in Bangkok on July 10.
"We're seeing the impact of this Russian aggression playing out everywhere," Blinken said.
He said there was also an impact in Thailand, where fertilizer prices had "gone sky-high" due to the blockade.
Blinken said it will have severe consequences to a farming country like Thailand "because in the absence of fertilizer, we know that means that next year yields will go down, prices potentially will go up."
Millions of tons Ukrainian grains are exported annually to Africa, the Middle East, and other parts of the world. But the exports have been halted, as Russia's navy is blockading Ukraine's Black Sea ports.
Moscow says it would allow Ukrainian ships loaded with food products to leave if Ukraine's military demined the waters off Odesa and other ports.
But Kyiv says it can't demine the coast because Russia would "use grain corridors to attack southern Ukraine."
Russia and Ukraine jointly account for nearly a third of global wheat exports.
According to the UN data, Ukraine accounted for 16 percent of the world's corn supplies and 42 percent of sunflower oil in 2019.
Sri Lanka has been wracked by weeks of turmoil triggered by severe shortages of food and fuel.
The country's president and prime minister agreed to resign after protesters stormed their official residences on July 9.
Opposition parties met on July 10 to agree on a new government, but protesters refused to leave President Gotabaya Rajapaksa's residence.
"We won't give up this struggle until he actually leaves," student leader Lahiru Weerasekara told reporters,
Rajapaksa, who is taking refuge on a vessel offshore, has pledged to leave office on July 13.
The protesters overran the presidential palace and on July 10 roamed free inside it. Prime Minister Ranil Wickremesinghe's residence was set on fire during the turmoil on July 9.
Blinken said that Washington was tracking the developments and urged parliament to work quickly to implement solutions.
With reporting by AFP and BBC