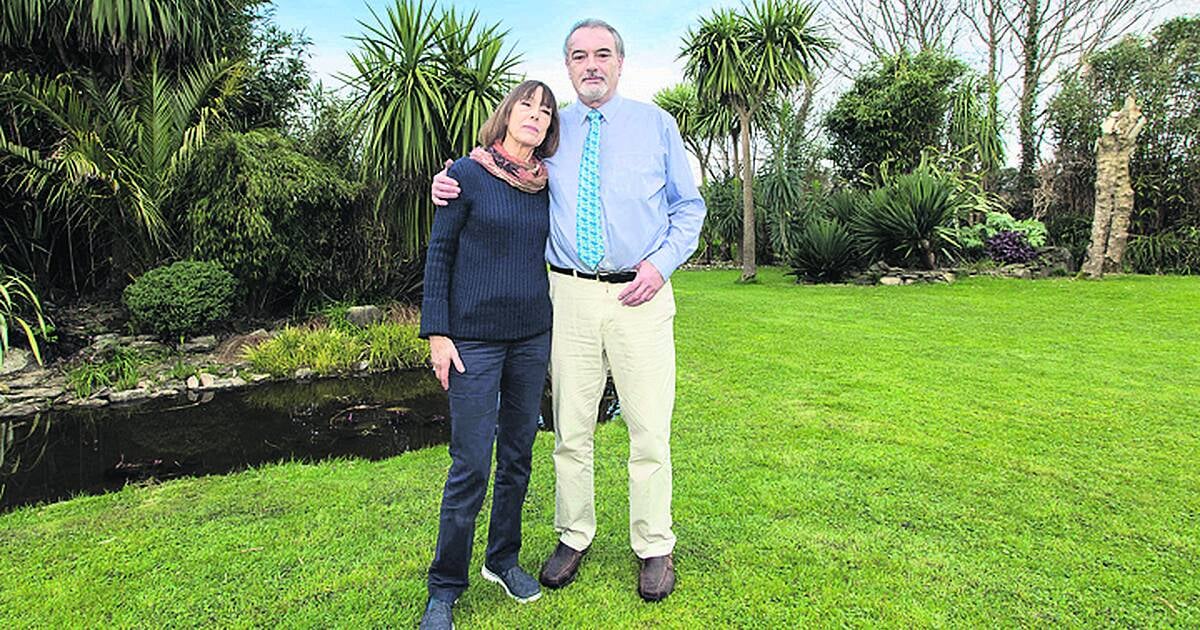 Welsh artist at heart of murder mystery
A WELSH woman is standing by her violent lover after he "confessed" to the murder of a glamorous socialite and friend of French President Jacques Chirac.
00:00, 8 FEB 2004
Updated21:34, 31 MAR 2013
A WELSH woman is standing by her violent lover after he "confessed" to the murder of a glamorous socialite and friend of French President Jacques Chirac.
Artist Jules Thomas is at the centre of an astonishing case, which is being compared to the OJ Simpson affair.
Newspapers and TV stations across Ireland have followed every twist and turn of the story – the most recent chapter being a massive libel suit involving eight newspapers.
The civil action was described by observers as having "all the hallmarks of a murder trial".
In the case, Ms Thomas' partner, former freelance journalist Ian Bailey, sued newspapers that claimed he was the chief suspect in one of the country's most notorious unsolved murders.
Mr Bailey lost his case against six of the newspapers and will this week find out who will foot the legal bills estimated at more than 700,000 euros (approx #480,000).
During the case the judge branded him a publicity seeker and a violent man.
And the judgement prompted calls for a fresh inquiry into the killing of the 38-year-old French socialite, Sophie Toscan du Plantier.
Mrs Toscan du Plantier's battered body was discovered in December 1996, on a road near Schull in the so-called Irish Riviera, where she had a holiday home.
Her death shocked France as she and her husband, Daniel, were at the heart of the country's cultural society.
They were friends of President Chirac and Daniel was the president of the C sar Academy – the French equivalent of the Oscars.
He had produced international hit films such as Peter Greenaway's The Cook, The Thief, His Wife and Her Lover and Werner Herzog's vampire classic Nosferatu.
Mr Bailey was the first reporter at the crime scene four miles from his home in west Cork, and he reported the story for several Irish and French publications.
He was questioned by police just weeks after the killing, but has always maintained his innocence. He has reiterated his "absolute innocence" since the libel hearing.
Ireland's Director of Public Prosecutions said before the libel case that he did not have evidence to prosecute anyone for the murder.
The DPP is now to study transcripts of the two-week libel case to see if any evidence emerged that could affect that decision.
During the case Judge Patrick Moran said he "would have no hesitation about describing him (Mr Bailey) as a violent man", given his history of domestic violence against his partner, Jules Thomas.
Ms Thomas is a 54-year-old Welsh artist who lives and works in County Cork.
Her website describes her as a "very successful" water-colourist with paintings in many private collections.
Her family, including her mother, live in Wales.
She has stood by Mr Bailey throughout and accompanied him to the dramatic libel case in Cork, hearing allegations that he confessed to the killing of Mrs Toscan du Plantier to local people.
At one stage he was alleged to have told one witness, Malachi Reed: "I went up there and bashed her f***ing brains in with a rock."
Mr Bailey's personal diaries were read out in court and revealed entries on violence towards his partner, sexual fantasies and a love of drink and drugs.
In one entry, he wrote about beating his partner, referring to himself as a "crazed beast" and an "animal on two feet."
The court heard that after one assault on Ms Thomas, her lip was left hanging off, clumps of hair were torn out and there were teeth marks on her hands.
Mr Bailey had received a three-month suspended jail term in September 2001 after admitting battering Ms Thomas with a walking crutch. But Ms Thomas denied Mr Bailey was a violent man, and suggested that reports about the brutal beatings were "completely out of proportion for a domestic".
The libel judge described the English-born journalist as a self-publicist who enjoyed the limelight and was violent towards women.
He said he believed Mr Bailey had confessed to the murder to several witnesses.
Judge Moran said he was making these findings of fact on the balance of probabilities, but crucially not to the higher criminal standard of beyond a reasonable doubt.
He repeatedly stressed that the hearing was not a murder trial.
Actions against The Daily Telegraph, The Times (and The Sunday Times), The Sunday Independent (Ireland), The Independent on Sunday and The Star were dismissed.
The judge ruled that articles in those newspapers did not state Mr Bailey was the murderer but conveyed he was a suspect. They had also reported his assertions that he had nothing to do with the murder, he said.
The judge awarded Mr Bailey 4,000 euros (approx #2,750) each against The Sun and the Irish Mirror on a claim that he had been violent against his first wife, Sarah Limbrick.
Mr Bailey had sued the eight newspaper titles for the maximum Circuit Court damages of 38,000 euros (approx #26,000) each. There will be a hearing on Thursday to decide the question of costs in the libel case.
Mr Bailey did not return to the west Cork cottage he shares with Ms Thomas after the libel ruling.
And the mother-of-three would not speak about the case this week.
"I am not talking to any reporters," she said. "I am trying to protect my privacy."
However, last month she told an Irish journalist that she had suffered a campaign of terror since the December libel trial.
She said a dead rat had been pushed through her letter box, a late- night prowler had used high-powered torches around her home, anonymous callers had made threatening phone calls, broken glass had been scattered among the pebbles of her driveway and someone had interfered with her mail.
"There has been a horrible silent atmosphere, sort of Ku Klux Klan-like, people going around with really big torches and flashing them in my face," she said.
"It's my property. It's upsetting my life. I don't think people should take the law into their own hands like this.
"When we got back originally from the trial, apparently there was a noose hanging in a tree."
Pressed on Mr Bailey's whereabouts, she said: "He's not here. I'm not saying anything. I wouldn't say he has fled. I'd say it's more protection for me, him not being here."
Sophie family sues in OJ-like action
FORMER journalist Ian Bailey now faces a precedent-setting civil action against him in the Irish High Court later this year.
Sophie Toscan du Plantier's family are suing him for damages resulting from her wrongful death.
The lower limit for awards in that case is 30,000 euros (approx #20,650). But, according to the Irish Examiner, they are expected to seek up to 1m euros (approx #688,000).
Any award would be referenced to the film producer's earning potential were she alive.
Manchester-born Mr Bailey, also known as Eoin, faces a claim for personal injury damages. He will strenuously contest the claim.
Four plaintiffs are named in the action and include Sophie's parents and her only son.
The fourth plaintiff was Sophie's husband, leading film maker Daniel Toscan du Plantier, who died suddenly at the Berlin Film Festival 12 months ago.
The France-based relatives are seeking damages for her wrongful death, for loss and emotional upset and distress, and for the infringement of their constitutional rights.
Legal papers were served on Mr Bailey last year.
The dead woman's family are believed to have commissioned a private investigation into the case.
It is believed to be the first civil claim for damages for unlawful killing in Irish history.
The affair is already being compared to that of OJ Simpson, the former US football player and Hollywood star who is being sued by the family of his murdered wife.