South Korea scrambles jets after Chinese and Russian warplanes enter air defence zone
Chinese bombers repeatedly entered and left zone but did not violate South Korean airspace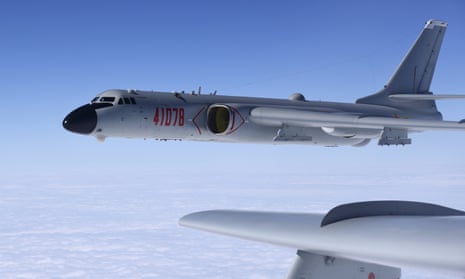 A file image of a Chinese military H-6K bomber. Photograph: Wang Guosong/AP
Reuters Wed 30 Nov 2022 08.31 GMT First published on Wed 30 Nov 2022 06.50 GMT
South Korea's military said it scrambled fighter jets as two Chinese and six Russian warplanes entered its air defence zone.
The Chinese H-6 bombers repeatedly entered and left the Korea Air Defence Identification Zone (Kadiz) off South Korea's southern and north-eastern coasts from about 5.50am local time on Wednesday, Seoul's joint chiefs of staff (JCS) said.
They re-entered the zone hours later from the Sea of Japan, known in Korea as the East Sea, accompanied by Russian warplanes, including TU-95 bombers and SU-35 fighter jets, the JCS said.
"Our military dispatched air force fighter jets ahead of the Chinese and Russian aircraft's entry of the Kadiz to implement tactical measures in preparation for a potential contingency," the JCS said in a statement. The planes did not violate South Korea's airspace, it said.
An air defence zone is an area where countries demand that foreign aircraft take special steps to identify themselves. Unlike a country's airspace – the air above its territory and territorial waters – there are no international rules governing air defence zones.
Moscow does not recognise Korea's air defence zone. Beijing says the zone is not territorial airspace and all countries should enjoy freedom of movement there.
Japan's air self-defence force also scrambled fighter jets after the Chinese bombers flew from the East China Sea into the Sea of Japan, where they were joined by two Russian drones, Tokyo's defence ministry said later in a press release.
China and Russia have previously said their warplanes were conducting regular joint exercises.
In August, the JCS reported Russian warplanes entering the Kadiz. In May, Chinese and Russian aircraft made the first incursion since the South Korean president, Yoon Suk-yeol, took office.
In 2019, South Korean warplanes fired hundreds of warning shots toward Russian military aircraft when they entered the Kadiz during a joint air patrol with China.
Congratulations on being one of our top readers globally – you've read 569 articles in the last year
Article count
I'm back in Ukraine, where I've spent much of this year covering Europe's biggest war since 1945. It has been the most intense time of my 30-year career. Together with my colleagues, we have reported on mass graves and the aftermath of deadly bombings. We've spoken to Ukrainians tortured by Russian forces, and relatives of those murdered. The work is all-consuming.
For Ukrainians, this war is an existential struggle against a new but familiar Russian imperialism. Our team of reporters and editors intend to cover this war for as long as it lasts, however expensive that may prove to be. We are committed to telling the human stories of those caught up in war, as well as the international dimension. But we can't do this without funding from Guardian readers. It is your passion, engagement and financial support which underpins our independent journalism and makes it possible for us to report from places like Ukraine.
If you are able to show your support for our work today, you can do so from just €1, or give a little more on a regular basis. This makes a real difference; it will boost our resources and enhance our ability to report the truth about what is happening in this terrible conflict.
Thank you.
Luke Harding
Foreign correspondent