Senior British General: Royal Marines Deployed in "Covert Operations" in Ukraine Deployment of #British troops in #Ukraine carries "high level of political and military risk," Senior General has admitted. Read more on our website.
kyivpost.com Senior British General: Royal Marines Deployed in Covert Operations in Ukraine | KyivPost Deployment of British troops in Ukraine carries high level of political and military risk, Senior General has admitted.
Vasily and Taisia died of cold and starvation in March. They would wait three months for the burial they deserved. "It was a nightmare, an apocalyptic movie," says Yulia, recollecting her first impressions of #Mariupol when she arrived in June.
Return to Mariupol: One Couple's Quest to Bury Their Parents | KyivPost
Vasily and Taisia died of cold and starvation in March. They would wait three months for the burial they deserved.
============
Russia's top prosecutor Igor Krasnov met his Iranian counterpart in Tehran yesterday "I don't doubt that Russian and Iranian prosecutors have things to share with each other," he said (Iran publicly hanged 23-yo protester Majidreza Rahnavard from a crane on Monday morning)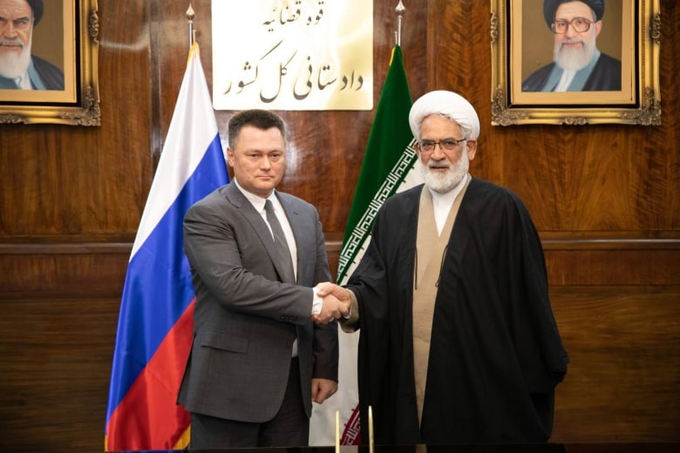 Pope Francis calls on people to celebrate a "more humble Christmas" and to donate to Ukraine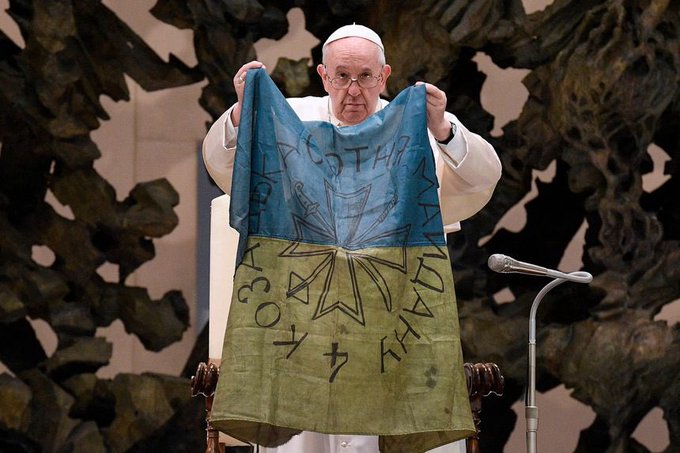 Could explain why the Russian banking system is collapsing… 50% of all millionaires (of US Dollars, not Rubles) left Russia between March and November 2022.
==============
Russian sergeant at the training grounds is speaking to his son who is in the Donetsk area, in this call. He tells about specifics of Russian training: freezing outside, people losing their equipment, forced to wear gas masks with -15C outside.
=============
Glasnost Gone Retweeted
Elon Musk and Twitter stand accused of censoring and silencing #Ukraine. Mykhailo Podolyak says Ukrainian users are effectively banned, just weeks after Musk promised "free-speech" for all.
Quote Tweet
Михайло Подоляк
@Podolyak_
"War in Ukraine" disappearance from Twitter trends. Radical curtailment of tweets mentioning ru-aggression coverage. Users aren't allowed to register or log into accounts with Ukrainian phone number. @elonmusk, I wonder if will we ever see "Twitter Files" about Fall/Winter 2022?
===============

On the 13th of December 1981, the communist government in Poland imposed martial law to attempt to counter growing political opposition, in particular the Solidarity movement. Polish T-55 tanks enter the town of Zbąszyń while moving east towards Poznań.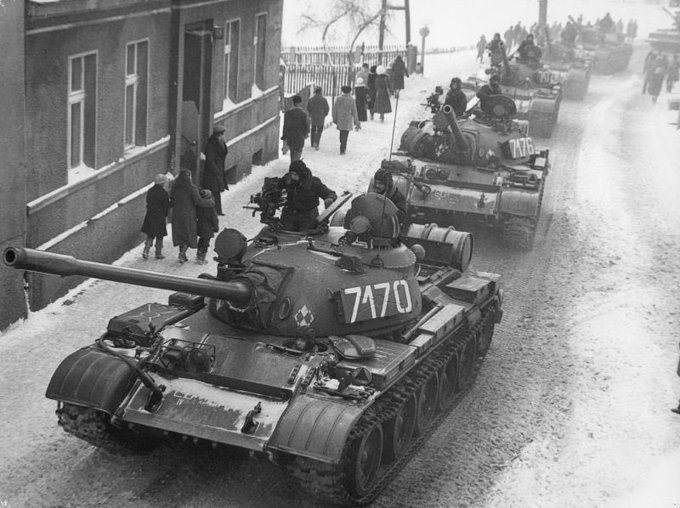 ============
Ukrainian Community in Ireland Retweeted
For anyone who needs help with CV development, our volunteer Zuzanna is offering this great workshop on Saturday. Scan the code to join.
Naftogaz CEO Oleksiy Chernyshov: It is vitally important that the Russian war machine is no longer funded by Western purchases of Russia's energy exports
Together, we can blunt Russia's energy weapon
Ukraine and its allies need to move fast, as recent missile strikes have now crippled almost half of the country's energy system.
============
Russia destroyed and continue to destroy hundreds of Ukrainian towns and villages. Is the world ready to hold Russia accountable? Is this a political, economical or a moral question? And is there anything more important than our very trust in humanity? #RussianUkrainianWar

==============
Two Jews meet in Odessa…. Ukrainian President
in an interview with
. Even when facing a catastrophe, humor is sometimes the best medicine: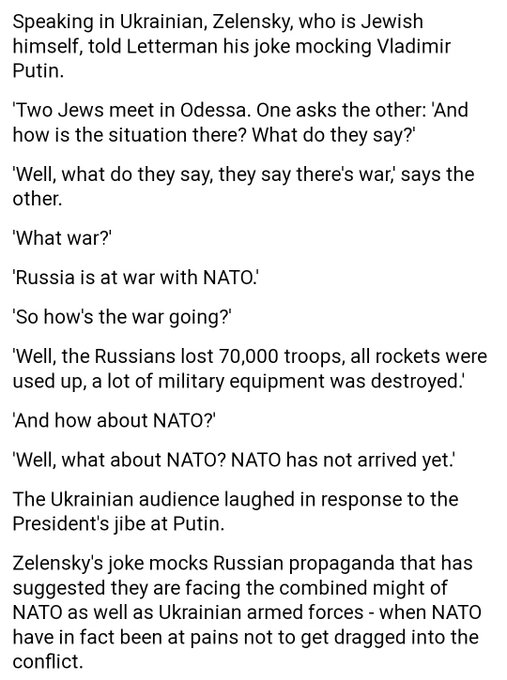 Russia's terror bombing cannot defeat Ukraine. In this video, a concert by Ukrainian singer Artem Pyvovarov is interrupted by a power blackout but he continues singing together with the audience
============
Day 294: US finalizes plans to send Patriot missile defense system to Ukraine. Belarus started to suddenly check the combat readiness of its army. Kremlin rejects Zelenskyy's proposal to start withdrawing Russian troops from Ukraine.
https://euromaidanpress.com/2022/12/14/rus
==============
Hundreds of Russian Wagner mercenaries died before even reaching the front line over the past 10 days.
english.nv.ua Hundreds of Russian Wagner mercenaries killed by recent Ukrainian strikes, says Luhansk governor Hundreds of Russian Wagner mercenaries died before even reaching the front line over the past 10 days, Luhansk regional governor Serhiy
=============
Ukraine's military estimates that up to 60 Russian troops had been killed and 100 wounded in Sunday's attack on a hotel housing Wagner mercenaries in eastern Ukraine Kadiivka, Luhansk region.
themoscowtimes.com Ukraine War: As It's Happening
Ukrainian Governor Serhiy Haidai claims 'huge number' of Wagner Group mercenaries died after a strike on a hotel where they were based in Russian-occupied Luhansk region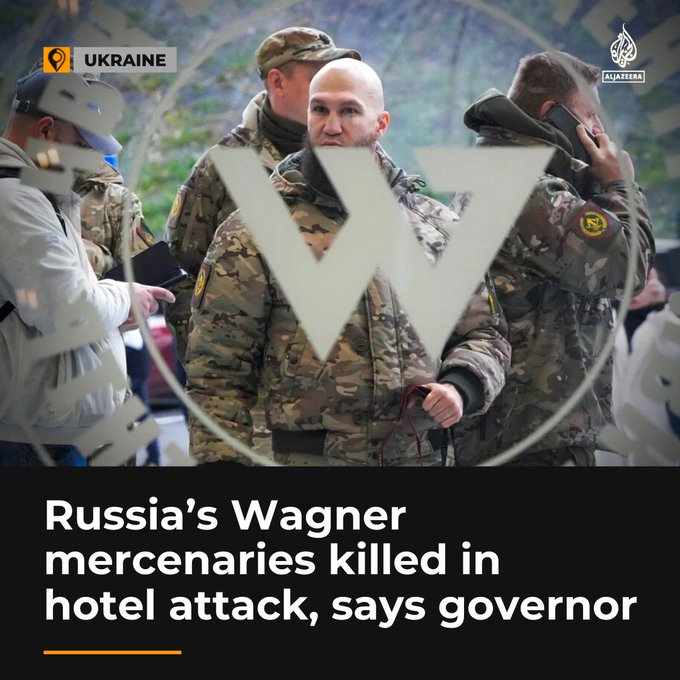 Russia is a country where a doctor, engineer, teacher and military officer combined earn much less than a single TV propagandist like Margarita Simonyan, just because she has dedicated her professional life to spreading the Kremlin's malinformation.
=============

Russia on reparations: "The West just wants to steal money". More about Russian propaganda in #InfoWatch on our website
https://ukraineworld.org/articles/infowatch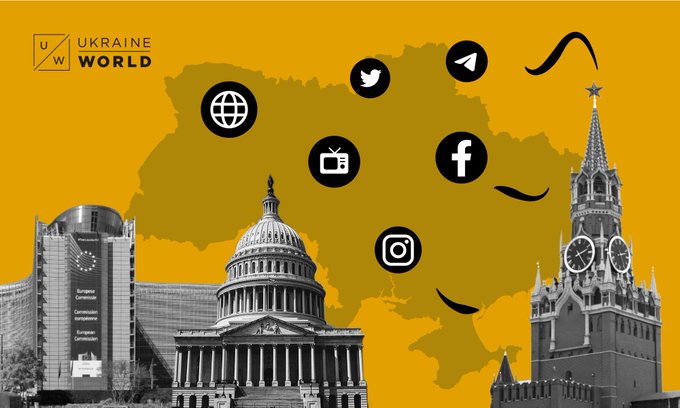 ==============
We're keeping an up-to-date page with events for Ukrainians in Ireland:
https://iamukrainian.ie/social-gatherings-for-ukrainians
If you'd like to add your event, please complete this form:
https://forms.gle/vNHMfFZcCAvZHuFD8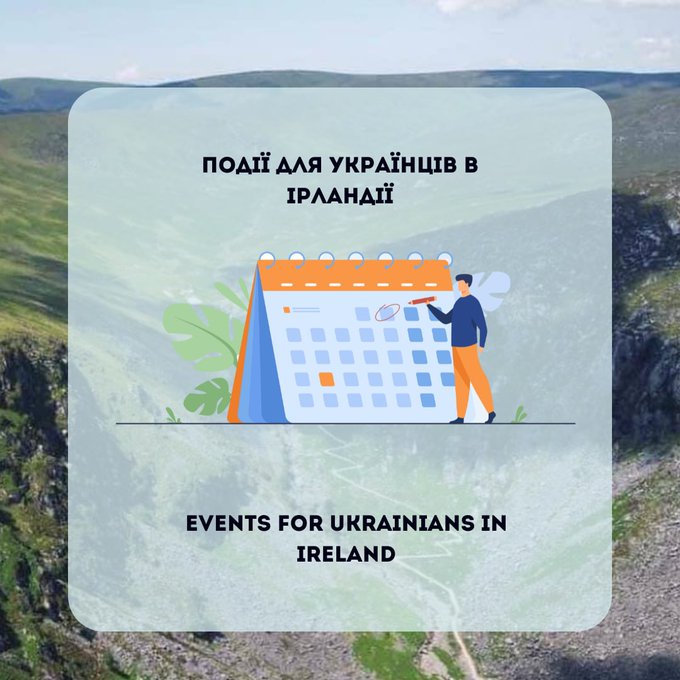 Our special Christmas cards drawn by
for
Quote Tweet

Ukrainian Community in Ireland
@UkraineIrelan
Dec 10
Beautiful Christmas-themed watercolour drawings from @duka_hanna, who fled war-torn #Kharkiv with her son, and was welcomed in Ireland. Hanna has been volunteering with @UkrainianAction since she arrived in Ireland. Such a spirit! Our best wishes to her and her family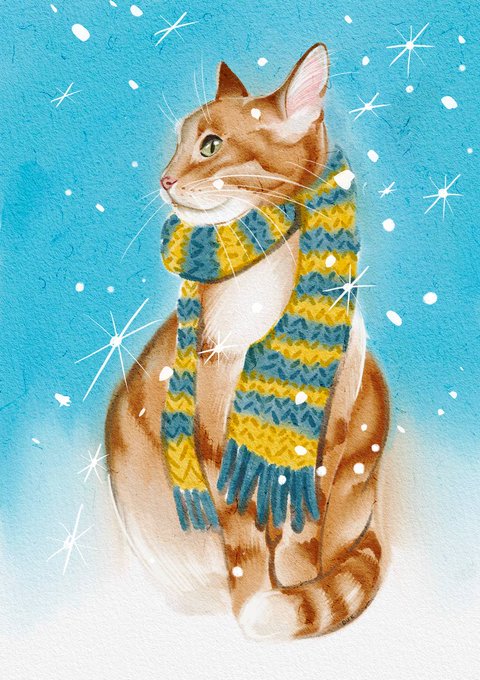 Gazprom is to blame for the fact that Moldova is now forced to purchase gas and electricity on the international market, said Spinu.
Moldova to file lawsuit against Gazprom for creating energy crisis
Moldova will sue Russia's Gazprom for breaching its contract and creating an energy crisis, Moldovan Infrastructure Minister Andrei Spin
A Russian agent who was collecting information about Ukrainian army positions in the town of Kramatorsk, Donetsk Oblast, has been sentenced to 14 years in prison.
Russian agent gets 14 years in jail for spying on Ukrainian positions in Kramatorsk
A Russian agent who was collecting information about Ukrainian army positions in the town of Kramatorsk, Donetsk Oblast, has been
===========
Putin plans meeting with puppet governors of Ukraine's occupied oblasts
Putin plans meeting with puppet governors of Ukraine's occupied oblasts
Russian President Vladimir Putin plans to meet Russian-appointed puppet leaders of occupied parts of Donetsk, Luhansk, Zaporizhzhia

Russians recruit 23,000 convicts in Wagner Group
Russians recruit 23,000 prisoners in Wagner Group
Twenty three thousand militants from the Wagner Group, recruited in Russian prisons, are thrown into battle by the Russians and "used as a
===========
Behind the scenes filming a special
programme with Professor Michael Clarke with his take on the key moments of the #Ukraine war during 2022, presented by
+