Senior Kinahans will be brought to justice – gardaí
https://www.rte.ie/bosco/components/player/iframe.html?clipid=22190180
Crime Correspondent
The head of the garda's Drugs and Organised Crime Unit said he is confident that senior members of the Kinahan organised crime group will be brought to justice.
Assistant Commissioner Justin Kelly also said that while there have been some issues with garda corruption this year, he is satisfied that criminal investigations have not been compromised.
He added that the recent upsurge in gangland-style murders can be attributed to the activities of unstructured localised crime gangs rather than transnational organised crime groups.
Gang murders have tripled from a pandemic low of two last year to six this year, which the Assistant Commissioner said is a cause for concern.
It is, he said, hugely distressing for the victims' families, but garda analysis shows that there has been a move away from highly organised gangland murders to an upsurge in killings by unstructured localised crime gangs in areas like Finglas and Neilstown in Dublin.
He also said the volatility and violent nature of these gang members poses a serious challenge, but insisted that local gardaí in these areas are tackling these street gangs and are supported by national units gathering intelligence and additional armed resources deployed at short notice when necessary.
He also said there has been a marked decrease in murder attempts and threat to life incidents by highly-organised and well-financed crime groups. These dropped from a high of 27 to three last year.
Gardaí also said 68 members of the Kinahan organised crime group have been convicted and jailed here, but the three most senior figures – Christy, Daniel and Christopher Junior – for whom the US government has offered a reward of $5 million each, are still being targeted.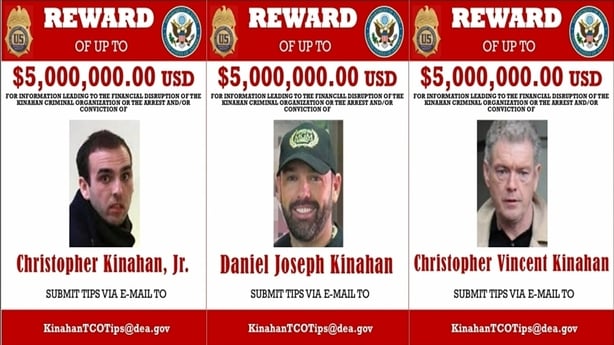 However, Asst Commissioner Kelly said that while they have no intention of forewarning them, he is confident that senior Kinahan gang members will be brought before courts, even if it is in another country.
None of them will come voluntarily back to Ireland, but he said gardaí have submitted a number of investigation files on senior Kinahan gang figures to the Director of Public Prosecutions and others are on the way.
Organised crime is not limited to gangland activity and the gardaí said they have mounted a large number of highly successful anti-fraud operations, including targeting the Black Axe criminal group, which has laundered €45 million here. Eight hundred people have been arrested.
The Asst Commissioner also said that like all police services, they have to be conscious of the potential for corruption, particularly in times of financial hardship for members of the gardaí. There has been a number of successful prosecutions of former and serving gardaí, but he said he is satisfied garda operations are not being compromised by corruption.
One garda jailed this year is Paul Moody, who was sentenced to three years for terrorising and torturing a woman with cancer.
Asst Commissioner Kelly stressed that these people will be relentlessly pursued and prosecuted and that it would be no different for members of the gardaí. He appealed for victims of domestic violence and coercive control to come forward and be assured of the support of the gardaí in these situations.
He also pointed out that the vast majority of gardaí work ethically and professionally for the benefit of the community and many have been attacked and injured this year in the line of duty.
"Although we have had issues with criminality within the organisation, they are very small numbers," he said.
He also said that child exploitation was "a top priority", with 700 investigations launched and 40 Irish child victims identified this year.