10 minutes:  worth listening too.  "We should be grateful to Ukraine"  … Democracy

============
Meanwhile, Germany STILL debates sending tanks. We STILL refuse to send ATACMS. We can stop this Russian evil and all we have to do is give Ukraine what it needs to win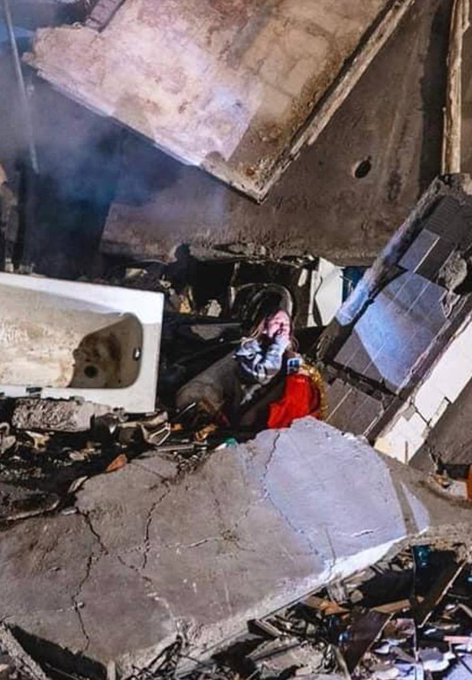 =============

Ukraine government organization
Russian terrorism must be defeated.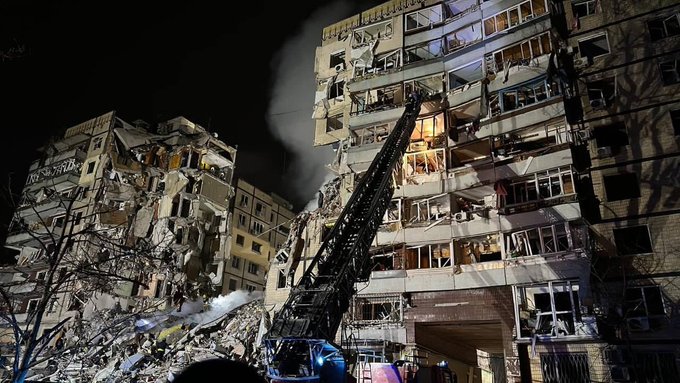 I think we need to label #Switzerland, a State Sponsor of Russian Terrorism.
Quote Tweet

South East Military Veterans
@EastVeterans
Jan 14
Switzerland has blocked the supply of Aspide air defense systems to Ukraine The Swiss had NO problem selling air defence systems to Qatar to protect stadiums during the soccer World Cup Even if ? wanted to send Mowag Ambulances it would be blocked https://avia-pro.net/news/shveycariya-zablokirovala-postavku-ukraine-sistem-pvo-aspide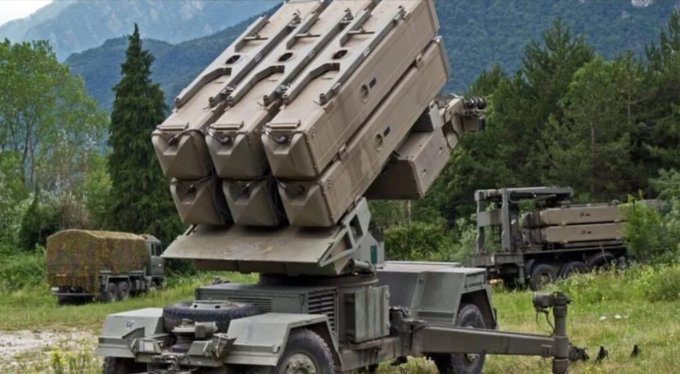 After 10 months of Russia getting its arse kicked all over #Ukraine. After an estimated 14,000 Russian casualties trying to capture Bakhmut & Soledar. Russia's desperate mad midget spins "the trend is positive." But the only "trend" is, Russia still hasn't captured Soledar.
=============
#Dnipro #WarArt By Mykhailo Skop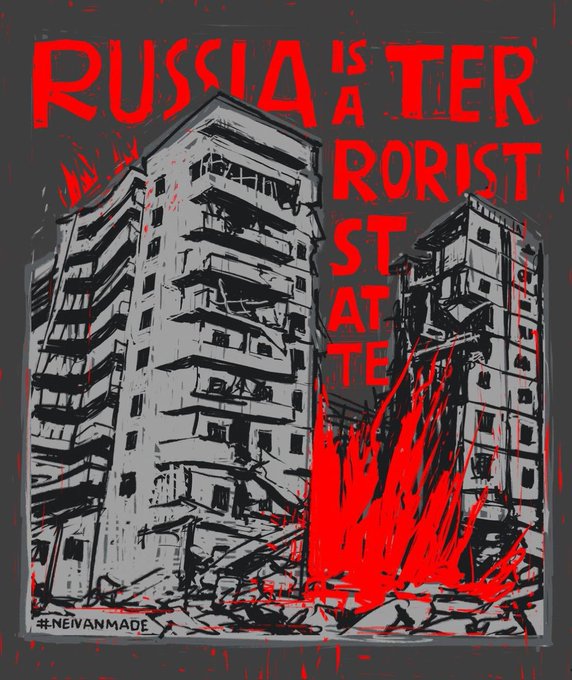 Russia may mobilize up to 500,000 more military personnel before spring. More Putin canon fodder of young Russian men in a desperate attempt to stay in power (and more heartbreaking Ukrainian civilian atrocities).
en.interfax.com.ua Russia may mobilize up to 500,000 more military personnel before spring – media Mobilization of up to 500,000 additional military personnel can be carried out in the Russian Federation to seize the initiative in the war
============

UK imposes Magnitsky sanctions on Iranian Prosecutor General following execution of dual UK Iranian citizen Alireza Akbari
·
9/11 was one day. This has been happening in Ukraine every day for the past 324 days. Think about that.
Quote Tweet

Bill Browder
@Billbrowder
Jan 14
Al Qaeda or ISIS? No. This is Vladimir Putin's work. Basically the same thing. Except he's rolled out 1000 times the number of terrorist attacks against civilians. twitter.com/Flash_news_ua/…
=============
As the saying goes, the wolf may shed its fur but it's still grey…
Quote Tweet
Radosław Sikorski MEP
@sikorskirade
Hexogen is the same explosive that Putin used on Russian apartment blocks in order to justify the 2nd Chechen war. twitter.com/Andriypzag/sta…
============
Important story and film. Please spread the word.
Quote Tweet

Sarah McCarthy
@Sarahlikesfilms
Jan 14
"My daughter was dying alone because I was arrested for speaking out against Putin" Anastasia Shevchenko @UndesirableASh continues her conversation with @Billbrowder. Pls share Anastasia's story, this is the reality of how Putin treats his own people. http://anastasiafilm.com
Show this thread
============
Dnipro January 14, 2023 By Maksym Palenko
HEXICON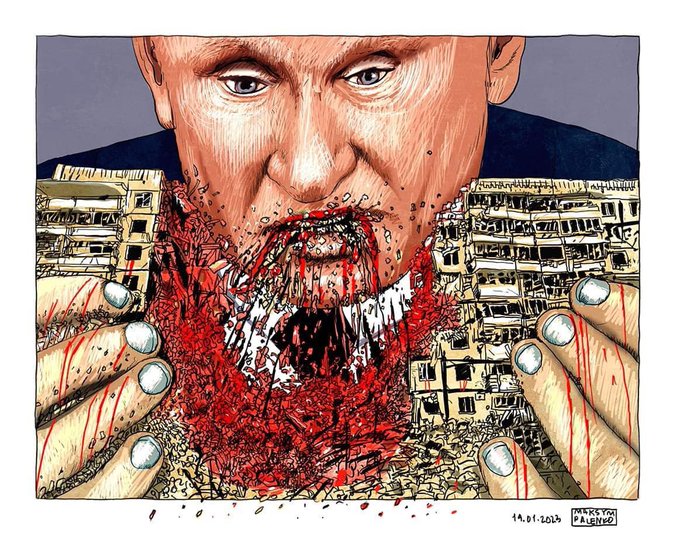 ==============
Jason Jay Smart Retweeted

Stop making it difficult Chancellor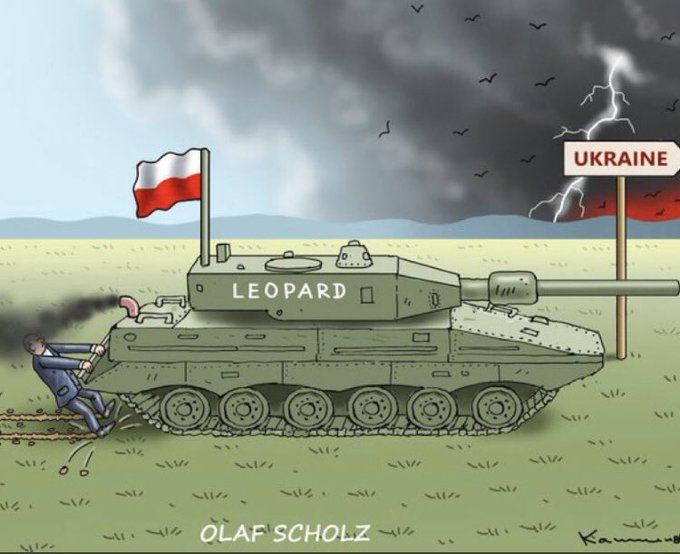 "Let you be cursed your whole life. By all people, by me, and by all mothers' tears. Let your whole country be cursed." A Ukrainian woman at the scene of the deadly attack in #Dnipro records a m
https://twitter.com/i/status/1614370046360391681essage for #Russia #RussiaIsATerroristState

============


Eternal memory to all whose lives were taken by Russia terror! The world must stop evil. Debris clearance in Dnipro continues. All services are working. We're fighting for every person, every life. We'll find everyone involved in terror. Everyone will bear responsibility. Utmost.
============

Chechens fighting with honor for #Ukraine near #Bakhmut, it says
============

Czech television showed the workshops of the Excalibur Army enterprise, which is repairing and modifying T-72 tanks for the Armed Forces of Ukraine, and also acknowledged the fact that Ukrainian specialists work at the enterprise. The Czechs, as we remember, during the Second
===============
"Putin is flustered by the rise of Yevgeny Prigozhin, an owner of the Wagner mercenaries" "Putin's whole apparatus is scared Prigozhin will come after them," adding "Putin might not be reelected… He would fake the outcome, but it's a risk to the system"
jpost.com Putin afraid of coup, will retire this year – source A former ally of the Russian President talked about the possibility that Putin might retire soon, rather then potentially getting killed in a coup. ============

The great
on how Prigozhin is "is pitching himself and his Wagner mercenary group as the real patriots, in contrast to what he derides as the corrupt and incompetent military hierarchy. The language is getting harsher, and the stakes higher."
edition.cnn.com As Russia's military stalls, Putin's chef serves up his Wagner shock troops to rescue Ukraine… Russian oligarch Yevgeny Prigozhin is fighting his own war in eastern Ukraine, an often crude and increasingly vocal presence in Russia's
===============
Wagner financier Yevgeny #Prigozhin continued to leverage the Wagner Group's role in capturing #Soledar to elevate his political stature and indirectly criticize the conventional Russian military.
==============
Quote Tweet

ISW
@TheStudyofWar
Eastern #Ukraine Update: Russian forces continued offensive operations around #Soledar as well as in the #Bakhmut and #Avdiivka areas on January 14. Ukrainian forces are highly unlikely to still hold positions within the settlement of Soledar itself.
If you want to understand how bad of a situation Putin is in due to this in-fighting (and the civil war that might soon come to Russia), I strongly recommend this 12 minute interview (it is dubbed into English):
https://youtu.be/kDDAhb0xIPI Best thing you can watch today.
Russia's Dark Future – the battle of private armies
Please consider sharing, subscribing and donating to support me creating more translations of historically important content. Thank you for your support!

"If the repressive measures used by the state were only just gathering momentum after the annexation of Crimea in 2014, by 2022 they were in full swing, and there was every indication that things would only get worse."
themoscowtimes.com Why Aren't Russians Abroad Doing More to Protest the War? Opinion | When Russian President Vladimir Putin came to Yerevan in November I took part in a protest against the war in Ukraine along wit

"Ruscists took over everything from that enemy of the free world," Zelensky continued. "It's obvious. And we must do everything we can to stop ruscism, just as the free world once stopped Nazism."
Zelensky draws comparisons between 'Ruscism' and Nazism in Saturday address
Ukrainian President Volodymyr Zelensky drew comparisons between "Ruscism" and Nazism on Saturday, following another barrage of Russian missile strikes that battered cities across Ukraine.…