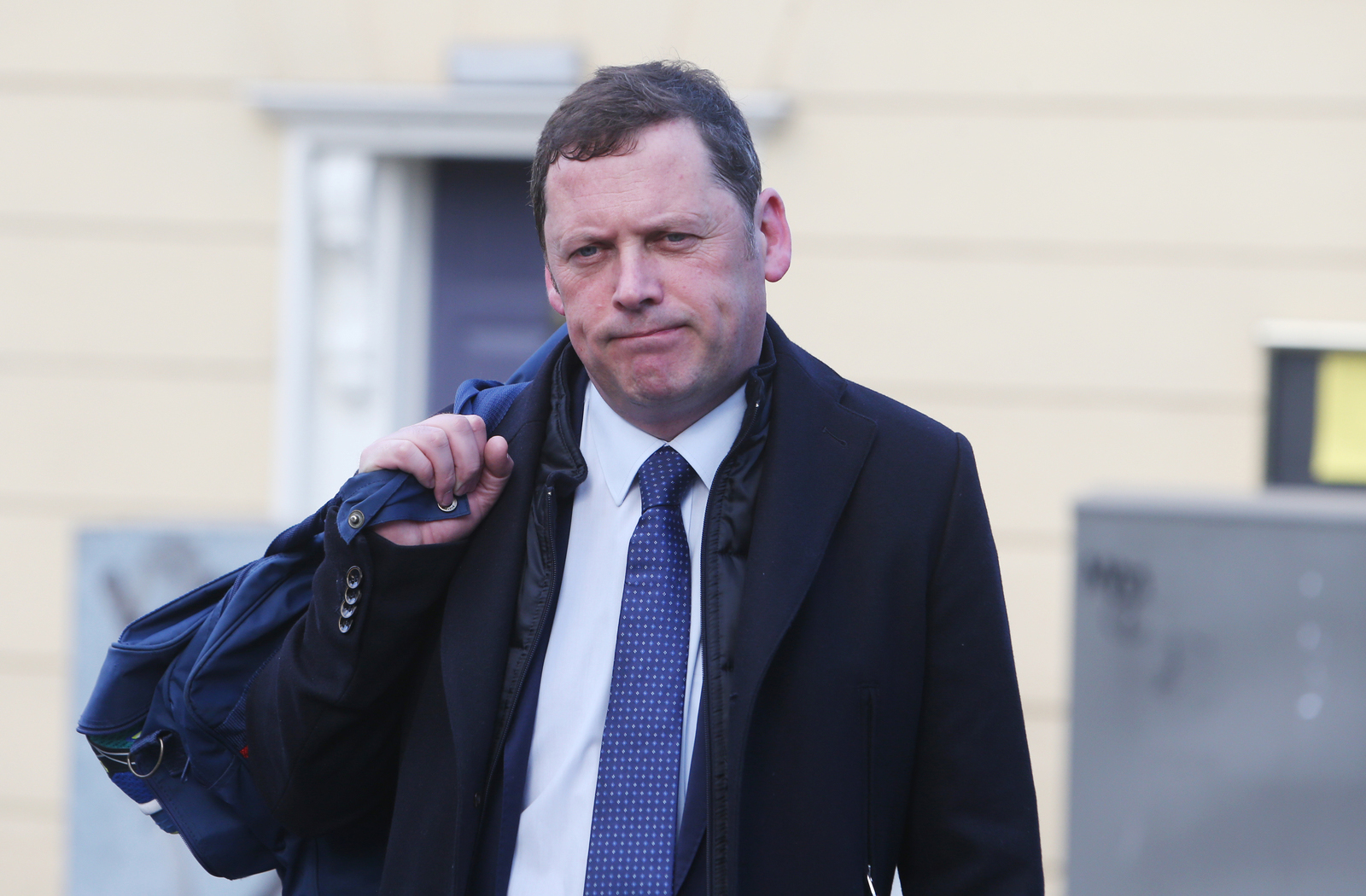 Paschal Donohoe on the ropes: Minister held 13 meetings with Michael Stone, and used loophole to keep full donation under radar
• 4h ago
1Comments
Public Expenditure Minister Paschal Donohoe is fighting for his political career, as new revelations about his relationship with businessman Michael Stone pile on further pressure.
In a shock move, Mr Donohoe has revealed he wanted to make a new statement to the Dáil about financial support he received from the engineering firm chief executive.
However, politicians, including his own Government colleagues, will now have to wait until next week to hear the under-fire minister's explanation. Mr Donohoe said he did not have time to address the Dáil yesterday.
It came amid increasing calls from the opposition for the minister to answer questions about his election expenses and donations after he admitted failing to declare contributions from Mr Stone during the 2016 general election campaign.
With the minister now shutting down questions about his dealings with Mr Stone, it can be revealed:
:: Mr Donohoe used a legal loophole to keep the amount Fine Gael received from Mr Stone under the radar of the political ethics watchdog.
:: The minister changed his stance on whether the businessman provided financial support to him over the course of the 2020 general election.
:: He held at least 13 official meetings with Mr Stone over the past five years.
:: Mr Stone's firm did not disclose any donations to Mr Donohoe's 2016 election campaign.
Meanwhile, despite Mr Donohoe saying Mr Stone bought 22 tickets for the Fine Gael fundraising raffle in 2021, worth €1,382, it can be revealed the actual price paid by the businessman for the €80 tickets was €1,760.
Any donation above €1,500 to a political party has to be declared – so Mr Stone's donation in 2021 would have exceeded that limit.
However, a legal loophole allows the cost of running a political fundraiser to be taken into account, leaving only the profit to be declared.
Mr Donohoe specifically referred to the "donation value of €1,382", not the price of the tickets, when he addressed the Dáil.
Fine Gael confirmed the "net value" after costs is what is relevant rather than what the party received from the businessman.
The difference between the €1,760 price and the "donation value of €1,382" is down to the cost of the staffing, administration and prizes for the draw.
The threshold for reporting such donations was lowered to just €200 in 2013
Mr Donohoe said the donation was "within the legal limits" and was "not required to be disclosed".
Fine Gael said the donation value refers to the amount after the cost of the draw was taken out.
A review of Mr Donohoe's ministerial diary by the Irish Independent also revealed he met Mr Stone 13 times since 2018.
All the meetings were in relation to the North East Inner City (NEIC) taskforce, according to the minister's spokesperson, despite some diary entries not referring to the taskforce.
It is not clear why some of the entries do not refer to the taskforce and the spokesperson said there are no plans to amend the entries.
On August 4, 2020, soon after the current Coalition was formed, Mr Donohoe and Mr Stone held a two-hour morning meeting.
Then, on December 4, 2020, the two men held a "breakfast meeting".
They met three times in Mr Donohoe's capacity as NEIC initiative chair during 2021 and 2022.
"Minister Donohoe meets Michael Stone around twice a year to discuss the North East Inner City taskforce. The most recent meeting with Mr Stone and others was late last November at Seán McDermott Street," his spokesperson said.
Separately, accounts for Mr Stone's Designer Group, covering 2016, make no mention of any political donations or capital contribution from Mr Stone to pay for the company resources used to put up Mr Donohoe's election posters.
Under the Companies Act 2014, firms are required to disclose in their directors' report any political donations above a certain amount. The threshold for reporting such donations was lowered to just €200 in 2013.
A donation can be a monetary gift or the use of company assets, such as labour from employees or the use of company equipment, such as a van.
If a director pays for a donation or the use of company assets out of personal funds, it should be declared in the accounts as an expense and a gift and is usually designated as a capital contribution.
Designer Group's accounts for the period including February 2016, when the general election took place, make no mention of either a donation or a capital contribution from 100pc owner Mr Stone. The company and Mr Stone declined to comment when asked about whether it should have made a declaration.
Yesterday, Micheál Martin was asked if he had absolute confidence there will be no more expense revelations.
The Tánaiste offered qualified support for Mr Donohoe, saying he will wait to hear what the minister says in the Dáil next week .
"I'm not going to pre-empt what Paschal is going to say," said Mr Martin.
Róisín Shortall, co-leader of the Social Democrats, called on the minister to answer questions as they were being asked
"That's a matter for Paschal, what clarity he wishes to bring to the situation next Tuesday or whatever additional material."
Eamon Ryan, leader of the Green Party, added: "I would have a very similar perspective to the Tánaiste. My sense is there are questions to be answered."
The ongoing controversy stems from Mr Stone paying for Mr Donohoe's posters to be erected and taken down during the campaign prior to the 2016 general election.
On Wednesday evening, Mr Donohoe gave an eight-minute statement to the Dáil before members of the
opposition were afforded opportunities to speak.
"Honesty and integrity matter above all in public life," he told TDs.
There were angry scenes as opposition TDs expressed their discontent with his approach. Sinn Féin finance spokesperson Pearse Doherty said Mr Donohoe's story "didn't stack up".
He told the Dáil: "You are trying to take us for fools with these concocted stories."
Labour TD Ged Nash said Mr Donohoe was "selling a narrative" that suited his own ends.
Róisín Shortall, co-leader of the Social Democrats, called on the minister to answer questions as they were being asked.
Concluding the debate, Mr Donohoe said he was not making light of the controversy. He said: "Many questions have been put to me on points of detail which I have done my best to answer in the submission, which has now been provided to Sipo."
Yesterday morning, Mr Donohoe was due to take questions in his role as Public Expenditure Minister, when he made the surprise announcement he wished to address the Dáil next Tuesday.
Opposition TDs demanded he answer questions yesterday. However, Mr Donohoe said he did not have the time and will instead take questions next Tuesday – meaning the controversy is being dragged into a second week. The move has led to some confusion among TDs, who are questioning why the minister is seeking to extend the fiasco.
Sinn Féin has been asking the minister to clarify whether Mr Stone had any involvement in his 2020 campaign.
As recently as Tuesday, Mr Donohoe's spokesperson said only "volunteers" were involved in putting up his posters in 2020.
But when asked yesterday if Mr Donohoe received support from Mr Stone during the 2020 campaign, his spokesperson offered less clarity.
She said: "The minister will be making a further statement in due course to address issues raised."