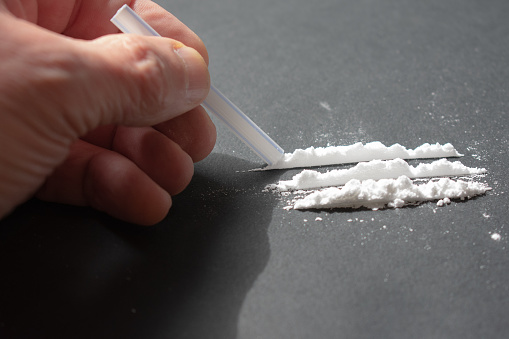 Simon Harris: 'Direct link between snorting a line and murder, assault, criminality and misery'
• 2h ago
JUSTICE MINISTER SIMON Harris has railed against members of the public who casually use drugs on nights out, accusing them of "lining the pockets" of criminal gangs.
Justice Minister Simon Harris in Templemore earlier this year© Leon Farrell
The Justice Minister told the Dáil this morning that he was concerned at the increasing prevalence of drug taking at social events and nights out and said that it needs to be called out.
It comes as Gardaí seized over €2.8 million worth of cocaine and dismantled an alleged cocaine-mixing plant in Dublin on Tuesday.
"I'm very concerned about the growing social acceptance of drug taking in this country," Harris said.
"We've got to start talking about it in this country, calling it out and talking about it clearly. What I'm talking about is the increasing prevalence and often visibility of drug taking as part of a night out in Ireland and any conversation we have about drug use cannot ignore this reality
There is a direct link between snorting a line or taking a pill and murder, assault, criminality and misery.
"Drug use on a Friday or Saturday night is funding and supporting violence, crime, murders the next week. You're helping to line the pockets of criminals who are inflicting misery and pain in communities across our country."
He told the Dáil that there needed to be an acknowledgement of this and said that casual drug use "is not victimless".
"There is a direct link and a direct correlation between that so-called social activity and lining the pockets of these criminal gangs," he added.
Harris made the comments in response to Fianna Fáil's Brendan Smith, who raised concerns about the impact of drug dealing in communities around Ireland.
However, he said that there needed to be a health-led approach for people who are suffering with drug addiction and welcomed the progress made on establishing the Citizens' Assembly on Drugs, which is due to begin in April.
"We will always and we must support people overcoming addiction, I really welcome the establishment the citizens assembly on drugs.
"As a former Health Minister, I know the importance of a health-led approach to somebody and supporting the family of somebody going through addiction."
Earlier this week, Labour TD and former junior drugs minister Aodhán Ó Ríordáin claimed that both politicians and members of the media were among the large numbers of people who casually use drugs in Ireland.
However, he said that it was more likely for people from disadvantaged areas to end up in court on drugs charges.
"People from certain income brackets or certain areas of the country or certain disadvantaged areas are the ones who end up in court and the ones maybe who are in higher income brackets are able to hide it better and don't end up in court," Ó Ríordáin said.
"People in the media take drugs, people in politics take drugs, guards take drugs, nurses take drugs.
"Lots of people in different professions take drugs. We're not honest about it. We need to be more honest about it and we effectively just need to stop people dying."