CRASH CHAOS |
'Weed-smoking' joyriders smash stolen GoCar into Dublin garden
"We're just glad nobody was killed," neighbours say.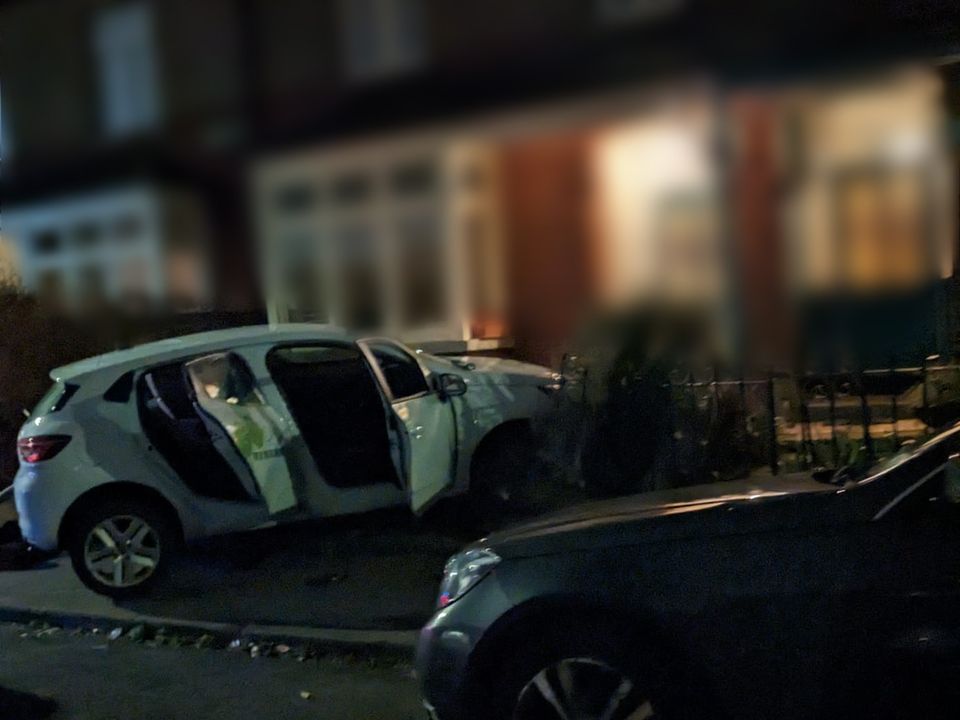 Níall FeiritearSunday World
Yesterday at 15:36
Gardaí have launched an investigation after joyriders have smashed a GoCar into the fence of a Dublin home.
This photograph, showing the damaged rental car, was taken following the incident which occurred last Thursday evening in Harold's Cross.
"The car doors were open and it absolutely stunk of weed after they ran off," said one neighbour.
One local resident, who did not wish to be named, described how events unfolded.
"I had just come home from work and was about to settle down for a Chinese and a beer when we heard an unbelievable bang.
"It sounded like a train had gone through a wall. My wife got an awful fright, she came running down the stairs," the man said.
His wife, who works in the city, was concerned about their neighbours' children and local animals.
"I heard the engine revving and screeching tyres as they rallied up the road.
"There are kids out playing sometimes, pedestrians, and also people's pets out and about. Those things were my main concern," she said.
Gardaí arrived on the scene and the neighbours said they spoke with other locals about the incident.
GoCar allows users to book cars online or via an app.
After making the booking, users then unlock the car with their phone. The keys are found in the car, with fuel, insurance and city parking included.
Another neighbour told sundayworld.com: "Apparently there was a number of joyriders in the car and they legged it up the street. I was told they seemed young.
"The doors were all left open and there was a strong smell of hash. The poor people's front garden was destroyed.
"My colleagues in work are saying it is a fairly common occurrence recently with rented cars.
"They must be able to trick the cars into opening, or some other form of access is used. They probably know the keys are in the glove box," he said.
sundayworld.com has reached out to GoCar for comment.
Gardaí in parts of Dublin have becoming increasingly concerned about the activities of youths who are involved in a "joyriding epidemic" that has not been seen in almost 30 years.
"These are a new breed of joyriders who would not be even considered criminals – they are doing it for the sport and that is dangerous," a senior source said.
A garda spokesperson said: "Gardaí are investigating a road traffic and criminal damage incident which occurred in Terenure, Dublin 6W at approximately 7.30pm on the 16th of February 2023.
"There are no arrests at this time. Investigations are ongoing."