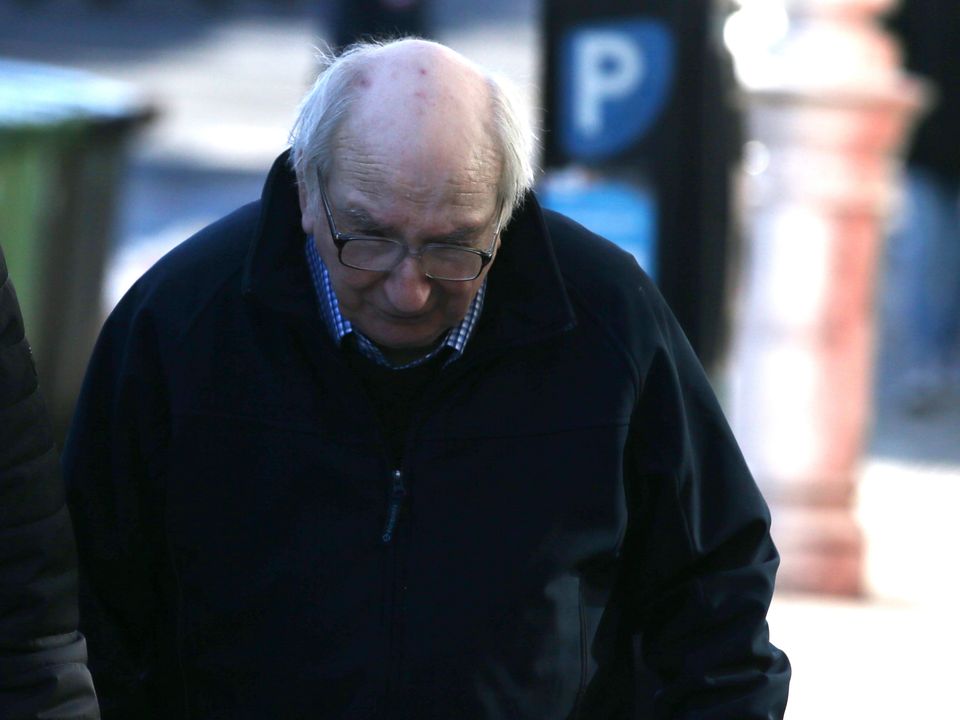 Priest who sexually abused young woman while he drove her to a Rape Crisis Centre starting '34 years of hell' avoids jail
• Yesterday 16:55
A former Offaly priest who sexually abused a young woman as he drove her to the Rape Crisis Centre for counselling has avoided a jail term – as he is the sole carer for his elderly sister.
Joe Dunne (81) indecently assaulted the previously abused young woman on a number of occasions after befriending her in hospital.
He later asked her for forgiveness before assaulting her again.
The woman outlined how meeting Dunne when she was a young woman in an highly vulnerable situation had started "34 years of hell."
She said she thought she would be safe as he was a priest.
Dunne of Ballycrystal, Geashill, Co Offaly, pleaded guilty at the Central Criminal Court to five counts of indecent assault of the woman in 1989.
He has no previous convictions.
The court heard the case had come to light as a result of a separate investigation in 2019 when gardaí came across letters the injured party had written to her bishop about Dunne years earlier.
Gardaí then approached the woman and she disclosed to them what had occurred.
Mr Justice Paul McDermott commended the courage of the woman in coming forward and putting herself through the onerous process of being a complainant.
He said the court and the criminal justice system depends on the courage of people like herself in coming forward in cases of this kind.
He noted the devastating effects of the abuse on the injured party as set out in her victim impact statement.
Mr Justice McDermott said the circumstances of the case were extremely aggravating and noted Dunne had got himself into a position where he could sexually assault an abused woman. "That's shocking," said the judge.
He said it was clear from the nature of the assaults that they were carried out on a young woman in a most vulnerable position and who Dunne knew to be in vulnerable position after she turned to him for support at difficult time.
He said he was obliged to take Dunne's guilty plea into account but said it appeared from some material presented to court that he does not have full appreciation of the damage done.
The judge also took into account Dunne's age and his health issues in setting a sentence of four years imprisonment.
He said he also had to take into account the effect imprisoning Dunne would have on his 94-year-old sister for whom Dunne is the sole carer.
He said the report before in him in that regard was "stark."
He said the woman would be in very serious circumstances if deprived of his support.
The court was faced with a dilemma and he took the "unusual and exceptional step" of suspending the entire sentence because of the disproportionate effect it would have on Dunne's sister.
The judge said this was not something easily done on his part but said it seemed to him it would involve a significant penalty on a third party if Dunne served the sentence.
Mr Justice McDermott suspended the entirety of the four year sentence on strict conditions including that Dunne attend with the Probation Service and undertake offence focused work.
Garda Darren Hughes told Conor Devally SC, prosecuting, that the woman had previously been abused by another person and spent some time in hospital as she found it difficult to get over.
She was due to attend counselling which was difficult for her to access due to her rural location and Dunne offered to drive her to the Rape Crisis Centre.
During several trips to the Rape Crisis Centre, Dunne indecently assaulted the young woman.
She was shocked and thought no one would believe this behaviour of a priest so found it hard to reveal what was happening to her.
She eventually prevailed on her family to keep Dunne away and made alternative arrangements.
Dunne approached the young woman and sought her forgiveness.
She felt she had no choice but to forgive him and that it would be a sin not to do so.
He prevailed on her to take a trip with him and again assaulted her in the car.
Dunne emigrated for some time and was in ministry in Scotland but the woman observed on his return that he was filling in to say masses and funerals so at this stage she wrote to her bishop.
The court heard "little or nothing" was done at that stage to make Dunne "amenable to the law."
Dunne was arrested and interviewed during the later investigation after her letters came to light in 2019.
Dunne, who has been removed from ministry, made limited admissions at that stage, but entered a guilty plea to the indecent assaults prior to a trial date.
In her victim impact statement she said meeting Dunne had started 34 years of hell.
She said she had been very low and told him what was wrong.
He then insisted on bringing her to counselling but used these trips to abuse her.
She said she had felt she would be safe with him as he was a priest.
She outlined the devastating effects the abuse has had on her life in relation to relationships, her mental health and employment.
She feels she will grow old on her own as she can not trust anyone.
"I hope he will understand how he destroyed me," she told the court in her statement.
She thanked her counsellor and all those who had supported her.
Joe Dunne took the stand in court and told the woman he was very sorry for "anything I did to you".
He agreed with his defence counsel that his actions had been a great breach of trust.
The court heard Dunne has a number of medical issues and is on a range of different medications.
He is hard of hearing and has mobility difficulties.
Dunne told the court his sister, who is in her 90s and has her own medical difficulties, is fully dependent on him.
Defence counsel said Dunne had acknowledged the breach of trust he committed and expressed remorse, as well as apologising publicly.
He said Dunne was a man of no previous convictions who has led a good life and not come to any further garda attention.
He asked the court to take his client's good character in the intervening years into account.
Dunne's sister was dependent on him and it would lead to hardship for her if Dunne was incarcerated. He handed up a number of medical reports and letters in this regard.