Man and woman jailed over rape, abuse of her children
Updated / Monday, 13 Mar 2023 20:55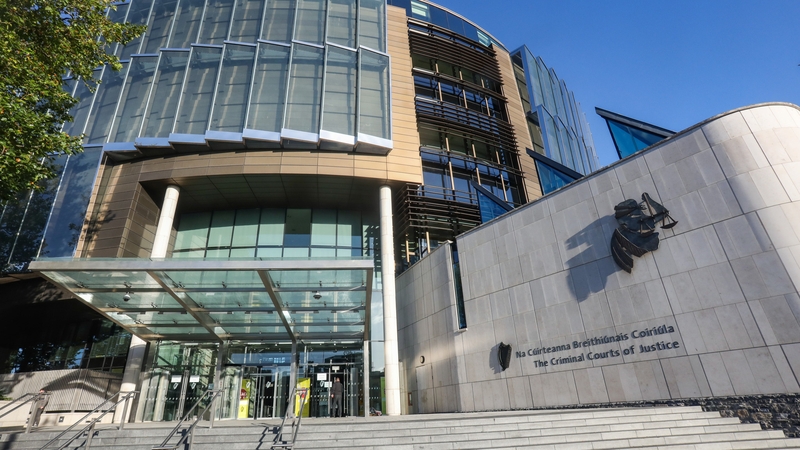 RTÉ Courts Reporter
A 52-year-old man who raped and abused a five-year-old girl and her three-and-a-half-year-old brother has been sentenced to 19 years in jail.
The children's mother, who took part in and facilitated the abuse, has been jailed for 14 years.
Mr Justice David Keane paid tribute to the children at the centre of the case and expressed his "sincere admiration" for the fortitude they had shown despite their pain and suffering.
He said the children had been abused at home in what should have been their ultimate place of safety but was instead a place of pain and constant fear and mistreatment.
The judge said they were "deplorable crimes against very young children by the very persons charged with their protection in the place they should have been most secure".
Each child had been deeply traumatised and there was a real risk that trauma would remain with them into adulthood, he added.
The sentences followed the conviction of the children's mother and her ex-partner on a number of charges including rape, sexual assault and false imprisonment.
---
Warning: Some readers may find details in this report distressing
---
The little girl also told how she been tied to a chair while her mother and her partner went to the pub. The boy later told his foster parents they had saved his life.
Mr Justice Keane said the offences were committed against very young children who because of developmental delays would have been even more vulnerable than their peers.
He rejected a submission that the children's mother was less culpable as she may have been influenced by her partner. The judge said it was "quite the contrary" as the woman had denied any involvement in the abuse and had first blamed others before claiming her daughter fabricated the abuse.
Because the pair continue to deny their involvement and had shown no remorse or apology or embarked on any rehabilitation there were very few mitigating factors and there was no reason to suspend any part of the sentences, the judge said.
Against the man he imposed a 19-year sentence for rape with concurrent sentences of eight years for sexual assault and six years for false imprisonment.
He imposed a 14-year sentence on the woman for the rape of her daughter in a joint enterprise and concurrent sentences of eight years for sexual exploitation, five years for sexual assault, five years for reckless endangerment and four years for false imprisonment.
They will be registered as sex offenders and must be supervised for two years after their release from prison.
The man was convicted after a trial on a number of charges including the rape and oral rape of the girl and the rape and oral rape of her brother. He was also convicted on a charge of false imprisonment of the girl.
The children's mother was convicted on a number of charges of sexual assault and sexual exploitation of her daughter and of oral rape as part of a joint enterprise with her partner. She was also convicted of the false imprisonment and reckless endangerment of her daughter and the reckless endangerment of her son.
Both had denied the charges but a jury found them guilty after a six-week trial.
At a sentence hearing last month, prosecuting counsel Anne Rowland told the court the two accused met at a bus stop in 2011 when the woman had four children and her relationship had broken down. Social services were already engaged with the woman at that point due to concerns about the neglect of her children. She moved in with the man, leaving a three-bed home to live with him in a two-bed apartment.
In October 2013 she ended up in a refuge and told social workers she could not care for her two younger children and was "hitting them without justification". She put them into voluntary care and it was during that time that her daughter disclosed the sexual abuse.
It was noted that at that stage the girl had limited use of language and developmental delays and although six years old, she behaved like a three or four year old.
In interviews with specialist gardaí the girl told how she had been raped by her mother's partner and sexually abused by her mother. She told how she was asked by her mother to engage in sexual activity with her and her partner. Asked how often this activity occurred she said "all the time".
She told how she was raped by the man in a house owned by his friend and described the rape as making her cry. She also explained how she was tied to a chair while the couple went to the pub. Later asked how she was tied, she said she was glued to the chair.
The girl's brother was taken into the same foster home and also made disclosures about the abuse.
After her children were taken into care the woman was moved out of the refuge and rehoused but the man later moved back in with her and they went on to have more children. All of the woman's children are now in care, the court was told.
When arrested the girl's mother denied the offences and said her daughter was making up the abuse because she had been put into care. She also blamed the children's biological father and said she had once reported it to gardaí and taken her daughter to their doctor amid concerns. However, the court was told there was no record of any garda report and the family's doctor said no such issue had been brought to his attention.
The woman's co-accused also denied all allegations during his interviews with gardaí and maintains his innocence.
The children's evidence was given via recorded interviews with gardaí but the trial did not take place for a further eight years.
In a report to the court the girl's foster mother told how she was placed with them after two previous placements had proved difficult. "I can only imagine how traumatic it must have been … we knew we had to give her as much love and care and attention … she needed stability and a routine," she said.
She said the first two weeks the girl displayed concerning behaviour towards her husband and they decided she should never be left alone with him.
She gravitated towards men – "everyone from the postman to strangers" – and had to be warned about strangers repeatedly. At a birthday party she repeatedly asked: "Where is the man?".
The foster mother said the girl had no concept of time and could be found playing in her room in the middle of the night. For two years she had to be put to sleep by her foster mother singing and patting her back.
When she first went into care the girl had difficulty controlling her bladder and bowels and frequently soiled herself. Her foster mother said within two weeks the girl had given "the most horrific and unimaginable account" of what had happened to her and said she never wanted to go back there.
The woman said the girl behaved more like a three year old which hindered friendships. The girl's little brother also arrived into her care and "was in an awful state" and had a shaved head and a black eye. He also had toileting difficulties.
At that stage both children still had access to their mother and her partner and when asked if they wanted it to continue they said no. A teacher observed that the boy's demeanour completely changed around the time he was told he did not have to see his mother and her partner anymore and it was as if a weight had been lifted from him.
The boy was described by his foster mother as being now "a fine young man", adding "he has said he is glad they are in prison so they can't do the same thing to any other children and he hopes they stay there forever. He stated that we saved his life."
The girl has since moved to another foster home and her current foster mother said when she came initially she seemed much younger than her years. She still needs to regulate her emotions and certain things help to "take the pain away from the top of her head". Some things can trigger her motions and she told her foster mother she gets flashbacks of what happened to her.
She also found the court case painful as she had to wait eight years for it and then had to watch video recordings of herself being interviewed as a much younger child. Her foster mother added that she "will always struggle but is looking forward to the future and we will care for her until she is strong enough to live independently".
Prosecuting counsel Anne Rowland told the court the Director of Public Prosecutions regarded the offences in the case of the man as being in the exceptional category with aggravating factors such as the vulnerability of the children and their young age. Another factor was his "befriending and manipulating" the children's mother and his involving her in his offending. She said because of the woman's intellectual disability her culpability may be reduced.
Defence counsel Michael Lynn for the man said his client came from a large family and had a very difficult upbringing involving physical and emotional abuse. He married quite young and that marriage ended but he was back in a relationship with his ex-wife who was supporting him and had done so throughout the trial. Mr Lynn said his client had been making efforts to deal with his alcohol addiction. While he was adamant and remains adamant that he did not commit theses offences he did not wish to label the children as liars and had said instead that they were mistaken.
Defence counsel Dominic McGinn told the court that the children's mother had a difficult upbringing and suffered from a mild to moderate intellectual disability. He said while asserting her innocence she did not make matters worse for the children through cross examination. He submitted that his client could benefit from the structure of a partially suspended sentence and said the regime and routine of prison was of benefit to her.
Disturbing and upsetting
After today's sentence at the Central Criminal Court, Children At Risk Ireland (CARI) said other children in the country are "being abused right now in ways which are just as disturbing as the facts of this case".
CARI's Head of Therapy Emer O'Neill said: "Boys and girls are being hurt in ways that people in communities find very hard to understand."
She added that abuse cases before the courts can be disturbing and upsetting but in some cases can prompt parents and caregivers to act on concerns they may have but were afraid to express or explore.
She said there are signs for parents and carers concerned about possible abuse to look out for.
"For example, has there been a change in your child's behaviour? Have they become aggressive, withdrawn, developed sleep issues or bed wetting or been clingy? Have there been issues in school, such as lack of concentration or dropping?
"Have they developed any health issues, including soreness in their private areas, displayed sexually inappropriate behaviour and been using sexually explicit language? Has your child been afraid of a particular person, trying to avoid being alone with them?
"Your child may give clues by dropping hints and clues without saying what is happening," she said.

Ms O'Neill said CARI offers support and advice for any parent or caregiver who has concerns on 0818 924567, from Monday to Friday between the hours of 9am and 5pm.
"Anyone can call CARI with any concern about child sexual abuse and we will assist and guide them through the process of child protection."
Referring to today's case she said: "Thankfully the children's foster carers alerted gardaí to the abuse when the two children revealed the truth.
"We meet quite a lot of foster carers in CARI, and we admire them for the care, love, trust, and safety they try to provide for children who have been abused. We salute their loyalty and commitment to stay on the journey with these children," she said.
Ms O'Neill said CARI offers a range of therapies and services for child victims of sexual abuse.
"We take it at their pace and help them understand their experiences in their own way. Their voice is paramount.
"We see the child's fear and their resilience. With our help, they can move into a world where they experience trust and safety. In this world, they can finally build hopes and dreams for their future," she added.