174,023 views Apr 6, 2023 The Dr. Jordan B. Peterson Podcast
Dr. Jordan B. Peterson and Senator Mike Lee discuss the ever present conflict between Ukraine and Russia, the role of the United States in that conflict via proxy war, the rise of ESG investing, why the top investment firms do not care about your values, and what Senator Lee plans to do about it. Elected in 2010 as Utah's 16th Senator, Mike Lee has spent his career defending the fundamental liberties of all Americans and advocating for America's founding constitutional principles. Senator Lee acquired a deep respect for the Constitution early in life while watching his father, Rex E. Lee, serve as the Solicitor General under President Ronald Reagan. He attended most of his father's arguments before the U.S. Supreme Court, giving him a unique and up-close understanding of our government. Lee graduated from Brigham Young University with a degree in Political Science, and served as BYU's Student Body President in his senior year. Senator Lee serves as the Ranking Republican on the Judiciary Subcommittee on Antitrust, Competition Policy, and Consumer Rights, in addition to serving on the Energy and Natural Resources Subcommittee on Public Lands, Forests, and Mining and the Committee on the Budget. Dr. Peterson's extensive catalog is available now on DailyWire+: https://bit.ly/3KrWbS8


9th April 2023

My visit and negotiations in Warsaw were another step towards victory. Thank you for the agreed decisions, for the powerful defense package. Thank you for the lives we save with our solidarity!

================

8th April 2023
British business Mykines Corporation LLP is reportedly linked to approximately $1.2bn of electronics sales to Russia since the country's invasion of Ukraine in 2022
euromaidanpress.com British company supplied $1.2 billion in electronics to Russia despite sanctions – FT According to Financial Times, a British business registered in a north London suburb, Mykines Corporation LLP, is reportedly linked to
===============

Russians have lost interest in Crimea, according to data from the Russian search engine Yandex. March 2023 had twice less searches for "Crimea vacation" (129.000) than March 2022 (261.000). Even regular Russians realize the time to enjoy stolen Ukrainian land is coming to an end.
================
Russia's pro-war figures gathered to pay tribute to Tatarsky (40), a blogger who advocated for all Ukrainians to be murdered Beside his coffin – a sledgehammer presented by Wagner's Prigozhin The group used these for extrajudicial killings of captured defectors from Putin's war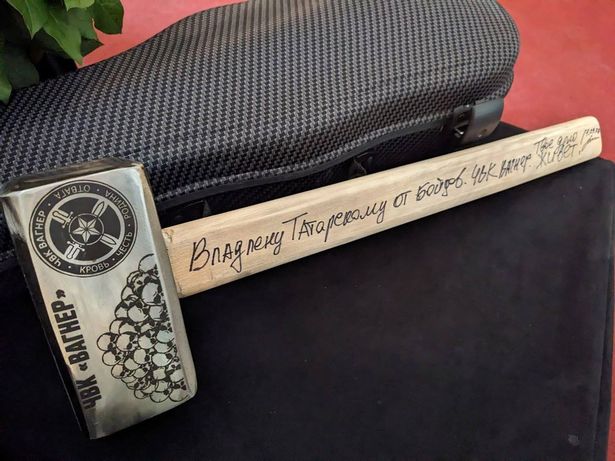 Over the past year, the media has dubbed head of PMC Wagner Yevgeny Prigozhin "the demon of war" and all but the second man in the country. But is that really true? Read our in-depth profile of "Putin's chef" turned mercenary leader to find out.
novayagazeta.eu Governor of the grey zone: a portrait of PMC Wagner's chief Yevgeny Prigozhin How did Prigozhin go from selling hot dogs in St. Petersburg to leading a band of mercenaries?

7th April 2023

Chechen leader Ramzan Kadyrov reported the elimination of a large group of Ukrainian troops between the localities of Kremennaya and Belogorovka in the Lugansk People's Republic , with a number of Ukrainians captured: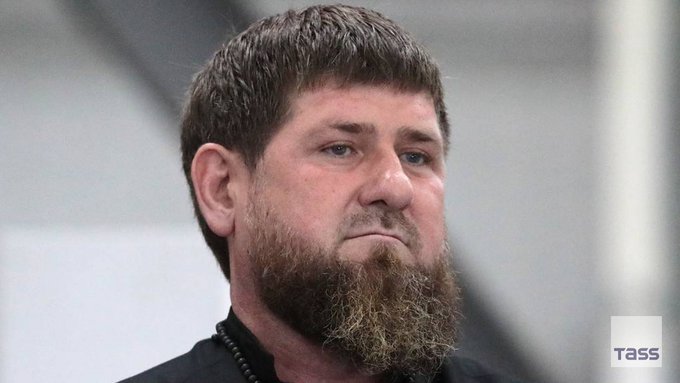 Ukrainian Community in Ireland Retweeted

8th April 2023
This is Serhiy, he is a sapper. He lost his leg . But he did not lose his smile. Last week we had terrible news about injuries to sappers. I sent the funds from my Fund, but unfortunately it is almost empty now. If you can help, I will be very grateful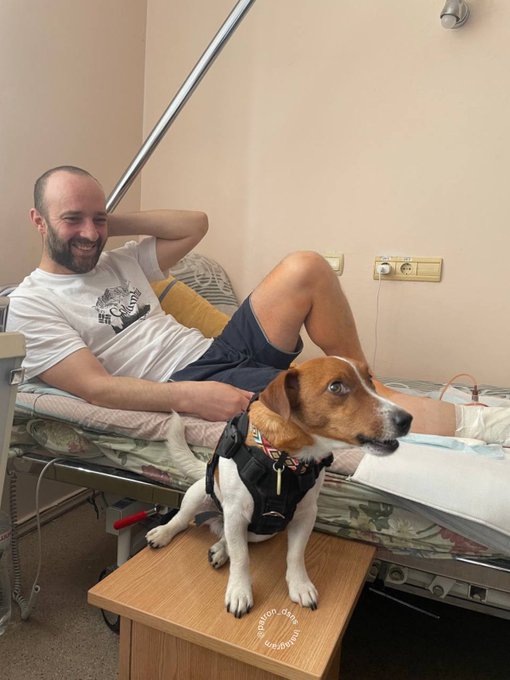 8th April 2023

Ukraine government organization
These trenches aren't going to dig themselves. According to soldiers of the 1st Special Purpose Brigade: "He who has not held a shovel in his hands has never fought. Because a shovel is sometimes more effective than a machine gun."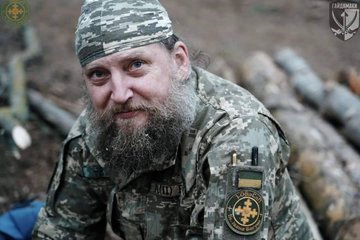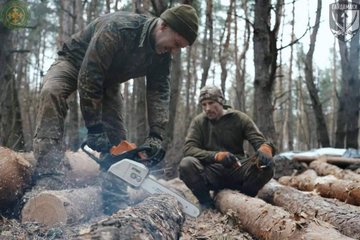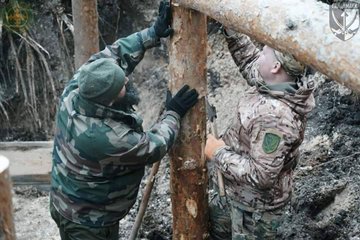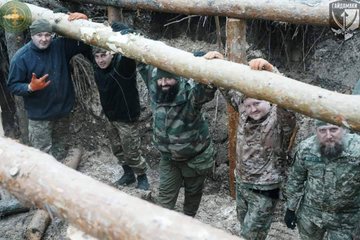 Ukraine government organization
On April 8, 2022, russian terrorists attacked Kramatorsk railway station, where thousands of people were waiting for evacuation. A cluster-munitions-equipped rocket was deliberately launched into a crowd. 61 civilians, including 7 children, were killed at the time. Donetsk RMA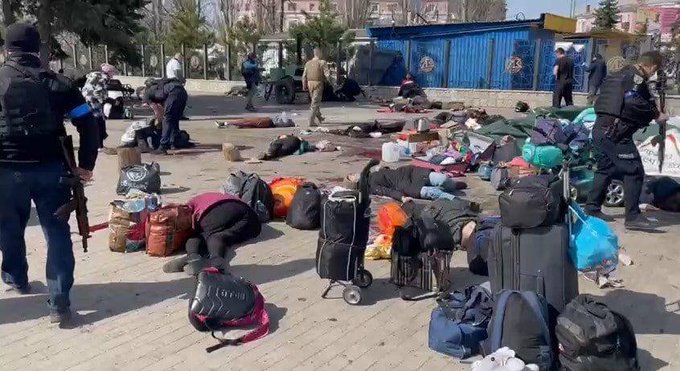 Ukraine government organization
Provisional field hospital of Ukrainian 67th Mechanized Brigade in the vicinity of Bakhmut.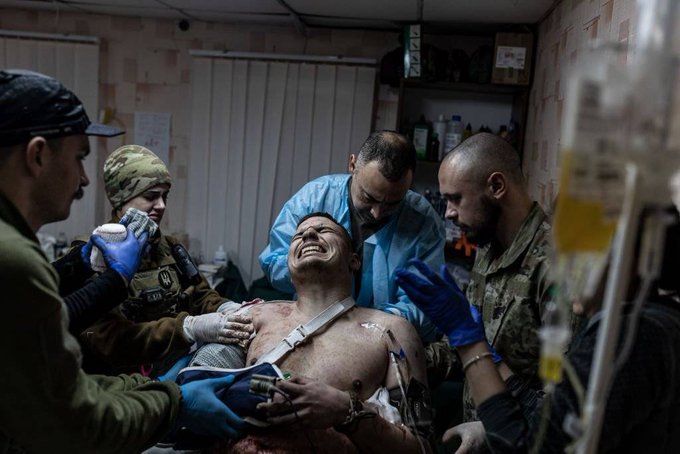 =============
9th April 2023
Good to see the European Commission taking a stand against Russian war crimes in Ukraine and the mass abduction of Ukrainian children
Quote Tweet
European Commission
@EU_Commission
9th April 2023

Thousands of children have been abducted by Russia. This war crime justifies the arrest warrants issued against Putin by the @IntlCrimCourt. Together with Poland we will organise a conference to launch an initiative aiming at bringing back these children. #StandWithUkraine
8th April 2023
Hard to argue with this
9th April 2023
"There are many reasons why negotiating with Russia would be foolish." – Ben Hodges, a retired American general, on why and how Ukraine should win
Ukraine should—and, properly supported, can—seize Crimea, argues Ben Hodges
A retired American general writes as part of a series debating the wisdom of peace negotiations
============
9th April 2023
Ukrainian report on the NASAMS air defence systems currently effectively used by the military to protect the Ukrainian skies.
9th April 2023
MEDVEDEV TALKS TOUGH ON UKRAINE The former President of Russia talks about annihilating Ukraine & NATO. But is is he just a drunk? Judge for yourself! 11 years ago, he (short guy in grey suit with back to camera) was dancing to trashy Russian pop song "American Boy."
=============
9th April 2023
Read the remarkable story of Vitaly Votanovsky, who fled Russia after receiving chilling death threats after telling the world about the 'Wagner cemetery' – my article here:
bbc.co.uk Vitaly Votanovsky flees Russia after documenting a Wagner cemetery How an activist documented Russia's war dead by counting graves – and was forced to flee by sinister threats. ============
9th April 2023
Highly recommend this podcast if you're not already listening to it Documentary audio at its finest
Quote Tweet

Arkady Ostrovsky
@ArkadyOstrovsky
·
Feb 23
This is episode 1 of our new podcast series about free thinking Russians. And my first experience as a host. https://podcasts.apple.com/gb/podcast/nex
=============
9th April 2023
'We'll kill you, we'll throttle you.' "Someone offered me 'a spot at the cemetery.' A Russian activist who revealed details of 1,300 names & burials of Wagner mercenaries killed in #Ukraine, has fled Russia. That's 1,300 burials in just 1 region of Russia.
https://bbc.co.uk/news/world-europe-65213426