==============
Intermarium 24
Quote Tweet
Intermarium 24
@intermarium24
15th April 2023
Concluding about Sudan, I would like to remind you about Russia and Wagner's ties to the RSF and the theft of Sudanese gold ( Sudan is one of the largest gold producers in Africa ). #Sudan #Sudanese #Russia #RussiaIsATerroristState #Ukraine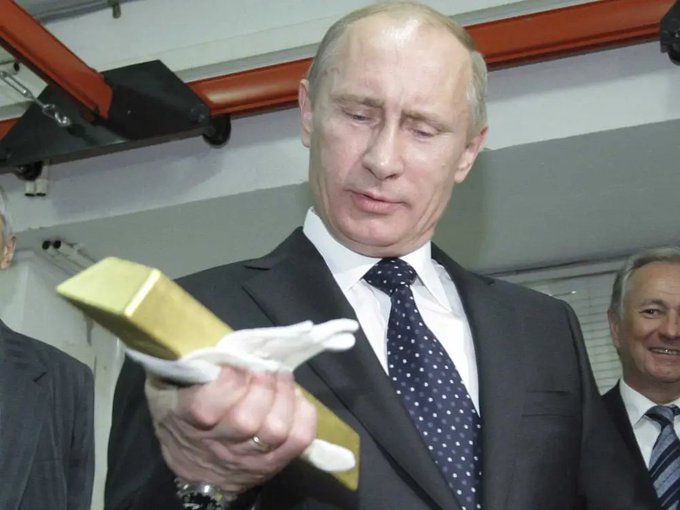 https://www.dw.com/en/more-than-mercenaries-russias-wagner-group-in-africa/a-64822234
'People who were personally involved in the murder of Sergei Magnitsky, are now handling my husband's sentence.' Evgenia Kara-Murza who is the wife of detained Russian Kremlin critic Vladimir Kara-Murza, speaks to Arlene Foster ahead of her husband's sentencing.
=============
16th April 2023
Ukrainian soldier camouflage preparations. #Ukraine #UkrainianArmy #UkraineWillWin #RussiaIsATerroristState #RussiaIsLosing

===============
Bill Gates: The Ukrainian government is one of the worst in the world, a corrupt government, controlled by a few rich oligarchs, unfortunately for the Ukrainian people.
===============
EU countries are edging forward on new #Moldova #sanctions that could see two notorious oligarchs face a visa-ban and asset-freeze. #EUWeekInReview
euobserver.com Two oligarchs who fled Moldova in crosshairs for EU sanctions EU countries are edging forward on new Moldova sanctions that could see two notorious oligarchs face a visa-ban and asset-freeze.

Kyiv's upscale shopping center seized from Russian tycoon, now owned by Ukrainian state The High Anti-Corruption Court decision came into force on 11 April 2023. Ocean Plaza was owned by Russian oligarch Rotenberg, owner of company constructing pipelines
https://euromaidanpress.com/2023/04/11/kyivs-upscale-shopping-center-seized-from-russian-tycoon-now-owned-by-ukrainian-state/?swcfpc=1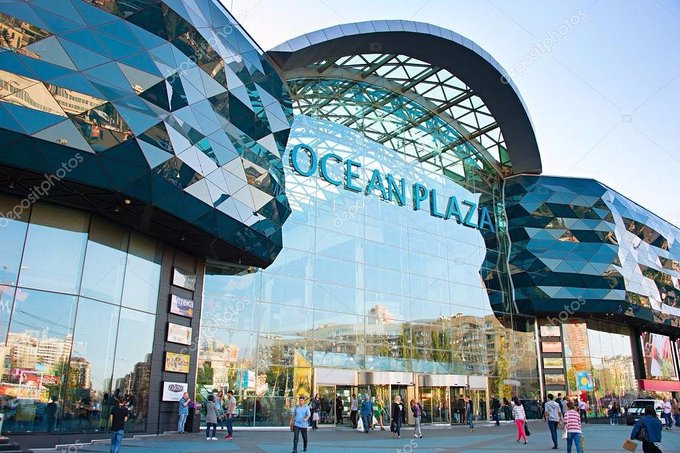 15th April 2023
Happy Easter! In the Orthodox World today is Easter. The priest, of the Ukrainian Orthodox Church, says "Christ has risen!" The congregants respond back, "Truly He is risen!" This is NOW in St Michael's Cathedral, Kyiv . Joy amidst great suffering.

===========
MAIDAN SQUARE The Independence Square, in the center of Kyiv, has a painful reminder as to the toll of this war. "Each flag represents a life stolen by a single madman, Vladimir Putin…" Every day more lives are stolen. Save lives: Give  long range missiles to defeat !!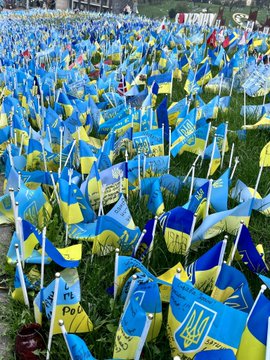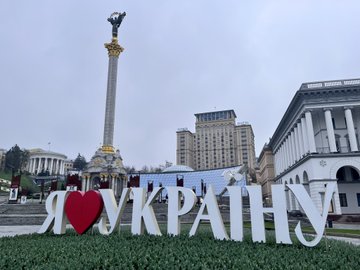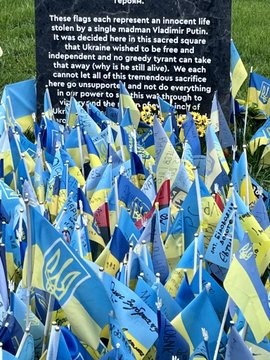 16th April 2023
Read the full article on our website to find out how the Russian parliament has turned into a conveyor belt sending Russians to war:
novayagazeta.eu Putin's MPs After the start of war, Russian MPs stopped pretending they are from different parties: all now vote unanimously, passing laws twice as
==========
Many Armenians say they cannot forgive Russia for shirking its duty to protect their country from Azerbaijan.
themoscowtimes.com Frustration With Russia Grows in Armenia Russia's invasion of Ukraine has sent shock waves across the former Soviet Union, with Moscow's traditional partners seeking allies
================

16th April 2023
The Kremlin-linked Wagner mercenary group released more than 100 Ukrainian prisoners of war on Sunday to mark Orthodox Easter, Reuters reported, citing a video shared on Telegram by Yevgeniy Prigozhin, the group's leader. Follow our live updates:
washingtonpost.com Ukraine live briefing: Chinese defense minister begins Russia trip; 11 dead in rocket strike President Volodymyr Zelensky said at least 50 buildings were destroyed and some 20 people injured after the strike on the
=============
15th April 2023
Prigozhin unveiled another #Wagner secret cemetery in the village of Sukhodol, Sergievsky district, Samara region. Wagner's official cemetery in the Kuban village of #Bakinskaya run out of new graves. Wagner terrorists lost over 35,000 fighters in #Bakhmut alone
=============
Paul Massaro
@apmassaro3

Apr 15
Terrorist captain Prigozhin says russia should end its war. Of course, this would require full russian withdraw from Ukraine
Image
=============
Web Summit 2023 (Rio de Janeiro, May 1-4), one of the largest technological conferences in the world, will host 9 Ukrainian startups selected as a result of the competition  #ukraine #startups
============
Chinese Foreign Minister Qin Gang stated at a joint press conference with his German counterpart Annalena Baerbock that China will not supply weapons to any of the warring countries  #Ukraine #China #UkraineRussiaWar️
odessa-journal.com Qin Gang: China will not supply weapons to Russia | odessa-journal.com China does not intend to supply weapons to any of the participants in the war in Ukraine. Chinese Foreign Minister Qin Gang stated this at a
Ukrainian rescuers saved a 77-year-old woman from the rubble. Her home was hit when Russia shelled a residential area in Nikopol, Dnipropetrovsk region on 12th April.
Ukrainian Community in Ireland Retweeted
Happy Easter from Ukrainian artist Viktor Zaretskiy (1925-1990). It will be Easter tomorrow, but I'm gonna celebrate with my family, rest and eat all that you see in this picture  I wish all evil disappeared and I wish everyone to find their path for peace and freedom.