Whether the recollection is of fascist Italy in the 1920s, of Nazi Germany of the 1930s, of the Soviet Union during the Great Terror of 1937–38, or of the purges in communist eastern Europe in the 1940s and '50s, people who were living in fear of repression remembered how their neighbors treated them. A smile, a handshake, or a word of greeting – banal gestures in a normal situation – took on great significance.
Before or After, your choice.
Professor Timothy Snyder lecture "EMPIRE INTEGRATION AND UKRAINE
https://youtu.be/iWfmUT2UMoM
=============
18th April 2023
Journalism imprisoned by Putin… No one is safe in Russia. The silence of the extreme right and left gives us a taste of what will happen with freedom of expression if they come to power !
Quote Tweet

max seddon
@maxseddon
18th April 2023
Media are allowed to take photos and videos of Evan in the cage, but not speak to him. He can't say anything back either. At right, @usembru ambassador to Moscow Lynne Tracey, in the blue jacket. She visited Evan in prison yesterday.
Show this thread
===================
18th April 2023
"Vladimir Kara-Murza is a a true hero of the Russian opposition and he's now received the longest prison sentence of any Russian political prisoner for 25 years." It is 'embarrassing' that the UK has done nothing to help Putin critic Kara-Murza, says
================
"This is a death sentence. They will basically kill him in prison."
friend of jailed Putin critic Vladimir Kara-Murza, tells me he feels "absolute horror" after a Russian court sentences Kara-Murza to 25 years in prison.
==============
17th April 2023
Very powerful intervention from
head of the UK Foreign Affairs Committee on the 25 year sentence against Vladimir Kara-Murza. Was happy to hear Foreign Office Minister Andrew Mitchell promise two weeks for Magnitsky sanctions for Vladimir's persecutors
=============

17th April 2023
My friend, colleague, and a hero of the dream of a free Russia,
was just sentenced to 25 years in prison for the worst crime in any dictatorship: speaking the plain truth.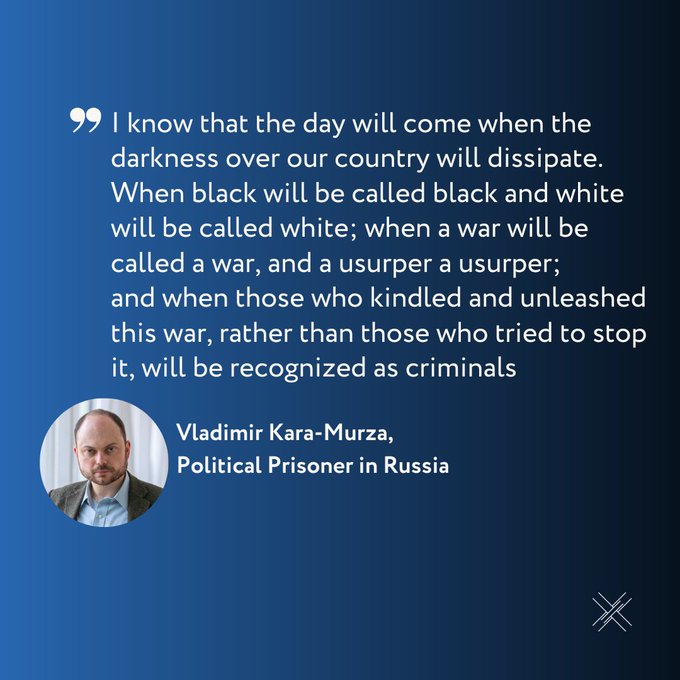 ============

17th April 2023
Russian opposition activist Vladimir Kara-Murza, who has twice survived poisoning at Putin's hand, has now been sentenced to 25 years on charges of high treason for criticizing Putin and his regime. 1/3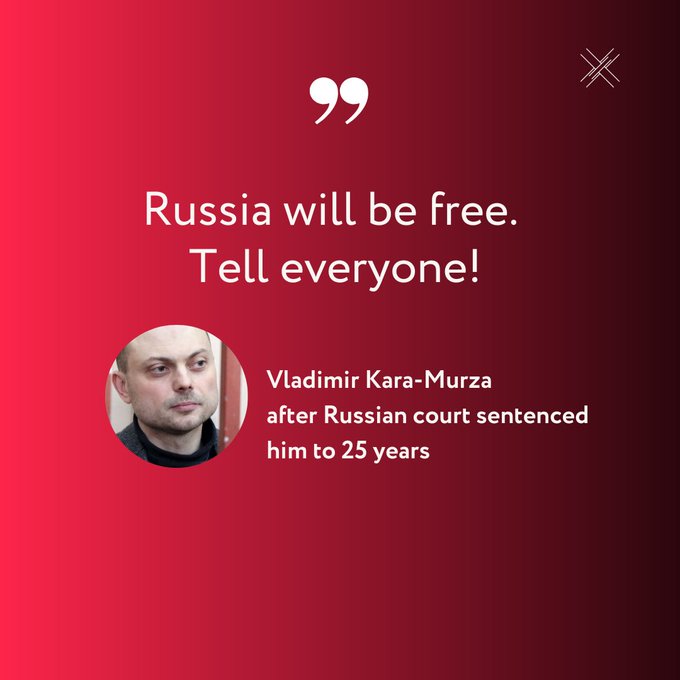 ==============

The #UnitedKingdom may impose sanctions against the composition of the court which sentenced Vladimir #KaraMurza, reports BBC. Kara-Murza is a citizen of both #Russia and #GreatBritain.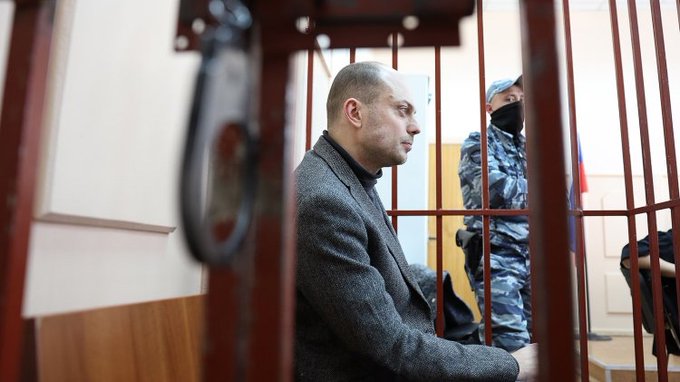 ===========
18th April 2023
"There isn't a single military facility nearby," Kherson region governor Oleksandr Prokudin noted.
Local authorities: Russian attack on Ukraine's Kherson kills one, leaves nine more injured
Russian troops have shelled Kherson, south Ukraine, killing one person and injuring nine more, the Kherson authorities reported. Th
Vladimir Osechkin's http://Gulagu.net project has published confessions of two ex-convicts who went to Ukraine to fight for the Wagner Group. Here's what they said: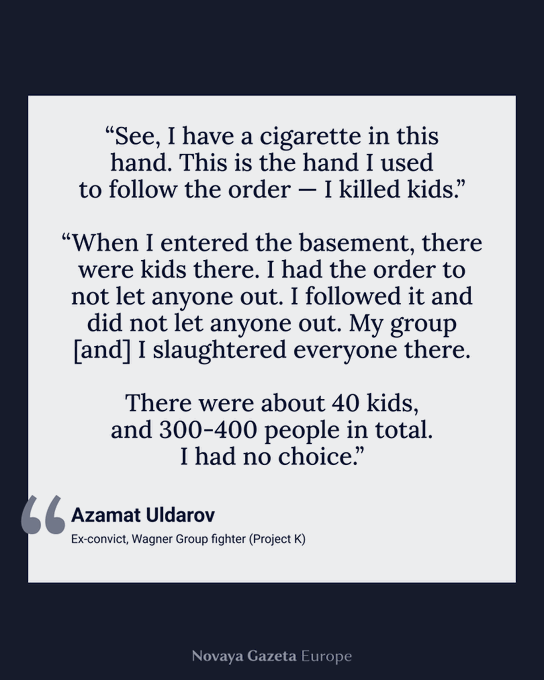 ============

18th April 2023
Across Russia on Sunday, Orthodox Easter celebrations took place featuring a range of activities from grand religious processions and elaborate church services to intimate family gatherings and colorful egg decorations.
themoscowtimes.com In Photos: Russia Marks Second Wartime Eas

18th April 2023
Moscow's chief draft officer Maxim Loktev said it was necessary to find up-to-date information for the addresses of men eligible for military service.
themoscowtimes.com Russia Says Surveillance System Helping to Find Draft Dodgers The Russian military has begun using Moscow's vast video surveillance system to find conscripts who evade compulsory service,
=============
18th April 2023
This was the first time Putin has visited Ukraine's Kherson and Luhansk regions since the start of Russia's full-scale invasion.
Putin Visits Occupied Ukraine Territories
Russian President Vladimir Putin has visited occupied Ukrainian territories for the second time since launching a full-scale invasion, the Kremlin said Tuesday.
18th April 2023
Iryna Vereshchuk, Deputy Prime Minister for Reintegration of the Occupied Territories, discussed about the collection of genetic DNA specimen from military personnel in the Armed Forces and law enforcement agencies  #Ukraine #UkraineRussiaWar
odessa-journal.com Iryna Vereshchuk: It is necessary to establish the process of preliminary selection of DNA material… Iryna Vereshchuk, Deputy Prime Minister – Minister for Reintegration of the Temporarily Occupied Territories, chaired a meeting with
===========
18th April 2023
Prisoner "Wagnerite" Aleksey Savichev admitted that he personally blew up the pits with Russian deserters and Ukrainian prisoners. Living people were in the pit  #Ukraine #UkraineRussiaWar
odessa-journal.com "Wagnerite" confessed how he blew up a pit with 60 prisoners and deserters | odessa-journal.com Prisoner "Wagnerite" Aleksey Savichev admitted that he personally blew up the pits with Russian deserters and Ukrainian prisoners.
============
17th April 2023
A  #Wagner fighter: "The girl was 5 or 6. I shot her in the head… We had the orders: no one can leave #Bakhmut… The order chain was "Eismann" – "Kite" – and then Prigozhin himself". #RussianArmy #RussianWarCrimes #RussiaIsATerroristState #StandWithUkraine
==============
18th April 2023
Congratulations Illia Kovtun, Ukrainian gymnast who put on great show at 2023 European Artistic Gymnastics Championships in Antalya, Turkey Gold in parallel bars Bronze in high bar Bronze in individual all-round finals Ihor Radvilov took home Bronze in vault #StandWithUkraine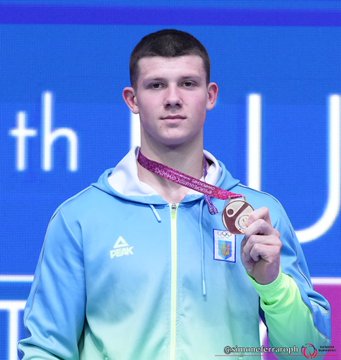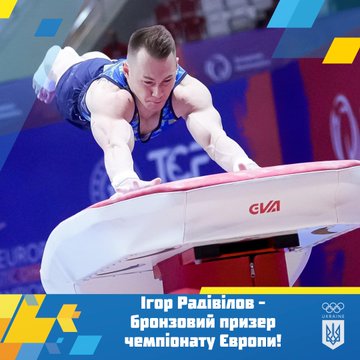 =============
18th April 2023
Since February 24, #Ukraine has returned 2,235 #Ukrainians home from #Russian captivity, President #Zelenskyy said.
============
The Times and The Sunday Times
Wagner Group, the private military company best known for propping up the Russian army in Ukraine, is aggressively expanding its operations on the African continent in an attempt to grow Russian influence there
thetimes.co.uk Wagner Group expands operations in Africa to boost Russia's influence Wagner Group, the private military company best known for propping up the Russian army in Ukraine, is aggressively expanding its operations on the African cont
============
U.S. Institute of Peace
The Wagner Group's "effect in Africa is to strengthen rule by force rather than by democracy and law; to promote corruption over transparency…and to parasitically keep authoritarian regimes dependent on Wagner's presence," our
writes.
usip.org In Africa, Here's How to Respond to Russia's Brutal Wagner Group The United States is rightly concerned at the growing role in Africa of Russia's Wagner Group, which operates as an auxiliary of President Vladimir Putin's authoritarian regime. Where African…

Russian sledgehammer over #Africa and the #MiddleEast. The #Wagner Group, #Putin's private army, is involved in an attempted coup d'état in #Sudan. But this is not the only country in the region where Russia is trying to establish its control with the help of the Wagner Group.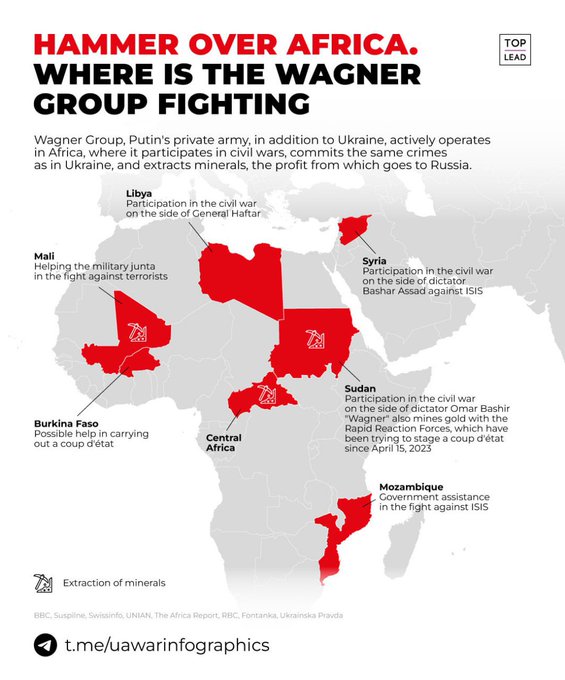 In 2018, the Russian paramilitary group, Wagner, began operating in the Central African Republic marking their significant presence in Africa. Listen to
discuss on
===========
17th April 2023
Prigozhin, the Wagner Group's boss, defends the Pornhub ad campaign. Wagner mercenaries fighting in Ukraine: Bakhmut, Donetsk, Donbas, also Sudan, Syria, Libya, Mali, and Central Africa. Pro-Russia propagandist Donbass Devushka is linked with "Ryber", which is funded by Prigozhin
==========

Enjoy it, my friends.
===========
18th April 2023
Thank you, Taiwan!
============

No "Immortal Regiment" marches in Russia this year. Putin has already cancelled Victory Day military parades in a number of Russian cities – now he's called off the accompanying public marches. The security situation in Russia is clearly deteriorating
atlanticcouncil.org Putin cancels Victory Day parades as Ukraine invasion continues to unravel The cancellation of Victory Day parades in multiple Russian regional capitals is a blow to Putin's personal prestige that exposes the grim reality behind Moscow's propaganda portrayals of the…

Putin visited occupied Ukraine and gave his troops there an icon once owned by "one of the Russian Empire's most successful defense ministers," reinforcing the narrative Russia is fighting an imperialist holy war
============

A Swiss commodity trader's Abu Dhabi subsidiary has bought tens of millions of dollars of Russian gold despite a ban on Swiss entities undertaking such activity, the latest evidence of a gap in western sanctions.
&
report:
ft.com Swiss-owned company's Russian gold trades expose gap in western sanctions Open Mineral's Abu Dhabi subsidiary not bound by Bern's rules
BREAKING: with a near unanimous decision the EP decides to hold an extraordinary debat on the outrageous sentence to 25 years imprisonment of Russian dissident Kara-Murza and the worsening health situation of Navalny… We will call for a new wave of Magnitsky sanctions against those responsible !
17th April 2023
One might think that Russia is a huge country with a lot of people. Yet the judge Sergei Podoprigorov who sentenced
to 25 years today is the same judge who ordered the arrest of lawyer Sergei Magnitsky in 2008 who was then killed in jail.
's best-seller… Show more