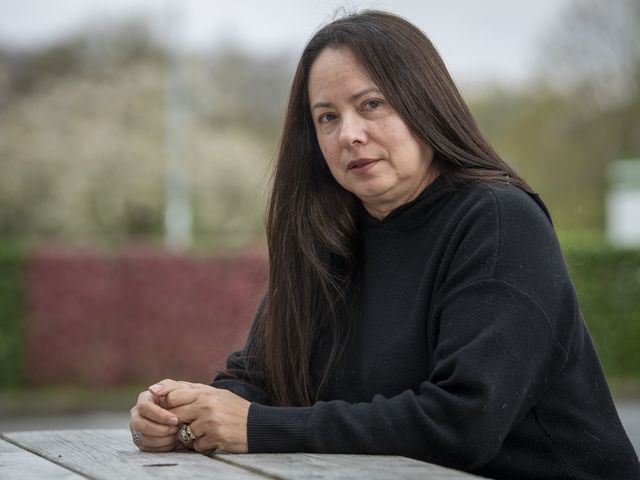 Illegally evicted mum had car burnt out and belongings 'destroyed' and dumped in a shed
• 9h ago
A tenant who was illegally evicted from her rental home had her car burnt out, all her belongings thrown into a shed and the gardaí had to be called to the property so her husband's ashes could be retrieved.
disastrous housing policies.
Loaded: 43.33%Pause
Current Time 0:43
/
Duration 4:09QualitySettingsSubtitlesFullscreen

Independent.ie
'Your housing policy is causing trauma and devastation' – Holly Cairns and Taoiseach clash over eviction banMute
Gabriela Lake, a mother-of-three who had been renting a house in Skibbereen, west Cork for four years, said the eviction has caused her family severe stress and anxiety
Despite being unlawfully evicted more than six months ago, and taking a successful case with the rental watchdog, Ms Lake has still not been able to get some of her belongings back, including sentimental items from her late husband, who passed away suddenly in 2019 on their 30th wedding anniversary.
Valuable clothes, iPads and jewellery were also damaged. Her former landlord Colin O'Sullivan has refused access to the property on a number of occasions since the eviction.
She could not retrieve her car keys as a result and in December 2022, she found her Fiat car burnt out. Her Chrysler minivan is also missing. The Residential Tenancies Board (RTB) ruled that it was satisfied on the balance of probabilities that the landlord was responsible for the loss and damage to the two vehicles.
Ms Lake also had to pay €3,500 in dog kennel fees for her two English mastiffs, after being evicted from the house, as she could not find alternative accommodation for two months.
"The emotional stress this has caused, barring my husband's passing, has been unparalleled to anything I've ever experienced," she said.
"I've had anxiety attacks. And as bad as that was, it paled in comparison to seeing my belongings discarded and ruined, my husband's belongings and his cards destroyed."
Ms Lake told the Irish Independent that she previously had a good relationship with the landlord.
Her family moved into the house in Carrigillihy, Union Hall in October 2018.
But in September last year, the relationship turned sour.
Every summer she travels home to the United States, where she is from, for a few months and continues to pay rent while away. In July, she texted Mr O'Sullivan saying her daughter would be making the payments while she was in the US.
However, she didn't realise her daughter had forgotten to deposit the rent for July and August. A close friend tragically died and the rent payments slipped her mind.
On September 6, the landlord sent a text saying: "You would want to start making an effort.
"The outcome is not looking good. If (you) don't get in contact I will take it that you're not returning so taking the house back."
He sent another text the following day: "I have nothing from you about the rent… I am moving home and will give you two weeks to pick your belonging [sic] after that I will take them to the dump."
Ms Lake did not realise her Irish mobile was turned off and only saw the texts two days later.
She responded to apologise and explained about the situation with her daughter. The two months' rent was transferred by her and she said she heard nothing further from Mr O'Sullivan. She also paid September's rent and provided screengrabs showing it had been paid in the months prior to July and August.
On October 5, her youngest daughter McKenzie (21) returned home and found the landlord living in the house. He started shouting at her, saying she was not allowed in. The young college student then called gardaí, who intervened. She was able to collect some belongings, including her father's ashes.
In the months that followed, Ms Lake had to send a number of solicitor letters in a bid to get access to the house so she could collect her stuff.
She reached an agreement with Mr O'Sullivan that she could call to the house on December 28. She hired a rental car, but when she arrived, he said he was at work. Later that evening, he showed up, but would not let her into the house. Instead, he directed her to the garage where all her possessions were placed in a heap.
Ms Lake contacted gardaí on a number of occasions over concerns about her belongings. She was told in a formal email that gardaí have "no authority in civil matters or incidents where there is a dispute over property or alleged damage to a house in circumstances of an owner/tenant relationship".
"An Garda Síochána will not be facilitating removal of property on behalf of any person in a civil dispute and no evidence of criminality," they added.
She also reported the burnt-out car.
A garda spokesperson told the Irish Independent: "Gardaí received a report of an alleged incident of criminal damage at a property in Skibbereen, Co Cork on December 28, 2022. Investigations are ongoing at this time."
In his evidence to the RTB, Mr O'Sullivan claimed Ms Lake was in rent arrears and accused her of causing significant damage to the property. He also claimed her two dogs had soiled the carpet upstairs. However, this happened in September 2021 and the issue had been rectified by Ms Lake. He provided a "bill of quantities" which he claimed listed the damage that had to be repaired, amounting to €19,000.
The RTB asked for proof of receipts to show the repairs had been carried out, but Mr O'Sullivan said he was "only getting started" on the work.
The RTB ruled he failed to provide sufficient evidence that the tenants breached their obligations. Ms Lake also gave evidence that the majority of furniture he was seeking to replace belonged to her. The RTB said he had not established that any damage was beyond normal wear and tear.
The landlord was ordered to pay his former tenants €18,500, including damages, the bill for the dog kennels and the return of a deposit of €1,000.
He denied a deposit had been paid, but Ms Lake said she gave him €1,000 in cash in October 2018.
The eviction was described as being "at the severe end of the scale".
In his closing submissions, Mr O'Sullivan said if the tenants had paid rent "there would have been no problem". He stated that the dwelling was his home, that he had survived illness and a recession and he never missed a mortgage payment. He submitted that it took him six years to build the dwelling and it is his "pride and joy".
The Irish Independent contacted Mr O'Sullivan for comment, asking if he intended to pay the RTB award and why the tenant's car was burnt out.
He replied to say: "Haven't agreed to pay [the RTB award]. Will talk to you. Can you phone tomorrow?"
He was phoned a number of times but did not answer.
In a subsequent text, he said: "I got railroaded by the RTB. Now the tenant is using the paper."