Something is cooking on the Magnitsky Act in Ireland. Stay tuned.
Quote Tweet

BREAKING: The Irish government has rejected a unanimous cross party parliamentary proposal to pass an Irish Magnitsky Act. This opens the door for Ireland to become a soft target as Putin's cronies look for safe places to keep their money. Very bad news indeed.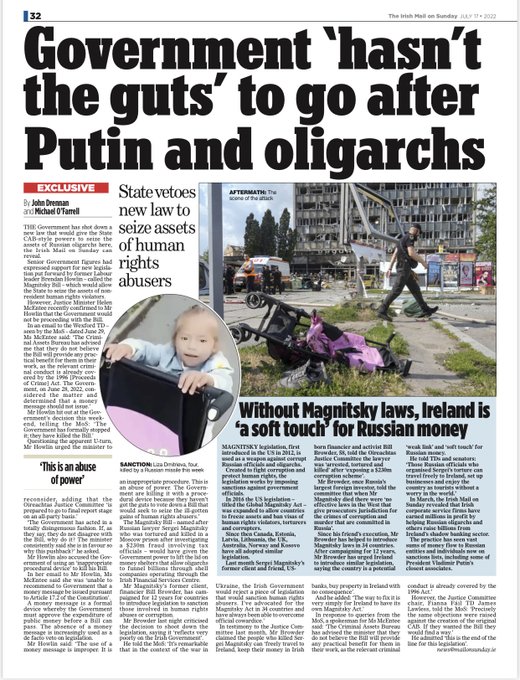 Very pleased to host the international powerhouse that is
in Leinster House today. The Magnitsky Acts are a hugely important tool in punishing human rights abuses and corruption. It is long since time Ireland had its own Magnitsky Act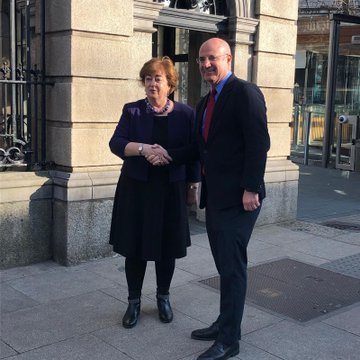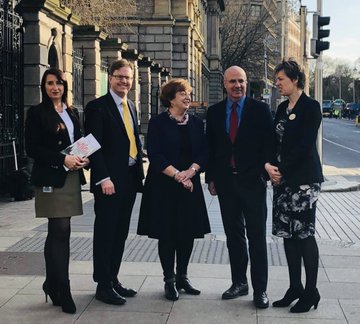 Conspiracy may be in my Soviet-born blood, but the stories coming out about the US blocking and slow-rolling the weapons Ukraine needs to win require explanation. Is the Biden team hoping to postpone Ukrainian victory until the 2024 election year?
==========
3rd May 2023
#Ukraine denies attacking the kremlin with drones. President Zelensky's spokesperson likely nails it by saying "What happened in Moscow is obviously about escalating the mood on the eve of May9. It's a trick." And lots of camera's were handily in place to film the supposed attack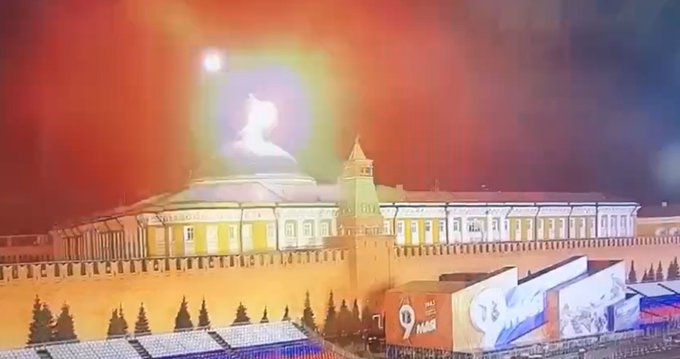 2nd May 2023
Not all tyrants are plucked from obscurity like Putin. Some, like Hitler, have relied on certain conditions in their rise to power. Paradoxically, while Putin did not come to power under conditions similar to Hitler's, he is creating them in Russia now Striking observations >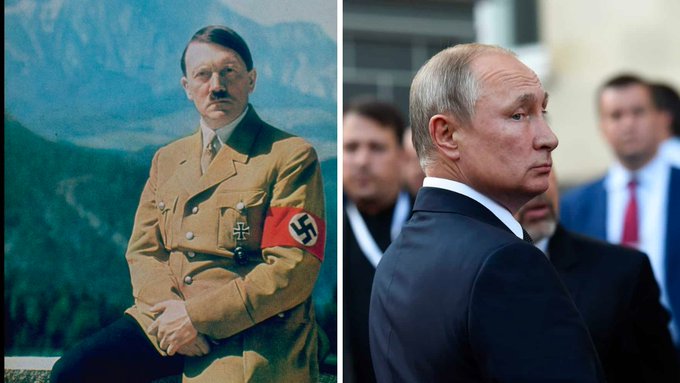 ==============

May 1st 2023
KREMLIN DRONE ATTACK? I say it's False Flag propaganda operation. Putin claims it's Electronic countermeasures brought down 2 drones, almost right over Red Square? Really? No Russian anti-aircraft systems across all Russia saw them or engaged? Sorry but Ukraine would strike in… Show more
==========
3rd May 2023
Spiridon Kilinkarov says the UK is behind the railway sabotage in Russia because they're "major specialists" (if only Lawrence of Arabia was around to hear this!) Vladimir Solovyov says Russia should respond by sending "fishermen" to cut the underwater power cables to the UK
NB reference to fishermen intervention: that was off the coast of Ireland
=============
3rd May 2023
After a year of war in Ukraine, Raiffeisen Bank has announced its gradual withdrawal from Russia. But this announcement may not be as straightforward as it seems. Novaya-Europe's Darya Kozlova has outlined different scenarios for the future of Raiffeisen in Russia. 1/6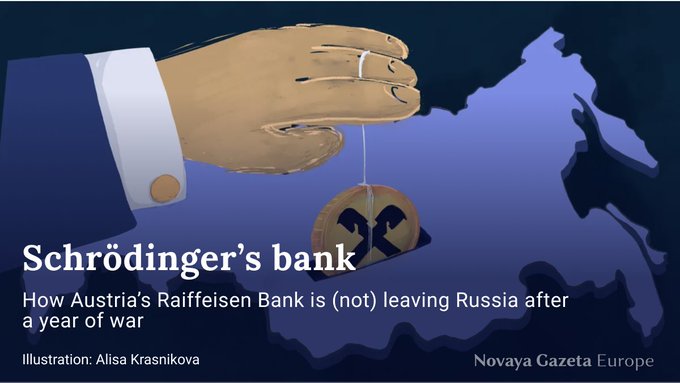 3rd May 2023
Because Raiffeisen Bank has pretty much monopolised SWIFT transactions in Russia, it would have to sacrifice half of its profits if it leaves. The most pragmatic option would be to play the waiting game, the expert notes. 5/6
==============
3rd May 2023
The Russian authorities have reported that Ukraine tried to carry out a drone attack on Vladimir Putin's Kremlin residence on Tuesday night. They said they reserve the right to "take retaliatory measures when and where they consider necessary."
meduza.io 'A terrorist attack and an assassination attempt' Russia says Ukraine tried to kill Putin with… The Kremlin's press service reported Wednesday that two Ukrainian drones tried to carry out an attack on Vladimir Putin's residence in t
3rd May 2023
Yevgeny Prigozhin, head of the "Wagner" PMC, said that the Ukrainian counteroffensive has already begun "I believe that the offensive of the Ukrainian army has already begun. We see the highest activity of enemy aviation, we see his highest activity on the perimeter and inside… Show more
3rd May 2023
Russia has continued to see a precipitous decline in press freedom, according to Reporters Without Borders.
themoscowtimes.com Russia Drops to Bottom 20 of World Press Freedom Index Russia has continued to see a precipitous decline in press freedom as the country's military campaign in Ukraine entered its second year,

Ukrainian Community in Ireland Retweeted
3rd May 2023
What can you do to help Ukraine today? You can email
CEO Nodjame Fouad via this link to ask her to confirm that she is stopping exports of
to Russia. Time to stop serving Putin.
action.uplift.ie Email to stop Jameson in Russia I just emailed CEO Nodjame Fouad asking her to confirm that she is stopping Jameson Whiskey exports to Russia. Can you do the same?
3rd May 2023
"I am starting my visit to Finland with a meeting with President Sauli Niinistö. Strengthening the capabilities of our warriors on the battlefield and security capabilities of Ukraine is the main objective of today's visit,"
wrote.
==============
Ukrainian Memes Forces

=============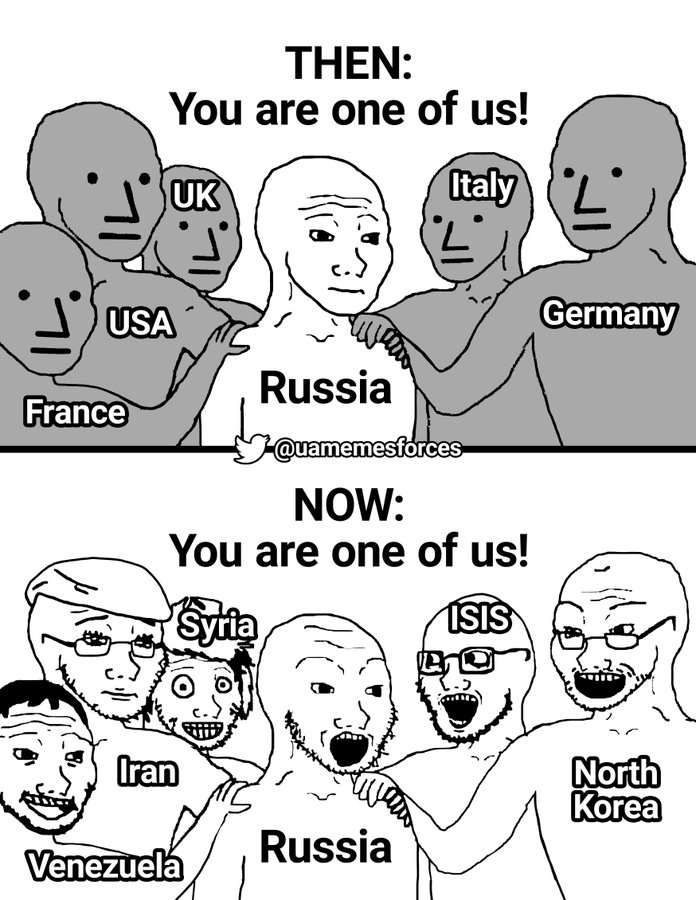 =============
3rd May 2023
This is what a temporary home for Ukrainian soldiers defending Ukraine in the Zaporizhzhya region looks like. More news here