SHOCK ATTACK |
Video shows woman smash up Limerick house with hammer and hatchet over 'false claims'
Using both weapons at the same time, she hits the front window while shouting: "Come out… clear my husband."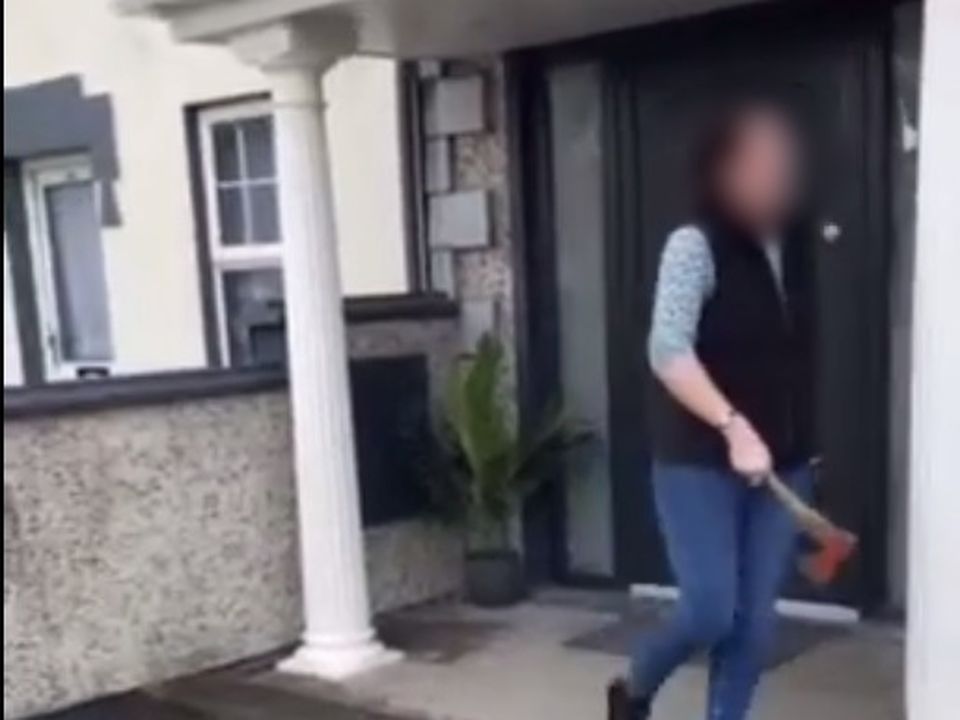 Yesterday at 15:48
A WOMAN armed with a hatchet and hammer smashed up a house in Rathkeale, Co Limerick in a bizarre row over claims of false allegations being made at a funeral.
The footage was posted on social media this week shows her breaking windows and door panes while shouting at the top of her voice.
There were also videos of two men taking lie detector tests in which they angrily deny the accusations and in one case make threats in retaliation.
The video of the house being damaged starts with the woman walking onto the gated property in the Limerick town with a hatchet in one hand and a hammer in the other.
WOMAN armed with a hatchet and hammer smashes up a house in Rathkeale,
Using both weapons at the same time, she hits the front window while shouting: "Come out… clear my husband."
Moving to the front door and lights which she also hits she continues:" Come out.. You took the head off my husband."
"He proved his worth today that he's a clear man."
"Come out don't hide."
The unmasked woman continues to shout before abruptly ending the 40-second attack and walks quickly past the person who is filming the incident.
In another video posted on social media which Sunday World sources, say is the house owner, a man said that the attack caused €10,000 worth of damage.
"My childer tonight are in a hotel they cannot come back to their home. You done €10,000 worth of damages to my house with your wife, I'm getting her jailed for what she done."
"You're not getting away with that."
"You are threatening my family on social media," he said, adding he would also be taking a lie detector test in a bid to prove his version of the old allegations are true.
Two other men posted photos for their lie detector tests this week for which each paid €650 and were clearly angry over the allegations being made.
The reports that neither men had any "significant reaction" when questions relating to the allegation were put to them.
One the men storms out of hotel brandishing the report telling his accuser: "There it is.. Read it and weep."
"You tried to ruin my character, you tried to bring me down. The pain and suffering with the last week my family have been through you'll never know."
He finished off angrily shouting close to the camera: "You're dead!"
Polygraph lie detector tests are available in Ireland and can be submitted as evidence in legal cases but are not usually considered to be of much evidential value without corroboration.
This week's row in Rathkeale has nothing to do with the violence in the run-up to Christmas last year when a number of vehicles were rammed in a terrifying incident.
Videos and photographs in the aftermath of that attack showed the badly damaged vehicles and a machete lying on the road.
The shocking incident came just hours after a wild brawl between rival factions at a venue nearby on 19 December, according to sources at the time
The attackers drove a German 'war jeep', likely a Mercedes G Wagen, to slam into the other vehicles in a bid to intimidate rivals in the area, it was added.
Sources said the violence was a result of a three-way battle for power among criminal elements with links to the town.