MEGA HAUL |
Dublin man caught with cocaine and heroin worth over €1m in his home pleads guilty
John Reeves (58) went voluntarily to a garda station and said he knew the suitcase contained drugs, but didn't know what type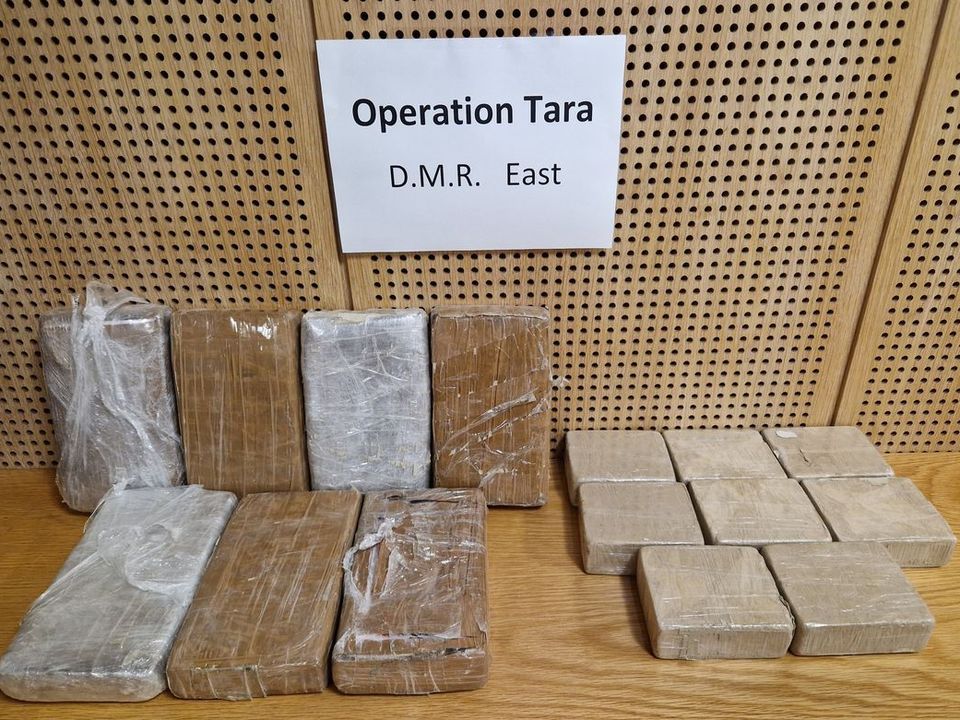 Eimear Dodd
Yesterday at 16:35
A man who was holding over €1 million worth cocaine and heroin at his home will be sentenced next week.
John Reeves (58) of Birches Road, Wedgewood, Sandyford pleaded guilty to one count of possessing cocaine and diamorphine for sale or supply at the same address on October 20, 2022.
Garda Shane Donovan told Dublin Circuit Criminal Court today that gardaí obtained a search warrant and searched the property on October 20 last.
During the search, a pink suitcase, containing eight small blocks of a brown substance and seven blocks of white powder, was found in the attic. These were later identified as heroin and cocaine respectively.
Each of the eight blocks of heroin weighed approximately half a kilo, while each of the seven blocks of cocaine weighed around 1kg. The heroin had an estimated value of around €560,000 while the cocaine was valued at approximately €490,000.
Reeves later went voluntarily to a garda station and said he knew the suitcase contained drugs, but didn't know what type. He said he took possession of the suitcase in a shopping centre car park.
Reeves told gardaí he had addiction issues and financial difficulties, which included a drugs debt. He took responsibility for the drugs and told gardaí his family were not involved.
Reeves has no previous convictions and has not come to negative garda attention since this incident.
Gda Donovan agreed with Michael Bowman SC, defending, that Reeves told gardaí he thought he was holding cannabis, and became ill when told what type of drugs had been in the suitcase. He agreed that the father-of-two developed a drug problem following the death of his son some years ago.
Reeves completed drugs treatment, but relapsed following the breakdown of his relationship. He and his wife had separated and Reeves was not living in the house at the offence and had been staying with a friend.
The garda witness accepted that Reeves would have had no control over the nature or quantity of drugs he was asked to hold to reduce a drugs debt of €3,000. He also agreed that Reeves was afraid for his family and himself.
The court heard that Reeves hid the drugs in the attic without the knowledge of his family. Gda Donovan accepted that Reeves's account seemed genuine and he was ashamed of his actions, but felt he had no other choice.
He also agreed that no evidence of drug dealing had been found in the house and Reeves had no interest in the drugs.
Mr Bowman said his client made a "catastrophic error of judgement". His client has been in custody, having not taken up bail as he accepts the "inevitability of a prison sentence".
Defence counsel said his client has taken steps to deal with his addiction issues. Clean urine analysis was handed to the court.
A letter from Reeves was read to the court in which he apologised to the court, gardaí and others for his actions. A number of testimonials were also handed into the court.
Mr Bowman said his client is doing well in custody and is an enhanced prisoner. He has engaged with psychological services in prison and volunteers as a listener with the Samaritans. A governor's report and urine analysis were also handed into the court.
Mr Bowman submitted to Judge Martina Baxter that his client's role was at the lower end of the scale. Mr Bowman asked the judge to take into consideration his client's early guilty plea, his work history and the fact he took responsibility for the drugs.
Reeves worked in construction and faced financial difficulties following the economic downturn, the court heard. Judge Martina Baxter adjourned the case to May 18 for finalisation.