SICK PAEDO |
'Depraved pervert' Bill Kenneally handed four more years in jail for abuse of five boys
Kenneally had been facing 266 counts of sexually assaulting boys in locations in Waterford, Cork, and Kilkenny between 1978 and 1993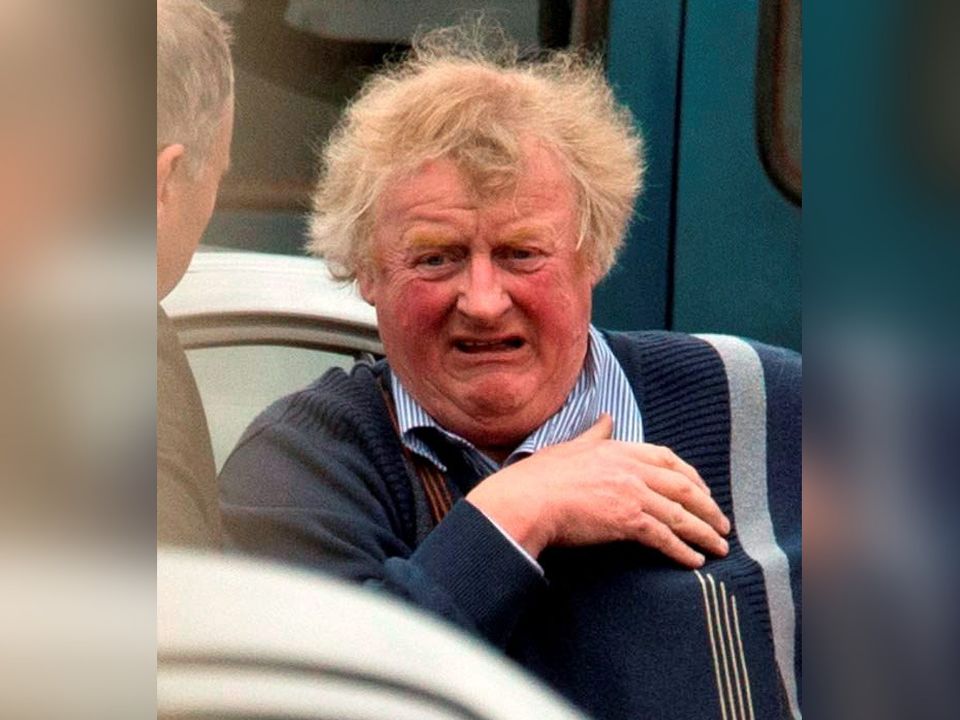 Today at 17:24
Former basketball coach Bill Kenneally will serve more time in prison after he was handed a four-and-a-half year sentence for indecently assaulting five boys.
Bill Kenneally (72) of Laragh, Summerville Avenue, Waterford, pleaded guilty to 13 sample counts of indecently assaulting five boys in locations in Waterford on unknown dates between December 1979 and March 1990.
The court has heard that the five complainants are now men in their 40s and 50s. They were aged between 13 and 15 at the time of the offending, and came into contact with Kenneally in various ways including as a sports coach and family friend.
Kenneally entered the 13 guilty pleas on the sixth day of a trial at Dublin Circuit Criminal Court. He had been facing 266 counts of indecently and sexually assaulting five boys in locations in Waterford, Cork, and Kilkenny on dates between 1978 and 1993.
He initially denied any wrongdoing and entered not guilty pleas when the trial opened in April.
He has 10 previous convictions for indecent assault and is currently serving a sentence of 14 years and two months.
Paul Greene SC, prosecuting, told the court that the five complainants are happy for Kenneally to be named, but wish to maintain their anonymity.
Garda Inspector Siobhan Keating told the sentence hearing today that there was a "consistent and escalating pattern" of offending by Kenneally. The court heard evidence that inappropriate sexual contact took place between Kenneally and the boys, which included exposing his penis, fondling, touching, masturbation and oral sex.
The incidents occurred at locations including Kenneally's workplace, lay-bys on the New Ross Road, Tramore, and wooded areas of Waterford. The court heard it is estimated that there could have been between 150 and 200 incidents of abuse against four of the complainants over the period in question.
Victim impact statements written by four of the complainants were read to the court. They spoke of the effect the abuse had on their lives. Some said it undermined their education and relationships and that they turned to alcohol to cope.
Gda Insp Keating read the first complainant's statement. He said he was once a young boy who had the misfortune to meet Kenneally. By the time he entered secondary school, he said he had been "groomed and abused" by Kenneally.
He said he suspected his younger brother, the second complainant, was also subjected to abuse and blamed himself for not doing something about it. He said his parents didn't know how to react when he told them and that Kenneally, a family friend, had betrayed their trust.
He said Kenneally "did everything he could to prolong our suffering" and had "shown no remorse".
The second complainant said the abuse robbed him of his confidence and innocence. He said he was left feeling "shame, guilt and humiliation". He said he knows many beauty spots around Waterford for the "wrong reasons" and cannot bring his family to these areas.
"To sexually abuse the son of people who have welcomed you into their home must be the ultimate betrayal", he said, noting that Kenneally had been a friend of his parents.
He said he didn't register to vote or allow his wife to register as he knew Kenneally used the electoral roll when canvassing for Fianna Fail. Giving evidence in a "room full of strangers" was one of the "hardest things I've had to do", he added.
The third complainant said he was a "young and innocent" child who found himself "on the radar of a depraved pervert".
He said a "weight lifted" when he heard Kenneally say the word 'guilty'. This had "helped to draw a line" under the damage he caused.
He thanked his 14-year-old self for having "the presence of mind and anger to not accept what happened" and to go to gardai. He said his younger self ensured the abuse could never happen again.
The court heard that the fourth complainant declined to submit a victim impact statement. Gda Insp Keating said he has certain struggles and wishes to move on with his life.
The fifth complainant said there was "no price for what was stolen from me" and he has been in prison in his head for 40 years because of Kenneally. He said he feels uncomfortable around children as he fears he might become an abuser, though he would never hurt a child.
Turning to Kenneally, he said: "I get to walk out of here and live my life, but you don't. You hear me, you don't."
Defence counsel asked Judge Nolan to take into consideration his client's guilty plea as an acknowledgement of wrongdoing.
He said Kenneally is 72 and has served seven years of a "significant sentence". He said his client has a number of health complications and previously worked as an accountant. Counsel also asked Judge Nolan to consider the passage of time.
He said Kenneally had written a letter of apology, but this was not acceptable to the complainants.
In the letter, Kenneally apologised and said he was the adult, and what happened was not the fault of the complainants. Kenneally said he "didn't intend harm" but didn't think of the consequences of his actions.
Judge Nolan thanked the complainants for giving evidence and acknowledged they were "all very brave" as it was "no easy thing to give evidence of this type before a jury and group of strangers".
He expressed the hope that they will have "good and happy lives from now on".
He said Kenneally "took advantage of the immaturity and vulnerability" of the complainants.
Kenneally's "only purpose was to indulge his own depraved sexual appetites" and "his behaviour was incredibly reprehensible", he said.
He said Kenneally "abused his position" of trust as a coach and family friend. He was "incredibly persistent and committed to abusing young boys".
He said he would set a headline sentence of 10 to 12 years, which he said he would reduce to eight or nine years taking Kenneally's guilty plea as mitigation.
Judge Nolan noted that Kenneally is already serving a long sentence, but there would have to be an extension to his stay in prison to reflect the "very serious" crimes against the complainants.
He said Kenneally deserved a "substantial extension" to his time in prison and handed him a four-and-a-half year sentence to run consecutive to the current sentence.
Addressing Kenneally directly, Judge Nolan noted that he said he was ashamed in his letter to the court.
"I hope you are. You deserve to be ashamed of yourself for what you did".
The court heard Kenneally would drive groups of boys home from basketball training, and the last one left in the car would be subjected to abuse. He would also give gifts, money and alcohol to the boys. Kenneally also brought groups of boys to his home to watch pornography.
In relation to the first complainant, the court heard Kenneally was a close family friend and the boy's basketball coach. The abuse included Kenneally touching the boy's penis in his car and progressed to masturbation and oral sex. The offending escalated to include the boy being tied to a tree in a wooden area while Kenneally masturbated him.
The court heard that there was a similar pattern of offending in relation to the second complainant. He recalled being instructed to tie Kenneally to a tree, expose his penis and punish him. He also recalled being tied up in Kenneally's house where photos of him were taken.
The third complainant became acquainted with Kenneally through a weekly ad-hoc football game. Kenneally arranged to meet him near his home and gave him gifts including money. Around June 1985, the complainant got into Kenneally's car and they drove outside the city.
When the car stopped, Kenneally touched the boy's penis outside his clothes, then unzipped his pants and cupped his penis. The boy said he needed to go home and Kenneally removed his hands, then started to drive.
The court heard there were multiple incidents of offending by Kenneally in relation to the fourth complainant. These included the boy tying Kenneally to a tree in a wooded area and kicking him. Kenneally also took photos of the boy naked.
Kenneally would also tie the fifth defendant to a tree, carry out corporal punishment and take photos of him. On one occasion, he recalled Kenneally tying him to a tree and leaving him there for a considerable period of time.
Kenneally was arrested and interviewed on several occasions. He acknowledged that he knew the first two complainants and said there was consensual contact when they were older than 15, the age of consent at that time. He also suggested that some of these complaints had been made for possible monetary gain.
Kenneally's earliest release date is in October 2026.
Inspector Keating agreed with defence counsel that Kenneally was aged between 29 and 40 at the time of the offending. She confirmed that a number of the complainants did not wish to make a formal complaint when initially approached by gardai.
Insp Keating also agreed that the third complainant gave evidence during the trial that he went to the garda station the day after Kenneally indecently assaulted him, but there were no records to confirm this.
Defence counsel told the court that the High Court rejected a judicial review which sought to prevent this trial going ahead on several grounds including delay and pre-trial publicity. The Court of Appeal later upheld the High Court's decision.
After Kenneally's initial convictions, a commission of investigation was set up to examine a number of events including the responses of State agencies and an interview allegedly given by Kenneally to gardai in 1987 during which he admitted wrongdoing.